Friday, April 14th, 2023

Posted by Jim Thacker
Nvidia releases new $599 GeForce RTX 4070 GPU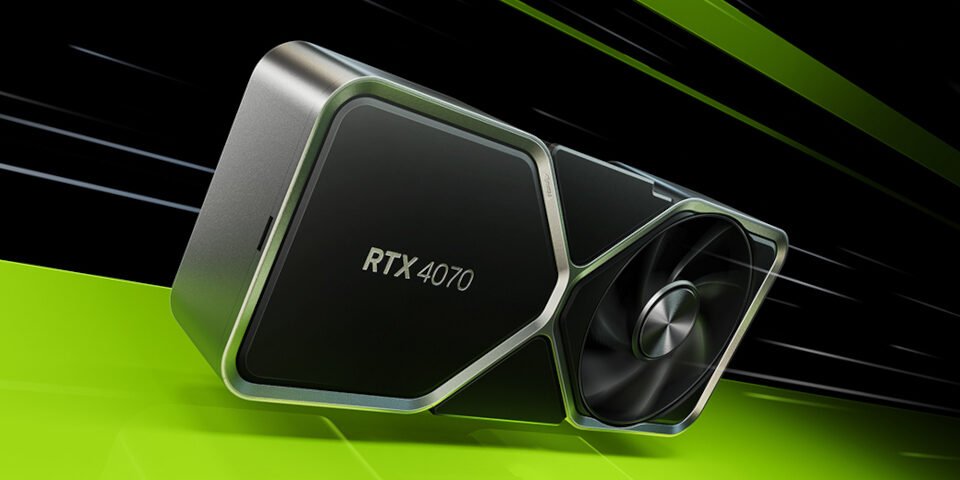 Nvidia has released the GeForce RTX 4070, the latest card in the GeForce RTX 40 Series, the firm's current generation of consumer GPUs based on its Ada Lovelace GPU architecture.
The $599 12GB card, already available from retailers, is the lowest-cost Ada Lovelace desktop GPU to date – and, as with other recent GeForce RTX GPUs, is being marketed at CG work as well as gaming.
The latest GPU to use Nvidia's Ada Lovelace architecture
The GeForce RTX 4070 is the latest GPU based on Nvidia's new Ada Lovelace architecture.
As well as updates to the cards' RT ray tracing cores and Tensor AI inferencing cores, it features a new Optical Flow Accelerator, used by DLSS 3.0, Nvidia's Deep Learning Super Sampling technology.
Originally a render upscaling system, DLSS 3.0 also uses optical flow to generate entire new frames between those rendered traditionally, boosting in-game frame rates by "up to 4x".
Although DLSS is primarily a games technology, it does have implications for CG artists, since it is also now being adopted in visualisation software like D5 Render.
Nvidia's GeForce RTX 40 Series GPUs
RTX 4090
RTX 4080
RTX 4070 Ti
RTX 4070
Architecture
Ada Lovelace
Ada Lovelace
Ada Lovelace
Ada Lovelace
CUDA cores
16,384
9,728
7,680
5,888
Tensor cores*
512
304
240
184

RT cores

*
128
76
60
46
Base clock (GHz)
2.23
2.21
2.31
1.92
Boost clock (GHz)
2.52
2.51
2.61
2.48
Compute performance
FP32 (Tflops)*
82.6
48.7
40.1
29.2
GPU memory
24GB
GDDR6X
16GB
GDDR6X
12GB
GDDR6X
12GB
GDDR6X
TDP
450W
320W
285W
200W
Release date
2022
2022
2023
2023
MSRP at launch
$1,599
$1,199
$799
$599
*Data taken from third-party websites.

Key specifications for DCC work
With a recommended price of $599, the GeForce RTX 4070 fills out the mid-range of the GeForce RTX 40 Series, begun with the release of the GeForce RTX 4070 Ti earlier this year.
As you would expect, its key specs are a step down from the previous 40 Series cards, with fewer CUDA and RT cores and a correspondingly lower FP32 compute performance.
However, its power draw is lower – it's also down on the previous-gen GeForce RTX 3070 and 3070 Ti – and like the 4070 Ti, it has a respectable 12GB of memory for GPU rendering.
Nvidia's comparison chart of the relative performance of the GeForce RTX 4070 and the previous-generation GeForce RTX 3070 Ti in graphics applications. Click the image to view it at full size.

Benchmarks and performance in DCC applications
Although the launch video for the GeForce RTX 4070 focuses on gaming performance, Nvidia has also released a few benchmark results for CG work.
Rendering speed in Omniverse, Nvidia's real-time design and collaboration platform, is 2.8x that of the GeForce RTX 3070 Ti, the equivalently priced previous-generation card.
It's also interesting to see scores for image generation with Stable Diffusion: the first time we've seen a generative AI tool used as an official GPU benchmark – but not, we suspect, the last.
Pricing and release dates
The GeForce RTX 4070 is available now with a MSRP of $599.
Read more about the new GeForce RTX 4070 on Nvidia's product website