Friday, January 13th, 2023

Posted by Jim Thacker
e-on software ships Vue 2023 and PlantFactory 2023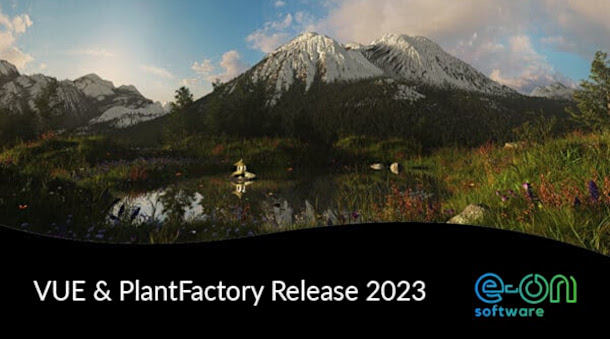 e-on software has released Vue 2023 and PlantFactory 2023, the new versions of its digital nature tools. The products – for generating landscapes and plants, respectively – are available via a single subscription.
PlantFactory gets a new Cutout Leaf node for creating leaf meshes, the option to generate vertex colours and AO as post effects, and the option to replace geometry primitives with instances on export.
Vue gets a GGX reflection model for standard materials.
Both updates improve workflow in the applications' node graphs.
In addition, e-on has overhauled its licensing model, making the full feature set for both applications available to users with Creator subscriptions, but restricting them to use on non-commercial projects.
Both Vue and PlantFactory 2023: new licence conditions
The releases are the first updates to the subscription-only applications since 2021, and have presumably been delayed: in a blog post last year, e-on software referred to its "upcoming 2022 release".
That blog post announced one of the key changes in the updates: that Creator subscriptions now include all of the the features from Professional subscriptions, but can only be used for non-commercial work.
e-on is also changing its EULA to enable users to sell assets created with PlantFactory and Vue via online marketplaces. You can find more details on both licensing changes in this story.
Both Vue and PlantFactory 2023: improved node graph workflow
Both applications also get a "completely redesigned" workflow in their respective graph editors.
Changes include new options for searching for nodes and for parameters within nodes; for connecting nodes – now a more streamlined click-and-drag process; for soloing or disabling nodes; and for unfolding nodes.
You can find a detailed list of changes via the links at the foot of this story.

PlantFactory 2023: new Cutout Leaf node for generating leaf meshes
In addition, PlantFactory gets a number of new nodes, including a Cutout Leaf node for generating custom leaf meshes from single textures or from atlas maps for videogames.
Users place points around a leaf texture to define the outline of the resulting leaf mesh, with PlantFactory automatically handling polygon subdivision within the shape: there are options for triangles or quads.
The implementation supports LODs, crossed-plane mode, and ambient breeze in wind animations.

PlantFactory 2023: vertex colours and AO as post effects
PlantFactory also now supports vertex colours and ambient occlusion as post effects, making it possible to adjust them inside host applications, rather than having to bake the information to textures.
The change should enable users to generate leaf colour variations without the need to bake them as extra textures, and adjust the influence of procedural components of materials like noises and fractals.

PlantFactory 2023: new Instantiation node, support for nested loops, and deprecated features
The update also adds a new Instantiation node for replacing geometry primitives with instances when exporting plants in FBX or USD format, to reduce file sizes.
Updates to existing features include the option to set up nested loops when using iteration nodes to define the form of a plant, and better subdivision surface blending when generating a mesh.
In addition, the new Unreal Engine integration plugin introduced in PlantFactory 2021.2 now supports Unreal Engine 5.0 and 5.1.
In addition, several features have been deprecated, including the basic workspace and preset toolbar. Scenes created using the old preset nodes can still be loaded and edited in PlantFactory 2023.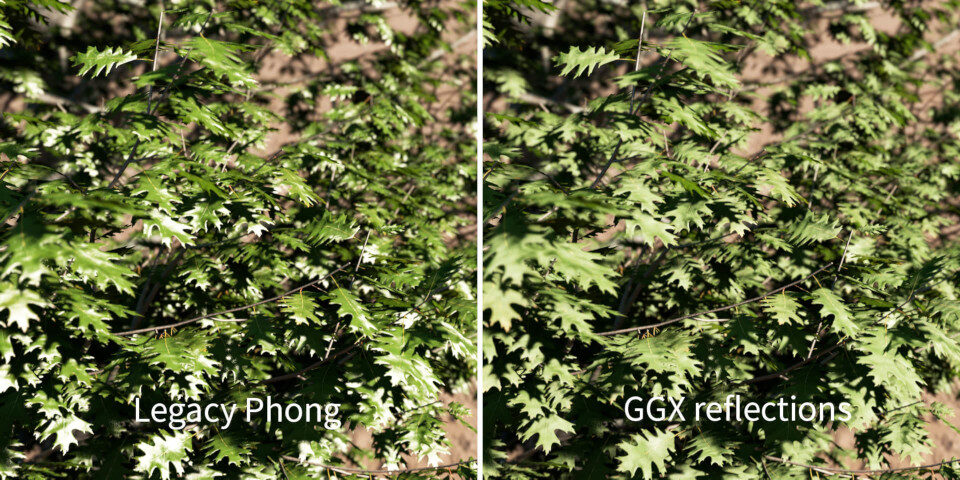 Vue 2023 only: new GGX model for reflection highlights
Vue 2023 is a smaller update, introducing a new GGX model for reflections in standard materials, which should result in more realistic highlights than the old Phong model when using photometric atmospheres.
In both Vue 2023 and PlantFactory 2023, the option to convert materials to their Redshift equivalents on export has been extended to the 3ds Max edition of the renderer, as well as Cinema 4D and Maya.
Pricing and availability
The latest versions of Vue and PlantFactory are available for 64-bit Windows 8+ and macOS 10.14+ as rental-only product bundles.
Non-commercial Creator subscriptions cost $19.95/month or $199/year.
Professional subscriptions cost $75/month or $750/year, while an Enterprise plan costs $99/month or $990/year for node-locked software licences; $1,490/year for floating licences.
All include PlantFactory plugins for 3ds Max 2019+, Cinema 4D R20+, Maya 2019+, Omniverse and Unreal Engine 4.26+; and Vue plugins for 3ds Max 2018+, Cinema 4D R18+, LightWave 11.6+ and Maya 2018+.

Read an overview of the new features in Vue 2023 on e-on software's website
Read an overview of the new features in PlantFactory 2023 on e-on software's website
Read a full list of new features in Vue 2023 and PlantFactory 2023 in the online release notes