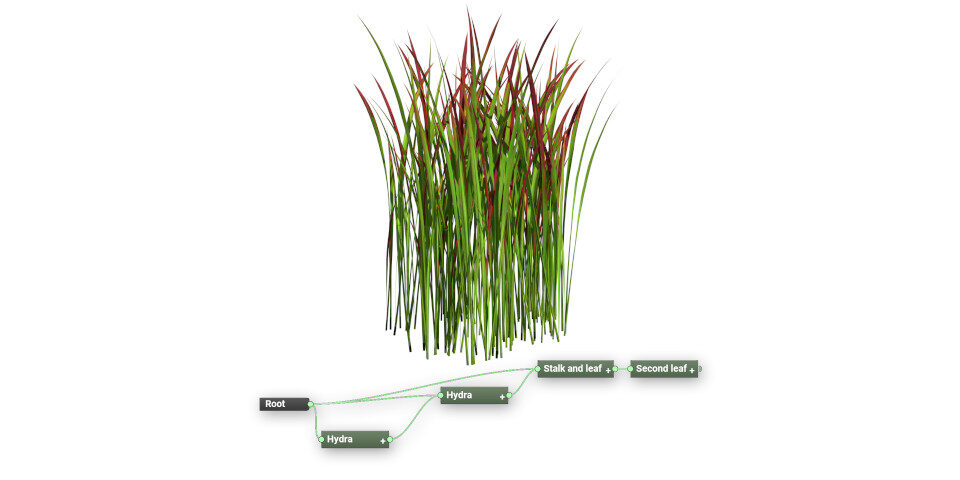 E-on software is to change the licence agreement for commercial subscriptions to Vue and PlantFactory, its digital nature tools, to let users sell assets created in the software via online marketplaces.
The move is part of a series of changes due alongside e-on's upcoming 2022 releases, along with expanding the tools available in its Creator subscription package, but restricting it to non-commercial work.
Users of Vue and PlantFactory to be able to sell exported assets in public marketplaces
The news that e-on is to change its EULA clarifies a grey area with plant-creation tool PlantFactory (and, to a lesser extent, environment-creation tool Vue): whether you can sell assets created in it online.
While e-on has previously allowed PlantFactory assets to be sold online, the summary of its current End User Licence Agreement in its online FAQs says:
"It's perfectly fine to create images/animations that use the built-in content [but] what you are not allowed to do is to export such content – altered or not – and provide it elsewhere, be it free or for a fee."
The new EULA, due to be introduced with the 2022 releases, will remove that limitation, enabling users to sell assets exported from Vue and PlantFactory in public marketplaces.
There are restrictions: as you might expect, assets sold commercially cannot include content created by e-on itself, and you can only sell asssets in generic file formats like FBX or Alembic, not native scene files.
However, the biggest restriction is that you can only sell assets publicly for as long as your Vue or PlantFactory licence is active: as soon as your subscription ends, you can no longer do so.
Creator subscriptions to be expanded, but will be restricted to non-commercial use
The new EULA also only applies to users with Professional or Enterprise subscriptions to e-on's products, since it is also now limiting its Creator subscriptions to non-commercial use.
In return, Creator users get access to a wider range of tools and features.
The new tools available include the Vue and PlantFactory integration plugins for Unreal Engine, 3ds Max, Cinema 4D, LightWave and Maya, and their new connectors for Omniverse.
E-on is also lifting the restrictions on scene export and render resolution in the Creator editions of Vue and PlantFactory, and adding support for multi-pass rendering, plus Python support in Vue Creator.
Other changes include new three- and five-year subscription plans, and a charge to reactivate older licences: anything earlier than the 2016 releases of Vue and PlantFactory.
The changes are the largest to e-on's product licensing since going subscription-only in 2018.
Pricing, licence conditions and release dates
E-on software's new EULA and changes to Creator subscriptions will be introduced with the 2022 releases of Vue and PlantFactory, due "in the coming weeks". The charge to reactivate older licences is already in force.
Professional subscriptions to Vue and PlantFactory currently cost $75/month or $750/year, while Enterprise plans cost $99/month or $990/year for node-locked software licences; $1,490/year for floating licences.
According to e-on, "no price raise is scheduled at this time".
Read more about the changes to the Vue and PlantFactory EULA on e-on's blog
Tags: Alembic, Creator subscription, e-on software, Enterprise Subscription, environment creation, EULA, export restrictions, FBX, licence conditions, licensing, licensing change, limitations, plant creation, plant creator, PlantFactory, PlantFactory 2022, price, Professional subscription, release date, restrictions, sell PlantFactory plants online, sell Vue assets online, Vue, Vue 2022