Friday, March 11th, 2022

Posted by Jim Thacker
See the first Threadripper Pro 5000 WX Series workstation

Lenovo has announced its next-generation ThinkStation P620 graphics workstation: the first in the world to offer AMD's new Ryzen Threadripper Pro 5000 WX Series CPUs.
Part of Lenovo's ThinkStation P-Series of professional workstations, the updated P620 will initially be the only way to buy the Threadripper Pro 5995WX, 5975WX, 5965WX, 5955WX and 5945WX.
The new CPUs have the same high core counts of previous Threadripper Pro chips, at higher clock speeds.
The new ThinkStation P620 will ship later this month, with the Threadripper Pro 5000 WX Series CPUs also due to become available to other system assemblers at the same time.


How do the Threadripper Pro 5000 WX Series CPUs differ from the 3000 WX Series?
As with the original ThinkStation P620, released in 2020, a key selling point of the next-generation P620 is that it will initially be the only way to get hold of AMD's latest Threadripper Pro CPUs.
Like current-gen Threadripper Pro 3000 WX Series chips, the five new 5000 WX Series CPUs provide an alternative to server CPUs, such as AMD's own EPYC product range, for high-end graphics workflows.
The new chips use AMD's Zen 3 architecture, with CPU cores in clusters of eight with access to 32MB of L3 cache, compared to four-core clusters with access to 16MB in the 3000 WX Series' Zen 2 architecture.
AMD says that the change benefits latency-sensitive tasks by reducing core-to-core communication times.
Total CPU core counts remain constant for equivalent models in the 5000 WX and 3000 WX Series, ranging up to 64 cores for highly threaded tasks like CPU rendering or simulation in the Threadripper Pro 5995WX.
The main change is the higher clock speeds: boost clock speeds rise by 200MHz or more on all models, and base clock speeds by 100MHz on all models except the 5995WX.
Clock speed benefits single-threaded workflows, like 3D modelling in tools like 3ds Max and CAD apps.
In addition, there is a new mid-range CPU: the 24-core Threadripper Pro 5965WX.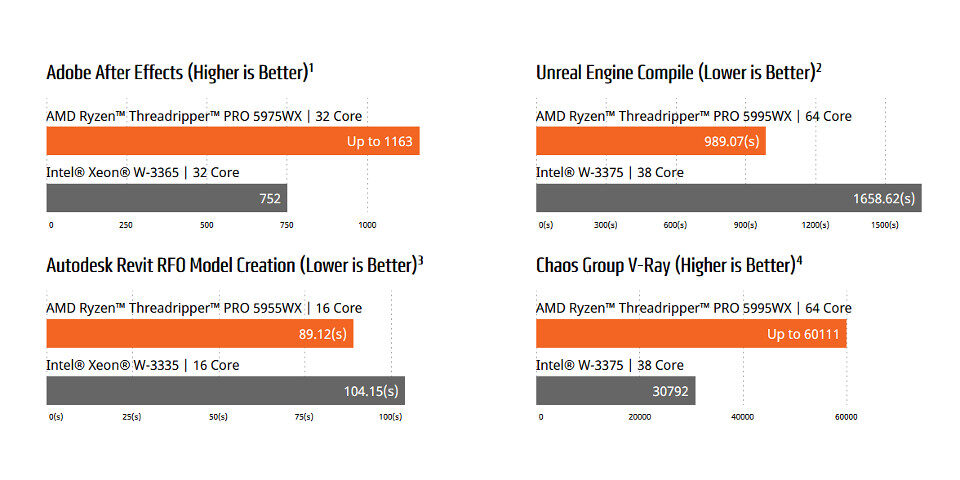 How will the Threadripper Pro 5000 WX Series CPUs perform with DCC software?
While AMD hasn't announced pricing publicly, making definitive price/performance comparisons impossible, the firm claims that that the chips outperform Intel Xeon CPUs with the same total core count.
AMD's own benchmark tests (above) show the 32-core Threadripper Pro 5975WX outperforming Intel's $3,499 Xeon W-3365 CPU in Puget Systems' PugetBench for After Effects benchmark.
At launch, the current-gen Threadripper Pro 3975WX had a MSRP of $2,749, so we would expect that of the Threadripper Pro 5975WX to be similar.
This article on Tom's Hardware includes slides from AMD's press material showing further benchmark comparisons between AMD Threadripper Pro 5000 WX and Intel Xeon CPUs.
Among DCC apps, AMD claims that the Threadripper Pro 5975WX outperforms the Xeon W-3365 by up to 32% in compiling Unreal Engine, up to 38% in V-Ray rendering, and up to 40% in Maya viewport performance.
The figures are even higher when comparing the top-of-the-range Threadripper Pro 5995WX to the Xeon W-3375, with speed boosts ranging from up to 25% in Maya to up to 100% in V-Ray and KeyShot, although that's not entirely suprising, given that the W-3375 has 38 CPU cores to the 5995WX's 64.
Clearly, these aren't independent tests, but they do suggest that the new Threadripper Pro CPUs will remain a popular option for studios looking to build high-end graphics workstations cost-effectively.
Other ThinkStation P620 specs: up to 1TB of RAM and dual Nvidia RTX A6000 GPUs
As with the original models, the updated ThinkStation P620 teams the new Threadripper Pro 5000 WX CPUs with workstation GPUs, now ranging up to dual Nvidia RTX A6000 cards in the highest-spec configuration.
The other key specs remain unchanged from the original models: up to 1TB of 3,200MHz DDR4 RAM, and up to 20TB of storage, spread across up to six drives.
For connectivity, users get one 10 Gigabit Ethernet port, 10 USB ports (2 x USB 3.2 Type C, 6 x USB 3.2 Type A, 2 x USB 2.0 Type A) and standard audio ports.
Pricing and system requirements
The new ThinkStation P620 workstations with AMD's Ryzen Threadripper Pro 5000 WX CPUs will be available later in March 2022. Lenovo hasn't announced prices yet.
As a guide, in its base configuration, with an AMD Threadripper Pro 3945WX CPU, 16GB RAM, a 256GB M.2 SSD and a single Nvidia Quadro P620 GPU, a current-generation ThinkStation P620 has an MSRP of $3,619.
If AMD follows the same release pattern as with previous Threadripper Pro CPUs, the Threadripper Pro 5995WX, 5975WX, 5965WX, 5955WX and 5945WX CPUs will initially be available via OEMs before becoming available to buy individually.
AMD hasn't yet announced prices for the CPUs publicly.

Read more about the next-gen ThinkStation P620 on Lenovo's website
Read more about the new Threadripper Pro 5000 WX Series CPUs on AMD's website