Friday, June 14th, 2019

Posted by Jim Thacker
Lenovo unveils ThinkPad P53 mobile graphics workstation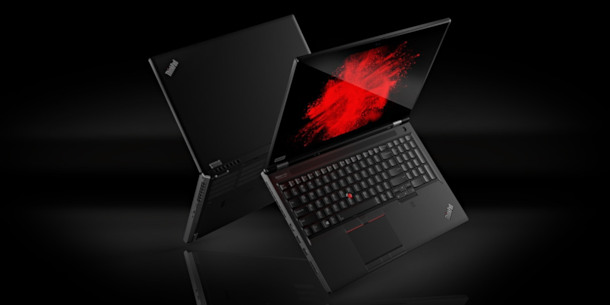 Lenovo has unveiled the ThinkPad P53, a new professional graphics system it describes as "the world's most powerful 15-inch mobile workstation".
The P53 goes on sale later this summer, alongside its 17-inch sister model, the ThinkPad P73, and three new lower-end models, the ThinkPad P53s, P43s and P1 Gen 2.
The ThinkPad P53: up to an eight-core GPU, Quadro RTX 5000 GPU and RAID 5 storage
Although that "world's most powerful" tag only takes into account firms shipping over a million units a year, Lenovo describes the ThinkPad P53 as a system that "is truly going to break some barriers".
The mobile workstation comes with a choice of Intel CPUs, running up to an eight-core 9th gen Xeon or Core i9, and up to a Nvidia Quadro RTX 5000 GPU, which Lenovo describes as a first for a 15-inch chassis.
It comes with up to 128GB of RAM, divided into four SODIMM slots; and up to 6TB of NVMe SSD storage – there can be up to three separate drives, making it possible to create a RAID 5 array.
Display options include a HDR-capable 4K UHD OLED Touch panel with a native resolution of 3,840 × 2,160px, which Lenovo describes as "a step above even the most high-end of 4K panels today".
For connectivity, you get two USB-A 3.1 ports, one USB-C and two Thunderbolt 3, plus an HDMI port, SD card reader, and Gigabit Ethernet port.
The weight is quoted at 2.45kg (5.4lbs) – not exactly feather-light, but lower than that of rival high-end 15-inch systems – and Lenovo has reduced the size of its power supply by 35% over previous models.
Lenovo is targeting the ThinkPad P53 at 3D, editing and finishing work, and describes it "as equipped to handle everything from augmented reality and VR content creation to the deployment of mobile AI".
Also due soon: the ThinkPad P73, two new entry-level machines, and an update to the ThinkPad P1
Alongside the P53, Lenovo has announced a 17-inch sister model, the ThinkPad P73.
Its maximum specs are very similar – one extra USB-A 3.1 port, although no option of RAID 5 storage – but it's correspondingly bigger and heavier, weighing in at 3.4kg (7.5lbs).
There are also two new entry-level models, the 15-inch ThinkPad P53s and 14-inch ThinkPad P43s, both targeted at students, and at less demanding 2D and AEC work.
Both run up to a four-core Intel Core CPU, Nvidia Quadro P520 GPU, 48GB RAM and single 2TB NVMe SSD.
Lenovo's slimline model, the ThinkPad P1, gets its first refresh since its launch last year.
That primarily just moves it to the current-generation equivalents of its original Intel and Nvidia processors, although it does increase the highest-end CPU available from six cores to eight cores.
Pricing and availability
The ThinkPad P53 is due to ship in July 2019, with prices starting at $1,799 for a configuration with a Core i5 CPU, Quadro T1000 GPU, 8GB RAM and single 256MB SSD.
The ThinkPad P73 is due to ship in August 2019, with prices starting at $1,849. The base configuration is similar to the P53, but uses a previous-gen Quadro P620 GPU.
The ThinkPad P53s and P43s ship in June and July respectively, with prices starting at $1,499 for both. The ThinkPad P1 Gen 2 also ships this month, with prices starting at $1,949.
Read more about Lenovo's ThinkPad P Series mobile graphics workstations on its product website