Tuesday, August 21st, 2018

Posted by Jim Thacker
Lenovo unveils the ThinkPad P1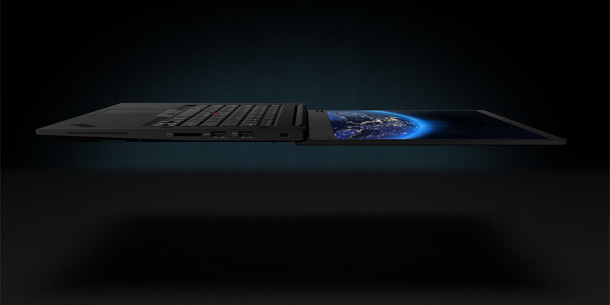 Lenovo has unveiled the ThinkPad P1: a new addition to its range of mobile graphics workstations that it describes as its "thinnest, lightest and sleekest" ever.
The 15-inch machine, which is intended to balance design chops against graphics horsepower, was announced last week at the start of Siggraph 2018 alongside a new 17-inch machine, the ThinkPad P72.
Balancing slimline style against production power
Lenovo describes the ThinkPad P1 as carrying "the legacy of professional power and reliability" of its ThinkPad portfolio, but making the same kind of style statement as something like the original MacBook Air.
"Whether you are looking for power, the lightest mobile workstation around or a sleek piece of tech-candy, the ThinkPad P1 delivers on all counts, period," said Rob Herman, the firm's general manager of workstations.
That idea of combining slimline design with something powerful enough to do actual production work isn't new: HP has done it with its ZBook Studio, and Dell with its Precision 5530.
In press briefings, Lenovo acknowledged that it was coming to market later, but pitched the extra time as being necessary to get the design of the ThinkPad P1 right first time.
So how does the P1 compare to other ultraslim mobile workstations?
With its "seamless keyboard, glass touchpad [and] black carbon fiber and magnesium alloy chassis", the ThinkPad P1 is recognisably targeting the design-conscious consumer.
While it retains the prominent diagonal ThinkPad logo below the keyboard, it has at least been blacked out.
Unlike the Precision 5530, you don't get a borderless display – the proportions of the edges are more like the ZBook Studio – but the base specs are the same: either a 15.6-inch FHD (1,920 x 1,080px) IPS panel or a UHD (3,840 x 2,160px) IPS touch panel supporting 10-bit colour and 100% of the Adobe RGB gamut.
At 14.2 x 9.7 x 0.7" (361.8 x 245.7 x 18.4mm), it's also an almost identical size: the ZBook Studio is a tad smaller, and the Precision 5530 smaller still, but there's only 1.4mm in peak thickness between the three.
And, at 3.76lbs (1.7kg), the ThinkPad P1 is actually the lightest of the three machines: the Precision 5530 starts at 3.93 lb (1.78 kg), and the ZBook Studio at 4.4lb (2.0kg).
Tech specs: competitive with or outpacing equivalent machines
Under the hood, the ThinkPad P1 packs a reasonable punch: an 8th generation Intel CPU – anywhere from a four-core Core-i5 to a six-core Xeon – plus either a Nvidia P1000 or P2000 GPU.
It comes with 8 to 64GB of DDR4 RAM, running at 2,667MHz, and between a 256GB and 4TB NVMe SSD. For operating systems, users have a choice of Windows 10 Pro or Ubuntu or RHEL Linux.
That's a similar choice of processors to the ZBook Studio and Precision 5530, although both also have lower-cost configurations with integrated graphics.
However, the ThinkPad P1's maximum RAM is double that of either the ZBook Studio or Precision 5530, and its maximum SSD storage capacity is also twice that of the Dell machine.
Connectivity is fairly standard: two USB 3.1 ports, two Thunderbolt 3 Type C, one HDMI 2.0, plus an SD card reader, mini Gigabit Ethernet, and a mic/headphone jack.
Lenovo says that the ThinkPad P1's 135W power supply is "35% smaller and lighter" than previous models, and at 80WHr and up to 13 hours estimated lifespan, battery capacity is in the same ballpark as its rivals.
One interesting factoid we spotted in the documentation is that in addition to extremes of temperature, humidity and vibration, ThinkPads are also specifically tested against ship vibration, altitude and "fungus", so pretty much wherever you choose to work, the P1 should carry on going.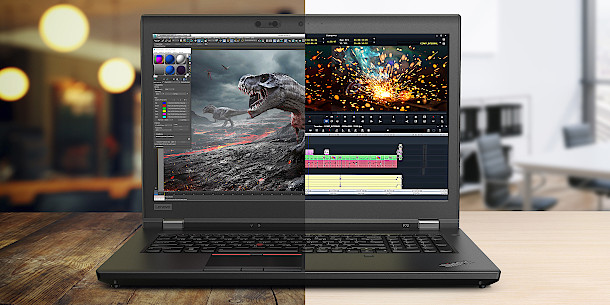 The ThinkPad P72: a larger, more conventional mobile graphics workstation
The ThinkPad P72 is larger, and styled more conventionally: its 17.3-inch display, again either FHD or UHD, brings the dimensions to 16.4 x 11.1 x 1.0" (416 x 281 x 25.9mm) and the weight up to 7.5lbs (3.4kg).
This time, the GPU goes all the way up to a Nvidia Quadro P5200, which means a pretty hefty 16GB of VRAM; and you get up to 128GB RAM and up to 6TB of total storage.
It's also officially certified for use with 3ds Max and Maya, whereas the ThinkPad P1 is only certified for use with CAD applications – although, on paper at least, neither should struggle to run the software.
Pricing and availability
The ThinkPad P1 and P72 are expected to become available at the end of August 2018.
Prices start at $1,949 and $1,799 respectively, although the lower starting cost of the P72 is probably down to the GPU: the entry-level configuration only features a Nvidia Quadro P600.

Read more about the ThinkPad P1 on Lenovo's website
(At the time of posting, Lenovo hasn't added the P72 to its P Series product page)