Thursday, November 12th, 2015

Posted by Jim Thacker
HP launches four new ZBook mobile workstations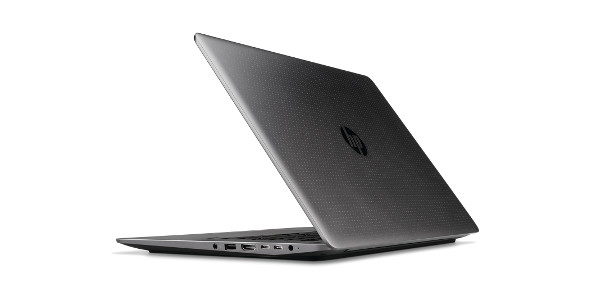 HP has announced the ZBook Studio: a new lightweight 15-inch mobile graphics system that it describes as the "world's first quad-core workstation Ultrabook".
The company has also announced a second new Ultrabook, the dual-core ZBook 15u G3, and updates to its existing ZBook 15 and 17 systems.
The ZBook Studio: a quad-core Ultrabook with up to 32GB RAM
In contrast to the functional black styling of HP's existing mobile graphics systems, the ZBook Studio (top of story) looks more like a conventional Ultrabook, with a sleek aluminium and magnesium body.
At just 0.71in (18mm) thick and 4.4lb (2.0kg) in starting weight, it is around 40% thinner and 30% lighter than HP's current-generation ZBook 15 G2, although only marginally different to the newer Omen Pro.
Like the Omen Pro, it comes with a choice of quad-core Intel Xeon or Core i7 processors, and either integrated graphics or the entry-level Nvidia Quadro M1000M GPU: the current-gen equivalent of the Omen Pro's K1100M.
However, with a maximum of 32GB of DDR4-2133 RAM and a 1TB Z Turbo Drive G2 SSD, it doubles the Omen Pro's maximum memory and storage capacity.
If you need, you can also choose a higher-resolution display than the Omen Pro: as well as standard 1,920 x 1,080 FHD options, the ZBook Studio offers a choice of UHD 3,840 x 2,160 displays.
Connectivity is also pretty good: unlike the Omen Pro, you get two Thunderbolt 3 ports as well as three USB 3 ports, although you only get an HDMI port instead of Mini DisplayPort 1.2.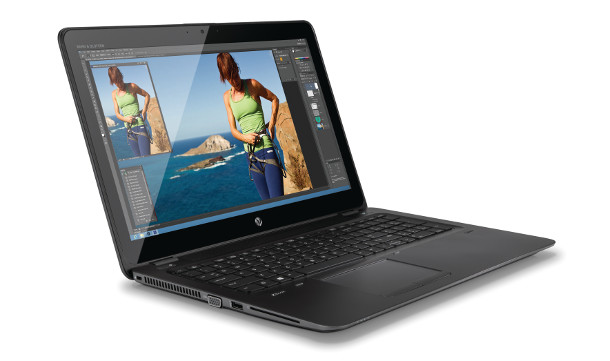 The HP ZBook 15u G3: a powerful dual-core Ultrabook
HP has also announced another Ultrabook, the 15-inch ZBook 15u G3 (above). Although it doesn't have the same styling as the Studio, at 4.18lb (1.90kg) and 0.78in (19.9mm), it's actually lighter, and almost as thin.
Unlike the Studio, the available processors are all dual-core Core i7s, although you still get the option of a discrete graphics card rather than integrated graphics: in this case, AMD's FirePro W4190M.
Again, you can have up to 32GB RAM; either a 1TB HDD or a 512GB Z Turbo Drive; and a UHD display. You also get three USB 3 ports, although there's no Thunderbolt this time, and DisplayPort instead of HDMI.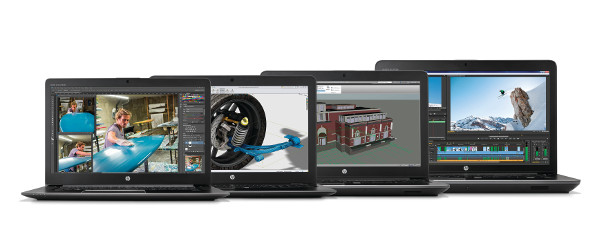 All four of HP's new ZBooks. Left to right: the ZBook Studio, ZBook 15u G3, ZBook 15 G3 and ZBook 17 G3.
New versions of the existing ZBook 15 and 17 mobile systems
There are also new versions of the two existing ZBook systems: the 15-inch ZBook 15 G3 and the 17-inch ZBook 17 G3. Each is around 25% thinner and 10% lighter than its predecessor.
The internal specs have also increased quite a bit: where the existing ZBook 15 G2 offers a choice of dual and quad-core Intel Core i5 and i7 CPUs, the ZBook 15 G3 offers exclusively quad-core chips, now including Xeons.
The available GPUs are essentially current-gen versions of those for the G2, although you do now get a card with 4GB graphics RAM, in the shape of the Nvidia Quadro M2000M.
Maximum available RAM has doubled, to 64GB; maximum available storage is now up to 3TB, including dual 1TB Z Turbo Drives; and maximum display resolution is up from QHD+ to full UHD.
It's a similar story with the ZBook 17 G3: current-gen quad-core Intel Core i5, i7 and Xeon CPUs; current-gen AMD or Nvidia GPUs; 64GB RAM instead of 32GB; and this time, up to 4TB of storage.
The update also addresses one of the few shortcomings we identified in our recent review of the ZBook 17 G2: the rather limited battery life – just 90 minutes under full CPU load – has been extended by 67%.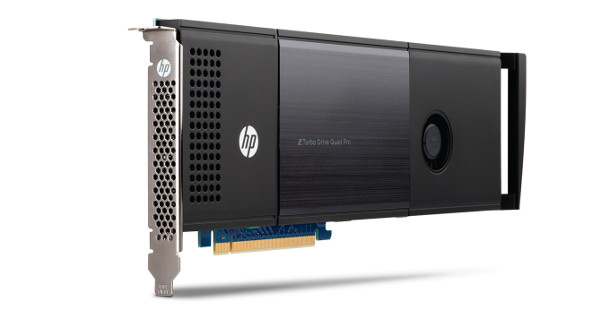 New storage and cooling solutions for desktop workstations, plus new displays
In addition to the new mobile systems, HP announced upgrades to two components of its desktop workstations.
Thanks to their PCIe connectivity, HP's Z Turbo Drives were always faster than conventional SATA SSDs – and now they can match them for capacity as well.
The new Z Turbo Drive Quad Pro (above) does pretty much what its name suggests, packing four 256 or 512GB modules into a single unit, for a total of up to 2TB SSD storage on a single PCIe card.
It's supported in HP's current top-end Z Series workstations: the Z440, Z640 and Z840.
There is also the Z Cooler: a new cooling system based around 3D vapour chamber technology, as opposed to the liquid cooling previously used in Z Series workstations.
By reducing CPU fan noise, HP estimates it reduces noise output by around 40%. It's supported in the Z840 and, if you buy it as part of a new system, the Z440.
In addition, HP has introduced two new entry-level models in its range of narrow-bezel Z Display monitors: the 22-inch Z22n and 23-inch Z23n.
Pricing and availability
The ZBook Studio should become available in December, with prices starting at $1,699 – although obviously, maximum-spec configurations of the type discussed in this story will raise that price significantly.
The other three new models should become available in January 2016. The ZBook 15u G3 starts at $1,099, but pricing hasn't yet been announced for the ZBook 15 G3 and ZBook 17 G3.
The Z Cooler and Z22n and Z23n displays are available now, and cost $120, $209 and $229, respectively. The Z Turbo Drive Quad Pro will become available later this month, priced $1,376 for a card with four 256GB modules.
Read HP's official announcement for the new ZBook mobile graphics workstations
Visit HP's product website for the ZBook mobile graphics workstations