Wednesday, April 15th, 2015

Posted by Jim Thacker
HP ships Omen Pro 15″ mobile graphics workstation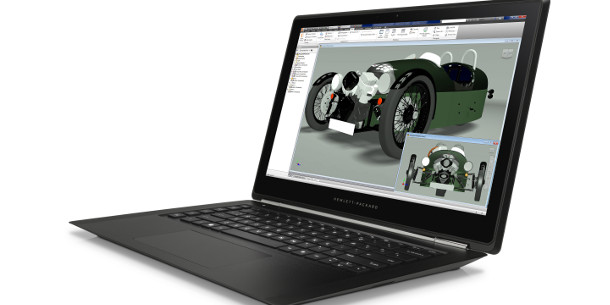 HP has released the Omen Pro, a "gorgeous, thin and light" 15-inch mobile workstation for professional graphics work, based on its Omen gaming laptop.
The new workstation was announced at NAB 2015, along with the 31.5-inch DreamColor Z32x monitor, and the Z Turbo Drive G2, the next-generation of HP's high-speed PCIe SSDs.
Respecced for graphics work, but still as slimline
At 15 x 9.74 x 0.78″ (38.3 x 24.8 x 2.0cm) and 4.68lb (2.12kg), the Omen Pro preserves the compact styling of the original. (For comparison, HP's ZBook 15 is half an inch thicker and over a pound heavier.)
It sits slightly below the ZBook 15 in HP's mobile range, although on paper, the specs aren't vastly different.
The Omen Pro runs 64-bit Windows 7 Professional, and comes with a choice of quad-core fourth-gen Intel Core-i7 processors, up to 16GB DDR3L-1600 RAM, and either a 256 or 512GB Z Turbo Drive SSD.
And whereas the original Omen was a GeForce-based machine, the Pro edition comes with a professional graphics solution, in the shape of Nvidia's K1100M GPU.
Connectivity is fairly standard: 4 x USB 3.0, 1 x Mini DisplayPort 1.2 and 1 x HDMI – unlike the ZBook 15, you don't get a Thunderbolt port.
Pricing and availability
The Omen Pro is available now. Recommended pricing starts at $2,199.