Friday, August 20th, 2021

Posted by Jim Thacker
Arseniy Korablev releases Teya Conceptor 4.0

Originally posted on 20 August 2021. Scroll down for news of the free kitbash brush pack.
Animator and tools developer Arseniy Korablev has released Teya Conceptor 4.0, the latest version of the 3D concept design and kitbashing software.
The update, which is free to existing users, gives the application a more minimal UI and groups its brush library by category, and adds new geometry modifiers, plus the option to import smoothing groups.
Create 3D concept art quickly and intuitively by sketching in 3D space
First released in 2016, and originally called PolyBrush, Teya Conceptor is intended to enable concept artists to create 3D geometry more quickly and intuitively than conventional sculpting packages.
Users can sketch out forms by creating strokes in 3D space, using brush presets designed to mimic organic or mechanical parts. The resulting geometry can then be modified using more conventional modelling tools.
Once complete, models can be remeshed and exported to other software in OBJ format. It is also possible to import OBJ files to use as the basis for custom brushes.
New in Teya Conceptor 4.0: more minimal UI, brush groups, new geometry modifiers
Teya Conceptor 4.0 further strips back the software's UI, and groups the brush library by brush type.
The full list of categories can be seen 00:25, and includes brushes mimicking liquids and architectural forms, as well as for sketching out mechanical parts and character or creature designs.
There isn't much information on the new features on the Teya Conceptor website, but Korablev included the following summary of the other features in an email sent to the Teya Conceptor mailing list:
Modifiers: subdivide, optimize, crease
Import of smoothing groups (+ hardsmooth modifier)
Drawing in-depth on the workplane (convenient, for example, for plants' branches)
Performance and stability
Many other improvements (improved .obj loader, background loading, etc.)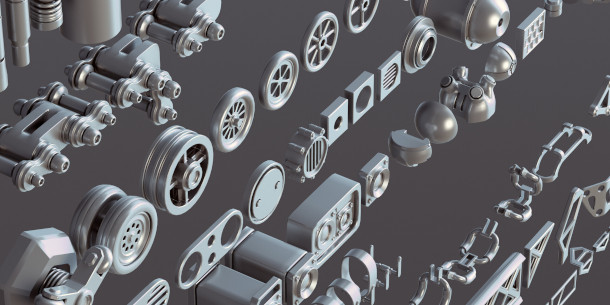 Updated 22 October 2021: Arseniy Korablev has released 180 new free kitbash brushes for Teya Conceptor mimicking real-world mechanical parts like wheels, struts, pistons and chain links.
Existing users can access them by running the software for a few minutes then restarting, after which they should appear in the Tech category; or they're included as part of the download version.
Pricing and availability
Teya Conceptor 4.0 is available for Windows and macOS. A new perpetual licence costs $199; a rental-only subscription costs $49/year. The update is free to existing users.
There is also a free trial version of the software. It's initially valid for 30 days, but that extends by 14 days every time you draw for more than an hour, making it possible to use the software for free indefinitely.

Read more about Teya Conceptor on the product website