Thursday, March 12th, 2020

Posted by Jim Thacker
Arseniy Korablev releases Teya Conceptor

Originally posted on 3 December 2018. Scroll down for news of the commercial release.
Animator and tools developer Arseniy Korablev has released version 3 of concept sculpting tool Polybrush in free open beta, renaming the product Teya Conceptor.
The update overhauls the software's UI and workflow, providing what Korablev describes as a "simple, handy and modern" user interface.
Create 3D concept art quickly and intuitively by sketching in 3D space
First released in 2016, Teya Conceptor is intended to enable concept artists to create 3D geometry more quickly and intuitively than conventional sculpting packages.
Users can sketch out forms by creating strokes in 3D space, using brush presets designed to mimic organic or mechanical parts. The resulting geometry can then be modified using more conventional modelling tools.
Once complete, models can be remeshed and exported to other software in OBJ format.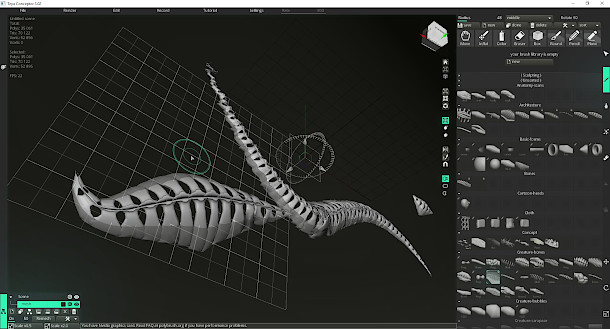 Decluttered new UI and more streamlined workflow
Teya Conceptor features a "completely new interface", replacing Polybrush's previously rather cluttered UI with a "simple, handy and modern" design.
Tools palettes are now launched from tabs on the left-hand side of the UI, saving a lot of screen space, and the viewport gets an Autodesk-style navigation cube.
Users can also set the main mouse and keyboard shortcuts to match the defaults in other DCC applications, including 3ds Max, Blender, Cinema 4D, Maya, Modo and ZBrush.
The teaser video also mentions "better tools which are always at hand", but there doesn't currently seem to be a more detailed changelog on the product website.

Updated 12 March 2020: Teya Conceptor is now shipping.
As well as overhauling the software's user interface, the release makes the software available on macOS for the first time. A "future Linux version is also possible".
Pricing and availability
Teya Conceptor is available for Windows and macOS. A new perpetual licence costs $199; a rental-only subscription costs $49/year. Old Polybrush licences also work with Teya Conceptor.
There is also a new free trial version of the software. It's initially valid for 30 days, but that extends by 14 days every time you draw for more than an hour, making it possible to use the software for free indefinitely.

Read more about Teya Conceptor on the new product website