Monday, March 22nd, 2021

Posted by Jim Thacker
Download free parallax maps from wParallax

wParallax has released six free parallax texture maps that can be used to create instant fake 3D interiors for 3D buildings, for architectural visualisations or general CG work.
The maps, a free sample from the firm's new commercial texture collections, can be used in commercial projects, and come with readymade 3D scenes for 3ds Max and Cinema 4D.
However, the maps themselves should also be usable in other renderers that support the Open Shading Language, including Arnold, Blender's Cycles renderer and RenderMan.
Updated 11 May 2022: The maps can also now be used in Unreal Engine, via wParallax's Unreal shader.
Create fake 3D interiors for your 3D buildings with a single click
The wParallax textures piggyback on jiWindowBox, an OSL shader for 3ds Max created by Julius Ihle, head of lighting and lookdev at VFX house Trixter.
It uses parallax mapping – also known as interior mapping in game development – to enable a 2D texture mapped to a window on the exterior facade of a building to give the illusion of a 3D interior behind it.
In the case of WindowBox, separate regions of the 2D texture map represent the walls, ceiling and floor of the room behind the window, midground objects like furniture, and curtains or foreground objects.
That makes is possible to change the look or even the apparent layout of the room by editing the texture map in a 2D application like Photoshop, as shown in the video above.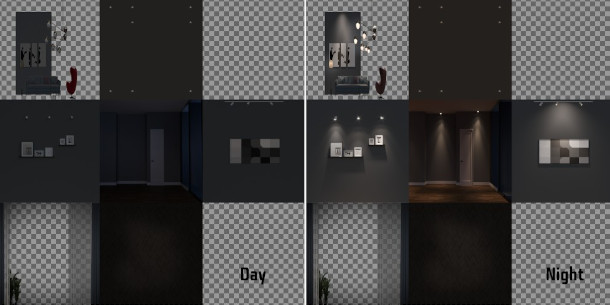 Two of wParallax's free parallax maps, showing a domestic interior by day and by night.

Comes with readymade 3ds Max and Cinema 4D scenes, but should work with other DCC apps
The free wParallax sample consists of six parallax maps, four showing domestic interiors by day and by night, and two showing gallery or retail spaces by night.
Each is provided in EXR format at 1,000 x 1,000px and 3,000 x 3,000px resolution.
They come with readymade 3ds Max and Cinema 4D scenes with the shading already set up, into which you can plug the texture maps and get immediate results.
However, compiled versions of the original WindowBox shader are available for Arnold, Blender's Cycles renderer, and RenderMan, so it should be possible to use them in other DCC applications.
The commercial collections from which the free sample is taken each consist of 15 daytime and 15 nighttime textures of interiors, offices or retail spaces, plus three readymade 3ds Max demo scenes.
wParallax also has three newer collections of domestic interiors: bedrooms, living rooms and kitchens.
Pricing and system requirements
The free wParallax sample is compatible with 3ds Max 2019+ and the Corona Renderer and V-Ray renderers, and with Cinema 4D R20+ and OctaneRender. The assets are licensed for commercial use.
The full Rooms, Offices and Retail collections each cost $59, and are compatible with 3ds Max 2019+ only. Cinema 4D and Blender editions of the commercial collections are planned.

Download the free wParallax parallax maps and demo scenes from Gumroad