Monday, October 5th, 2020

Posted by Jim Thacker
Effective TDs ships Storm 0.5

Originally posted on 26 June 2018. Scroll down for news of the 0.5 update.
Effective TDs has released Storm, an interesting new standalone granular solver for simulating materials like sand and snow, developed by Scanline VFX artist Sebastian Schäfer.
A fast, reasonably priced standalone granular solver, compatible with most DCC tools
Storm pitches itself as a fast, intuitive, robust granular solver compatible with major DCC applications.
According to the documentation, the software is highly multithreaded, and features an accelerated viewport display capable of displaying "millions of particles in real time" on a standard modern workstation.
It supports stiffness controls and constraint forces, making it possible to simulate materials "from sand to jelly", with animation controls planned for a future release.
Storm imports base geometry as .obj or Alembic .abc files, and exports completed simulations as Alembic caches, or as particles in Krakatoa's .prt format or RealFlow's .bin format.
At under $300, it is competitively priced against more fully featured simulation tools, and may yet gain its own multiphysics capabilities: Effective TDs describes it as the start of "a potential multisolver framework".
As well as Schäfer's VFX work, the firm has its own track record in production, being a new joint venture between Stormborn Studios co-founder Goran Pavles and Demolition Master developer Eloi Andaluz.

Updated 24 November 2018: Storm 0.2 is out. (Actually, it's been available for a couple of weeks, but Effective TDs just just released a new demo version for both Windows and macOS.)
As well as the new Mac version, the update improves performance: the video above claims that the viewport display is up to 4x faster on large scenes, and that simulations themselves are up to 3x faster.
In addition, it is now possible to interact with a simulation in progress in real time.
New functionality includes the option to use any sim as the initial state for another, to use deflectors to activate a simulation only on particles they contact, and to use any volume to kill particles.
It is also now possible to create or import camera animations into Storm.
Originally priced at $279 for a node-locked licence, the product has now been split into a $349 Studio edition and a $149 Indie edition, intended for artists with annual revenue of under $90,000.

Updated 5 July 2019: Storm 0.2.5 is out, making the software available for Linux as well as Windows/macOS.
New features include a Smoothed Particle Hydrodynamics (SPH) fluid solver – you can see it at 01:00 in the video above – which works with all of the forces available for the granular solver, plus a new Wind force type.
It is also now possible to use expressions for all numeric and Boolean parameters within the software, increasing user control of simulations.
Under the hood, writing images and caches in the background is now "25-200% faster", and performance has been improved when reading or writing Alembic files.

Updated 27 November 2019: Storm 0.3 is out. The update adds a new VDB-based mesher for converting a particle system into a liquid surface.
The mesher works on both cached and live particle simulations, so you can adjust the meshing parameters on a simulation in progress and see the results in real time.
Meshed simulations can be exported in Alembic format, either on a per-frame basis, or as a single combined file: another feature added in the 0.3 update is a stitcher to convert Alembic sequences into single files.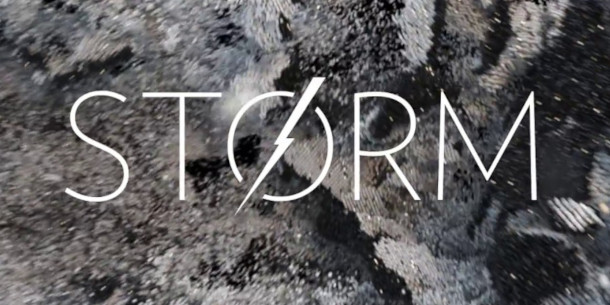 Updated 21 August 2020: Storm 0.3.5 is out. The update adds "experimental" support for CUDA, accelerating both the granular and SPH solvers on systems with current Nvidia GPUs.
Other new features include the option to open imported files as sequences, to export VDB files from the particle mesher, and to export OBJ files with UVs.
The update also introduces a new file browser within the software, and adds more expression functions and options for controlling simulations.

Updated 5 October 2020: Storm 0.5 is out.
The update – to judge from Effective TDs' forum, there was no previous 0.4 release – makes CUDA support official for granular and SPH simulations, although so far, only for Windows users.
However, Storm 0.5 is a much bigger release, adding a new sparse smoke solver to the software: Storm's first foray into gaseous fluid simulation.
Features shown in the video above include the option to use spreadsheet inputs to control the properties of smoke and fire simulations, and to emit smoke from geometry based on velocity.
The release also adds a new upres solver, enabling users to develop granular fluid simulations more quickly by iterating on low-res sims, then increasing the resolution for final output.
In addition, there is a new mesh deformer system: there isn't much infomation about it online, but you can see it briefly at 01:05 in the video.
Storm 0.5 also implements an experimental new node graph that can be used to generate or modify particles, meshes and volumes.
It's still only partly implemented – it supports the new features in the update, but not granular or SPH fluids yet – but it includes some nice usability features like automatic node connection.
The node graph also forms the basis of what Effective TDs calls a "complete procedural VDB toolkit".
In the video, it can be seen in use to perform real-time Boolean operations on VDB volumes – including moving one volume through another to remove regions from it dynamically.
Pricing and availability
Storm is available for Windows 7+, Ubuntu 18.04 Linux and macOS 10.13+. It has been tested on "multiple workstations and laptops", with the main limitation on the size of simulations being system RAM.
An Indie licence costs $149; a node-locked Studio licence costs $349, and a floating Studio licence costs $449. There is also a free save-disabled trial edition.
Read a full list of new features in Storm 0.5 on Effective TDs' forum