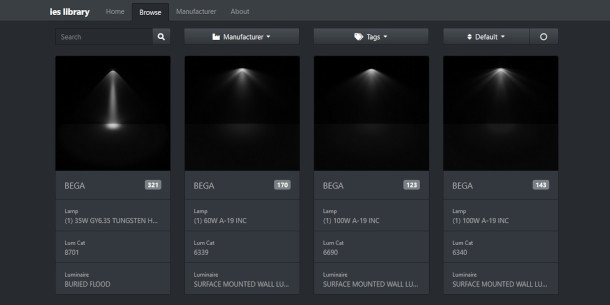 Jürgen Furrer has launched IES Library, a new online library of IES files for use in architctural visualisation and illustration work.
The site currently has over 90,000 IES files available to download for free, representing real-world lights from manufacturers like GE, Osram and Philips, each with a rendered preview of the light pattern it generates.
Download IES files for real-world light fixtures for use in DCC and CAD software
A global standard for photometric data, the IES file format encodes the intensity and spatial distribution of light emitted by real-world light fixtures.
IES files are supported by most industrial design and visualisation software, including DCC applications like 3ds Max, Blender and Maya, either natively or through renderers like V-Ray and Arnold.
Although IES files are freely available online, IES Library collects together data from many individual repositories, including those for a range of major lighting manufactuers, and eliminates duplicate records.
Each file is presented with supporting information like wattage and bulb type, plus a standard render showing the lighting pattern it represents, generated automatically in Blender.
Files can be filtered by manufacturer or by type: there are simple categories for downlights, uplights, flood lights and multi rays.
New tagging and browsing features planned for the site
Furrer is currently in the process of populating the library with data, and says that he has around 160,000 files to process in total.
Future features planned for the site include a contextual tagging system, the option for usrs to rate individual files, and a Blender plugin to make it possible to browse files directly inside the software.
Users have suggested making it possible to filter data by the type of fixture in which a light can be mounted.
Availability and system requirements
The IES files on IES Library are free to download, and are licensed for commercial use.
Download free IES photometric lighting files from IES Library
Tags: 3ds max, Arnold, Blender, commercial use, download, free, IES file, IES Library, IES light, Jürgen Furrer, light fixture, luminaire, Maya, photometric, preview, real-world lighting data, V-Ray