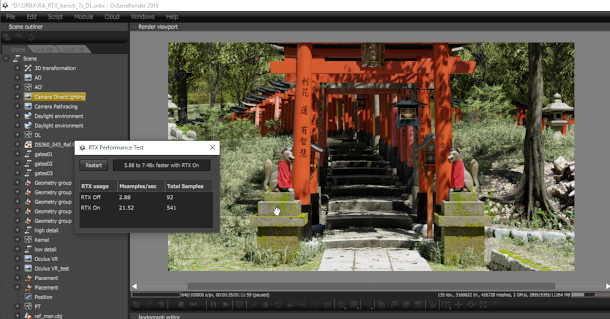 Otoy has released its first preview build of OctaneRender, its GPU production renderer, to support hardware-accelerated ray tracing via Nvidia's new RTX architecture.
The new build, which was announced during GDC 2019, is being described variously as plain OctaneRender 2019 and OctaneRender 2019.2.
One of several rendering engines to debut support for RTX this week
Otoy is one of a group of developers demoing support for RTX during GDC this week.
Nvidia's hardware implementation for the DirectX Raytracing API – available in its new Quadro RTX, Titan RTX and GeForce RTX GPUs – is also supported in Arnold 5.3 and the preview of Unreal Engine 4.22.
Unity Technologies and Crytek have also announced RTX support in future versions of Unity and CryEngine.
Up to a 7.5x speed boost over rendering on CUDA
In its forum post, Otoy describes enabling RTX hardware acceleration in OctaneRender as providing a speed boost of between 1.1x and 7.5x over rendering using Nvidia's older CUDA architecture.
The largest performance increases are on more complex scenes such as those "with heavy instanced geometry with dense foliage and scatter nodes".
RTX acceleration should also result in Octane rendering more samples in the same amount of time as before, resulting in a cleaner render.
However, the current build only supports mesh triangle scene geometry, and lacks RTX support for displacement, the rounded edge shader, motion blur and network rendering.
Otoy says that it is working on supporting more advanced features before the stable release of the technology, which is expected to be in OctaneRender 2019.2.
That could still be some way off: Otoy only just released first stable build of OctaneRender 2018.1, and at the time of posting, the version for sale in its online store was still OctaneRender 4.
Availability and system requirements
The RTX-enabled build of OctaneRender 2019 is available for Windows 7+. It will run on older Nvidia hardware, but to see any performance benefits, you will need an RTX GPU.
The build is time-limited and will expire in 120 days. Linux and macOS builds will follow "when Nvidia provides suitable drivers", but there is "no ETA yet".
Read more about the first preview build of OctaneRender 2019.2 on Otoy's forum
(Includes download links)
Tags: Arnold, CryEngine, CUDA, DirectX Raytracing, download, DX12, GDC 2019, GPU acceleration, GPU-based, hardware acceleration, NVIDIA, OctaneRender 2019, OctaneRender 2019.2, performance boost, preview, ray tracing, release date, rendering, RTX, speed boost, system requirements, Unity, Unreal Engine, Vulkan