Thursday, February 14th, 2019

Article by Jason Lewis
Review: AMD Radeon Pro WX 8200


AMD's latest workstation graphics card provides professional artists with considerable bang for their buck. Jason Lewis puts it through his real-world benchmark tests alongside two competing Nvidia GPUs.

After what felt like an eternity of modest – in my view, mediocre – year-over-year improvements in hardware, the last couple of years have been pretty spectacular for desktop PCs and workstations.
AMD's launch of its new Ryzen and Threadripper processors has once again put serious competition in the CPU space, forcing Intel to be competitive again, and the same holds true with its Vega GPU architecture. While Nvidia still seems to hold the ultimate performance crown with its new RTX series of graphics cards, in the mid-range, upper-mid-range, and professional sectors, the Vega-based AMD GPUs can put some pressure on the Green Group's products, particularly when it comes to bang for your buck.
In this review, we will be looking at one of the newest of those Vega cards, and AMD's latest offering in the professional GPU space: the Radeon Pro WX 8200.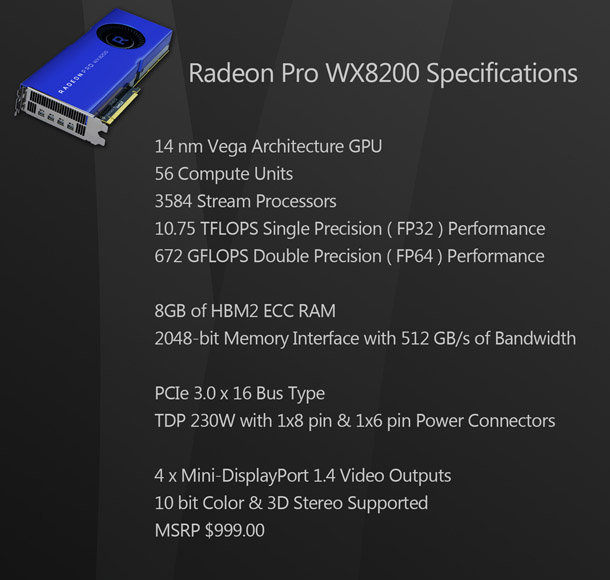 Specifications
The WX 8200 is a high-end GPU, slotting in just under AMD's current top-of-the-range workstation card, the Radeon Pro WX 9100. It's a 14nm Vega-based GPU with 56 compute units, providing 10.75 Tflops of peak single-precision (FP32) performance, and 672 Gflops of double-precision (FP64) performance. The GPU has access to 8GB of HBM2 ECC memory on a 2,048-bit interface for a memory bandwidth of 512 GB/s.
For display, the WX 8200 has four Mini DisplayPort 1.4 outputs, supporting 8- and 10-bit colour depths. It can drive up to four displays at 4K resolution or lower, three at 5K resolution, or a single display at 8K resolution. If your monitor doesn't have Mini DisplayPort ports, the card comes with adaptors for alternative connector types (four for full-size DisplayPort, one for HDMI 2.0, and one for single link DVI), and you can pick up additional Mini-to-full-size-DisplayPort cables for around $7 online. I used the adaptors provided while benchmarking the WX 8200 and they worked without any problems.
The WX 8200 is a 230W card, with that power supplied by two PCIe connectors: one 6-pin and one 8-pin.
Professional versus consumer GPUs
The Radeon Pro WX 8200 has basically the same specs as AMD's Radeon RX Vega 56 gaming card, but with faster ECC RAM, and is tuned to work with DCC software, not games. This brings me on to an important point: the differences between consumer and professional cards.
Unlike the pioneering days of desktop graphics work – the late 1990s and early 2000s, when companies like 3Dlabs, Intergraph and ELSA were still building specialised hardware specifically aimed at professional users – today's professional and consumer cards use essentially the same hardware, with a few key differences.
The first of these is that pro cards typically carry more RAM than their consumer equivalents: important for displaying large datasets in 3D applications, and even more so for GPU computing. Second, according to AMD and Nvidia reps, the GPU chips on pro cards are usually hand-picked from the highest-quality parts of a production run, guaranteeing reliability under continuous heavy loads. Again, this is particularly significant for GPU computing, which can tax a chip far more heavily than gaming.
The other big differences between professional and consumer cards are their driver set and software support. While consumer drivers are tuned more towards fill rate and shader calculations, pro drivers are tuned for 3D operations such as geometry transformations and vertex matrices, as well as providing better performance under GPU computing APIs such as Nvidia's CUDA or the open standard OpenCL.
Pro cards are also optimised and certified for use with graphics applications, including Adobe's Creative Cloud tools and popular DCC and CAD packages like 3ds Max, Maya, AutoCAD and SolidWorks. These optimisations provide greater stability when compared to their desktop counterparts. In addition, the manufacturers offer more extensive customer support for their professional products than consumer cards.
Essentially, professional cards are targeted at users who rely not only on speed, but on stability and support. You may get adequate performance out of a consumer card – but during crunch periods, when you need reliability as well as performance, a professional GPU offers greater peace of mind.
Testing procedure
My test system for this review was a custom-built AMD Threadripper 1950X system with 64GB of 2,666MHz DDR4 RAM, a 512GB M.2 SSD drive, a 4TB 7200RPM mechanical HDD, and an 850W power supply. Its horsepower ensured that the only bottlenecks in graphics performance were the GPUs themselves, enabling me to really push the cards. Testing was performed on a single 32" 4K display running at 60Hz at its native resolution of 3,840 x 2,160px.
For comparison, I also benchmarked two Nvidia cards: a Quadro P4000 and a GeForce GTX 1080 – I tested an ASUS GeForce GTX 1080 Founder's Edition. Like the WX 8200, the Quadro P4000 has 8GB of graphics memory, although, based on its position in Nvidia's Pascal series, the 16GB Quadro P5000 would also be a valid comparison. I don't currently have access to a P5000, so the GeForce GTX 1080 is included as a rough approximation: it's a gaming card, and has 8GB of memory, but like the P5000, it has 2,560 CUDA cores.
[Editor's note: although Nvidia's new Quadro RTX series of GPUs also includes a similarly-specced card, the Quadro RTX 4000, it hadn't been released when benchmarking began.]
The benchmarks were broken into three categories, and used the following software:
Viewport and display performance
3ds Max 2019, Blender 2.79b, Fusion 360 2019, LightWave 2018, Maya 2018, Modo 12.1v2, SolidWorks 2019, Substance Painter 2018.3, Unity 2018.2.0b9, Unreal Engine 4.20
GPU rendering
Blender 2.79b (using the Cycles renderer), IndigoBench 4, LuxCoreRender 2.1, Radeon ProRender for 3ds Max 2.3, V-Ray 3.6 (using V-Ray RT GPU)
Other benchmarks
Cinebench R15, Premiere Pro CC 2018, Unreal Engine 4.20 (testing VR performance)
Each test used digital assets similar to those used in a real production environment. The viewport frame rates quoted are averages of those recorded over 8-10 test sessions. For all OpenCL rendering benchmarks, CPUs were disabled so that only the GPU was used for computing.
Benchmark results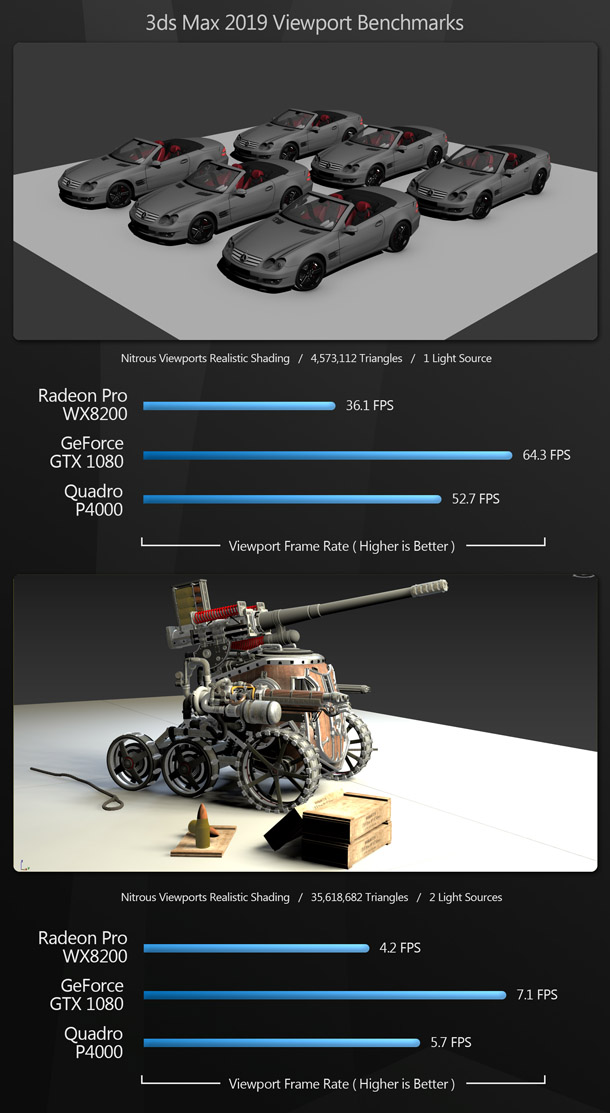 3ds Max 2019
Our first two benchmarks use Autodesk's main DCC applications. 3ds Max's DirectX-based Nitrous viewport seems to favour Nvidia hardware, as both the Quadro P4000 and the GeForce GTX 1080 take the lead over the Radeon Pro WX 8200.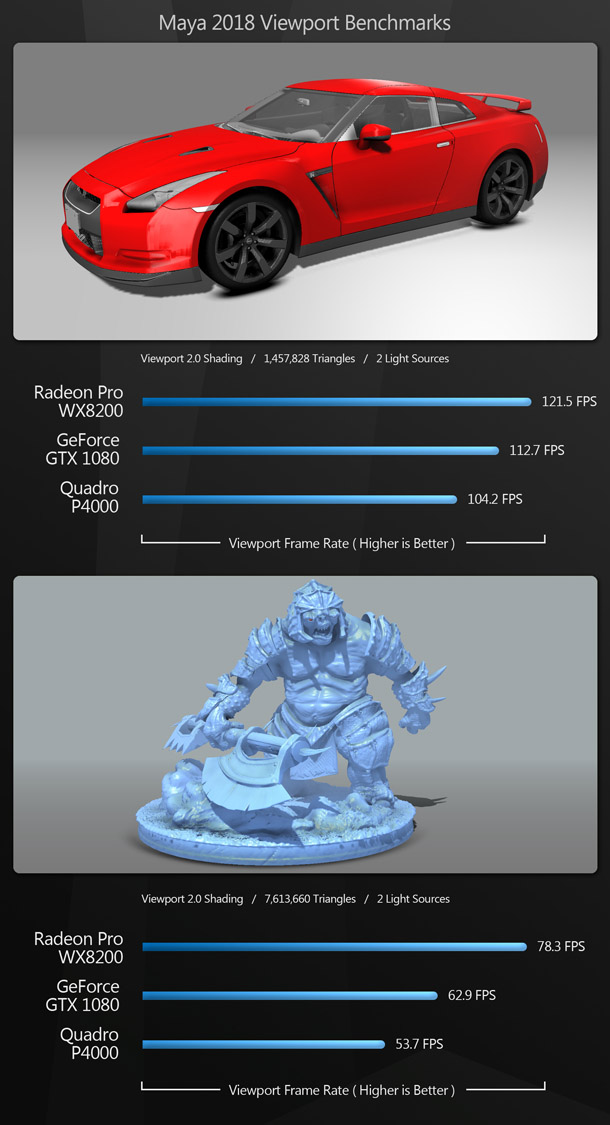 Maya 2018
With Autodesk's other main DCC package, the situation is reversed. Maya's Viewport 2.0 runs in OpenGL mode, which the WX 8200 seems to favour, taking the lead over the P4000 and GTX 1080, albeit by a smaller margin than the Nvidia cards took with 3ds Max.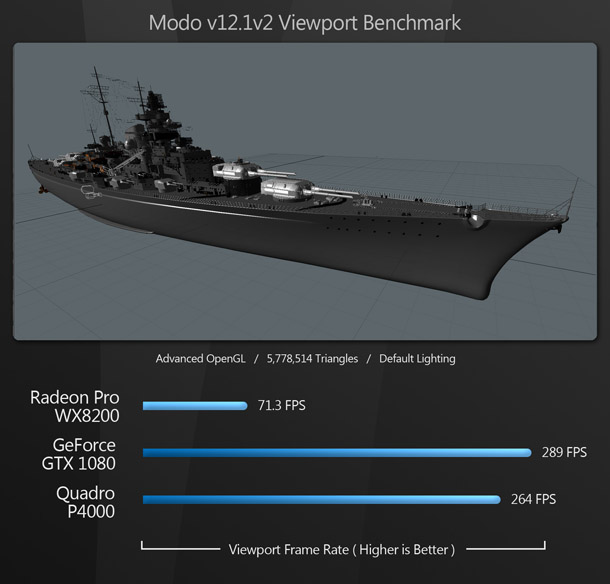 Modo 12.1v2
Foundry's 3D modelling and rendering software has historically favoured Nvidia GPUs, and so it proves here. The WX 8200's performance is more than adequate, but the Nvidia GPUs take a significant lead.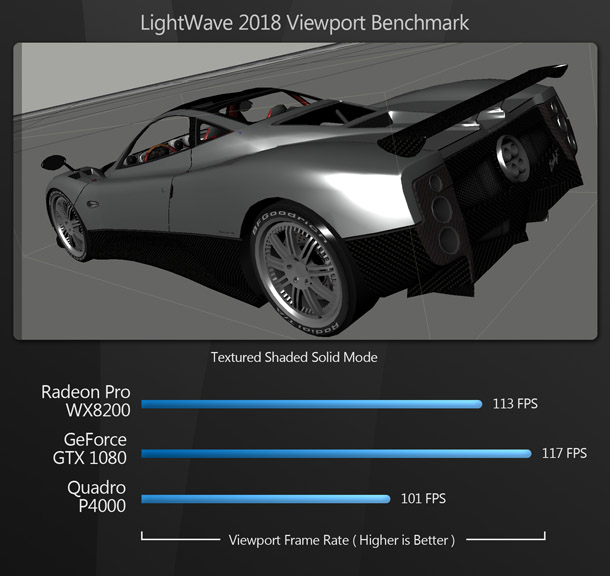 LightWave 2018
With NewTek's veteran DCC application, the WX 8200 falls slightly behind the GTX 1080, but ahead of the Quadro P4000.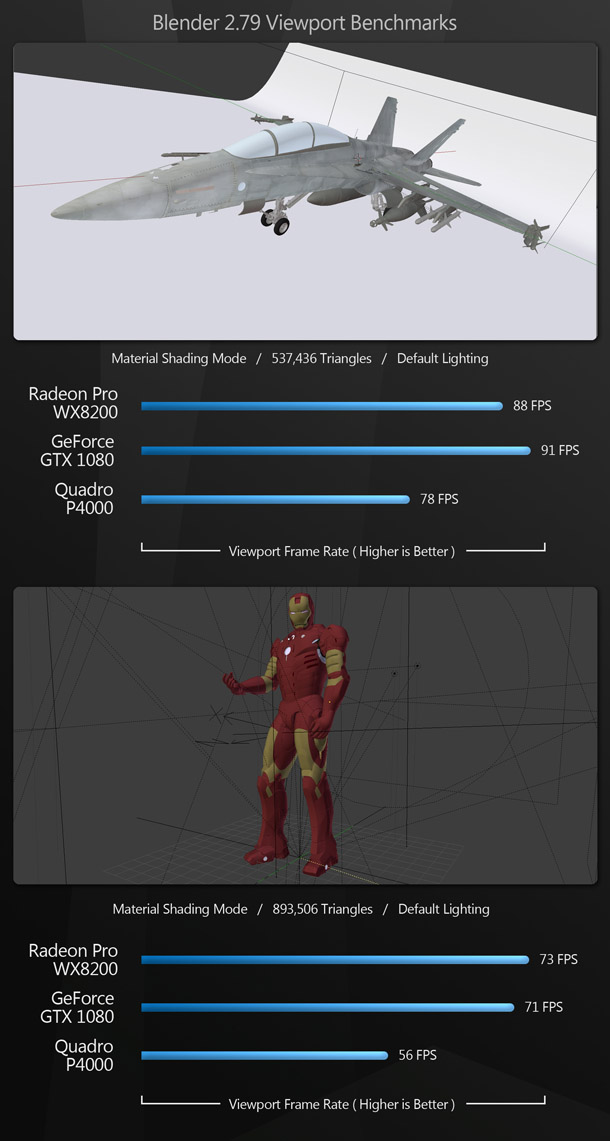 Blender 2.79b
In the DCC market's main open-source application, the WX 8200 goes toe-to-toe with the GTX 1080, scoring just ahead in one of the Blender tests, and just behind in the other. The P4000 comes in third place.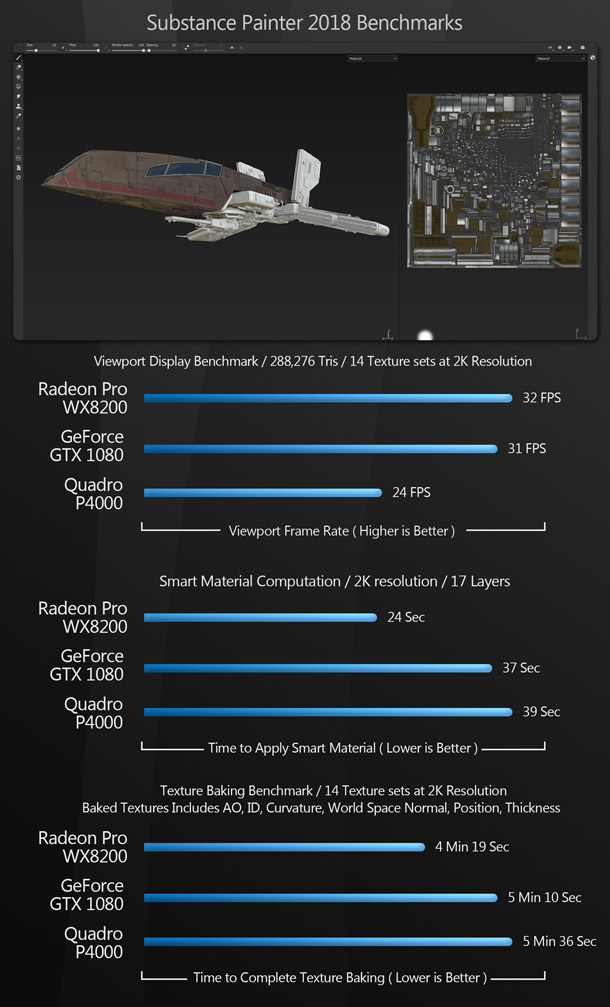 Substance Painter 2018.3
With Allegorithmic's texture painting software, the WX 8200 takes the lead in all three tests, with a slight lead in viewport performance and a substantial lead when baking and applying a smart material to a mesh.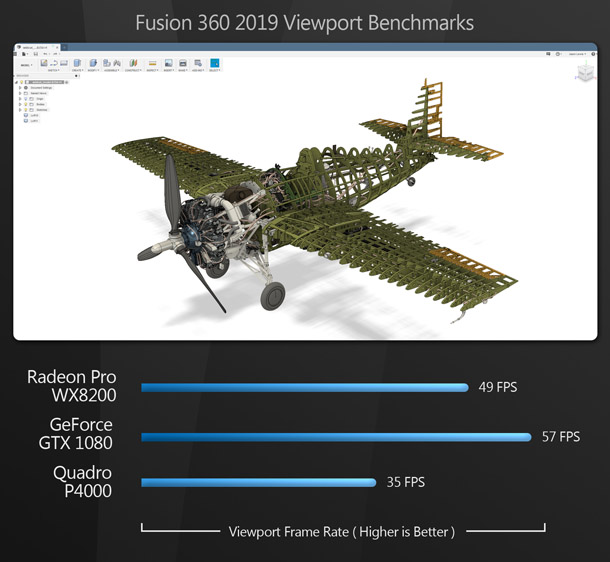 Fusion 360 2019
In Autodesk's cloud-based CAD/CAM solution, the WX 8200 places midway between the two Nvidia cards: behind the GTX 1080, but ahead of the P4000.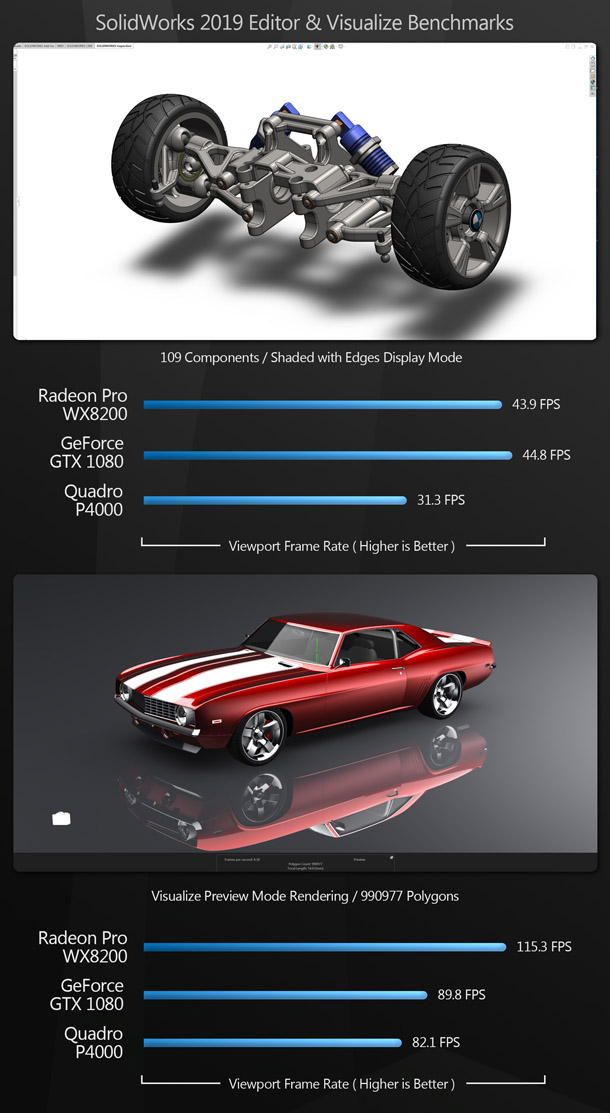 SolidWorks 2019
Our final viewport benchmark uses Dassault Systèmes' CAD software, with the WX 8200 evenly matched with the GTX 1080 in the SolidWorks Editor. In the SolidWorks Visualize renderer, the WX 8200 take a commanding lead over both of the Nvidia cards, although the downside is that it only works in Preview mode. The Fast and Accurate modes are CUDA-accelerated, so for these, you need a Nvidia GPU.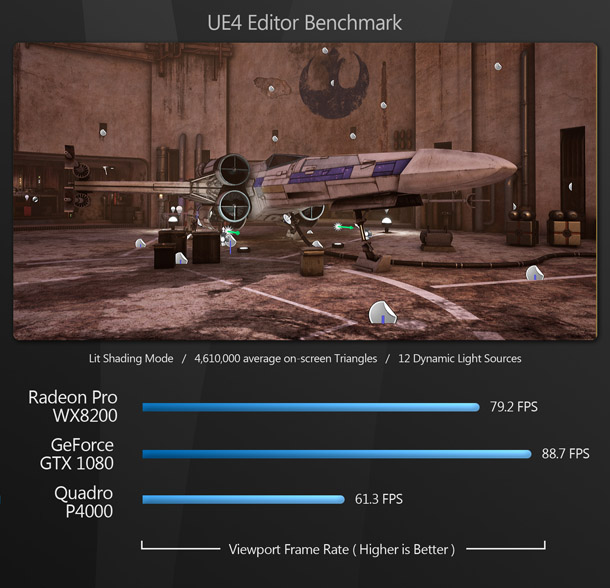 Unreal Engine 4.20
Our first real-time benchmark uses Epic Games' popular game engine and visualisation tool. In the Unreal Editor, the GTX 1080 takes first place, the WX 8200 comes in second, and the P4000 comes in third.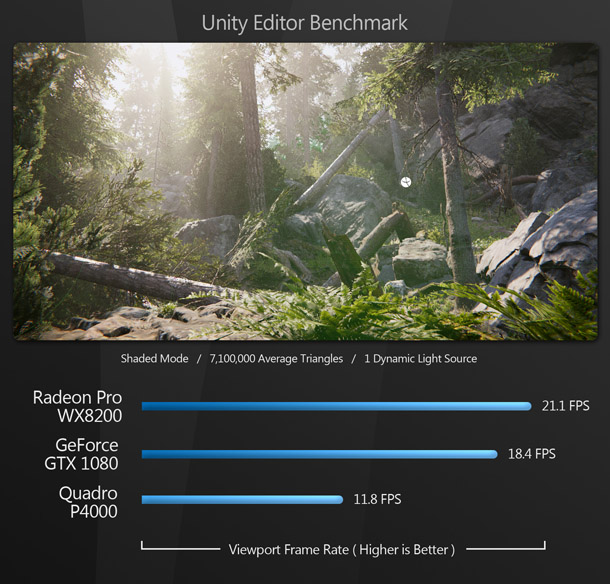 Unity 2018.2.0b9
With the industry's other main third-party game engine, the situation is reversed. In the Unity Editor, the WX 8200 takes a slight lead over the GTX 1080, and a substantial one over the P4000.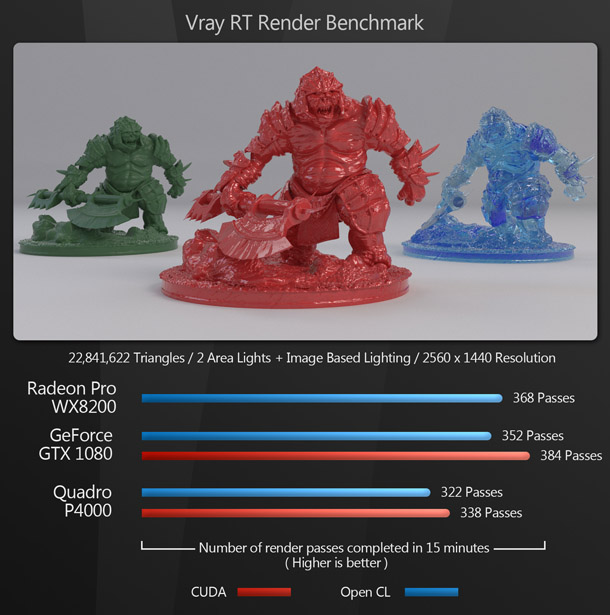 V-Ray 3.6 (V-Ray RT GPU)
Our first GPU rendering test uses V-Ray RT, the interactive render engine in version 3 of Chaos Group's V-Ray renderer. Using OpenCL, the WX 8200 takes first place, followed closely by the GTX 1080, and then the Quadro P4000. When the Nvidia cards are switched to CUDA acceleration, the resulting performance boost pushes the GTX 1080 slightly ahead of the WX 8200.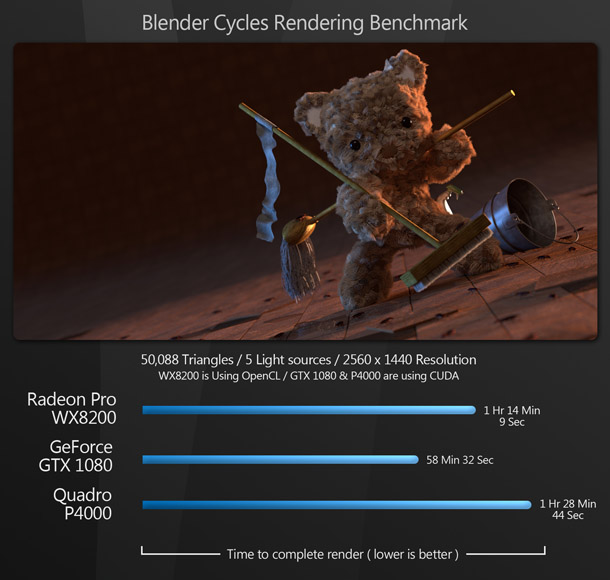 Blender 2.79b (Cycles)
With Blender's built-in Cycles renderer, I was unable to get the Nvidia cards working with OpenCL, so this is really an apples-to-oranges comparison, but the GTX 1080 running CUDA takes the lead over the WX 8200 running OpenCL, while the Quadro P4000 running CUDA comes in third.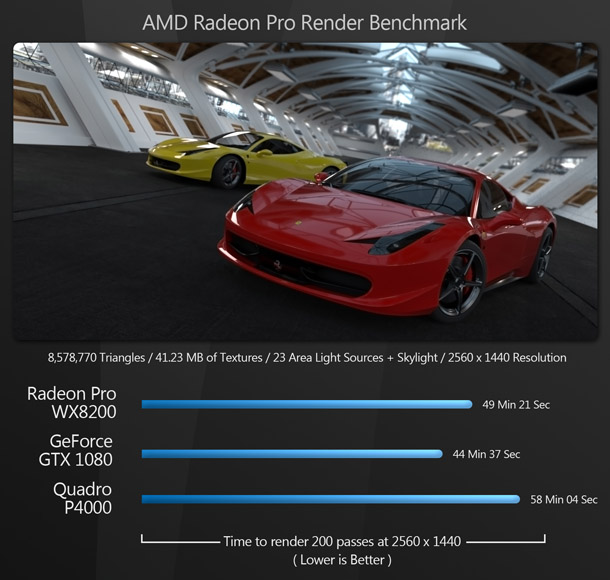 Radeon ProRender for 3ds Max 2.3
In AMD's free OpenCL-based renderer, tested here using the 3ds Max plugin, the GTX 1080 takes the lead over the WX 8200, followed by the Quadro P4000.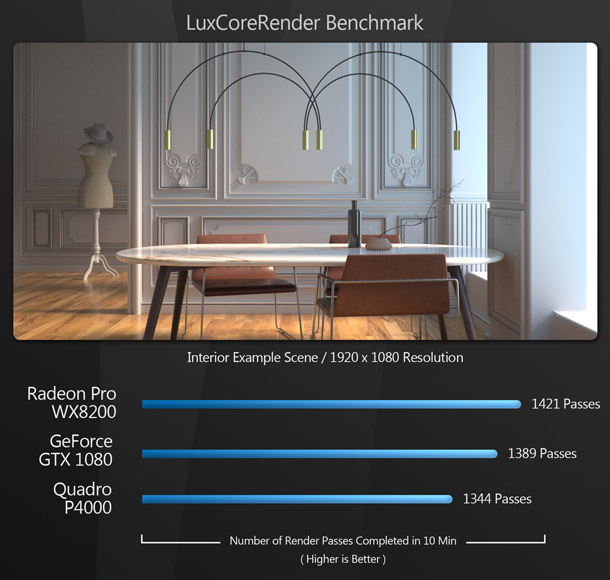 LuxCoreRender 2.1
With the interior benchmark scene included with the standalone edition of open-source OpenCL-based renderer LuxCoreRender, the WX 8200 takes the lead over the GTX 1080, with the P4000 further back.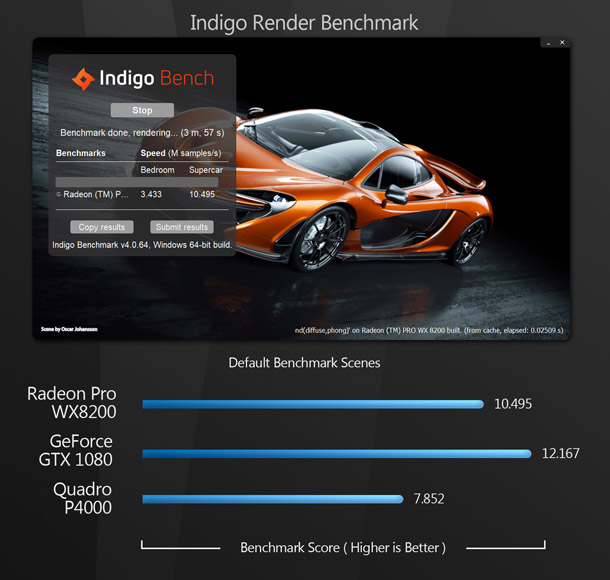 IndigoBench 4
The final GPU computing test is a standalone benchmarking app based on Glare Technologies' OpenCL-based Indigo Renderer. The GTX 1080 comes in first, followed by the WX 8200, then the P4000.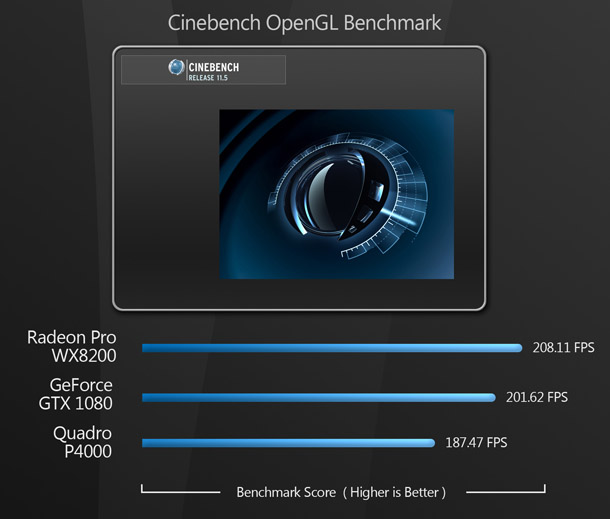 Cinebench R15
In the OpenGL test in our sole synthetic benchmark, Cinebench, the WX 8200 takes first place, followed by the GTX 1080, and lastly the P4000.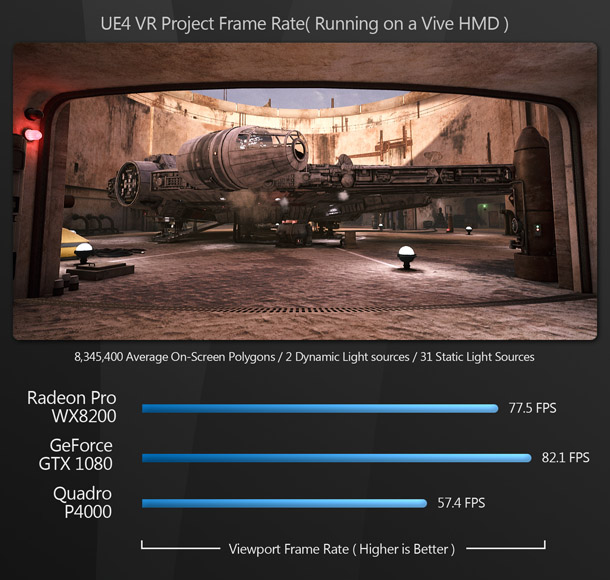 Unreal Engine 4.20 (VR performance)
The VR benchmark is a geometry- and texture-heavy scene viewed on a first-generation HTC Vive headset. As with the previous UE4 test, the GTX 1080 comes first, followed by the WX 8200, with the P4000 in third.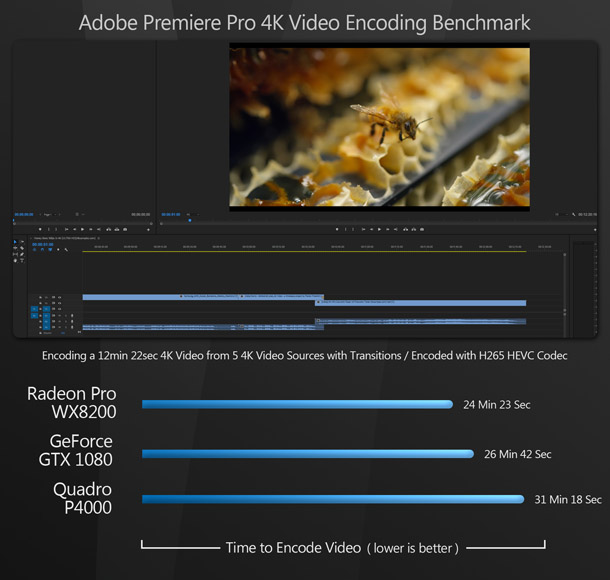 Adobe Premiere Pro CC 2018
The final performance benchmark uses the OpenCL-based video encoding in Adobe's Premiere Pro CC 2018 editing software. The project was set to encode with H.265 compression using the 4K UHD preset. The WX 8200 takes first place here, followed by the GTX 1080, and lastly the Quadro P4000.
It's also worth noting that I planned to have a separate benchmark for playback here, but I found that both the H.264 4K source material and edit played back smoothly on all three GPUs. (The edit was relatively simple – only 12 minutes long, with minimal effects and transitions – so I will be looking to put together a more complex test for future reviews.) The hardware that impacted most on playback speed was the storage device: on the test system's 512GB SSD and on an 300GB 15,000RPM SAS drive, playback was smooth, with no hitching; on a 4TB 7,200RPM SATA drive, there were occasional hitches; and on a 2TB 5,400RPM SATA drive, there were lots of hitches and playback speed was lower than the 24fps of the source video.
Other considerations
GPU multitasking
Another feature of the WX 8200 is what AMD refers to as 'GPU multitasking', which really just means that the hardware and drivers are tuned so that whenever the GPU is performing compute-heavy tasks such as rendering or encoding, the Windows desktop and other apps remain responsive. I only tested this lightly, but it does seem to work well. While running OpenCL rendering tests, I tried playing 1080p videos in the VLC media player, and web browsing using Chrome, and both applications performed in the same way that they would with the GPU not under heavy load. This is a nice feature, especially if you only run a single GPU, as it means that your PC doesn't turn into what is essentially a brick for the duration of GPU computing tasks.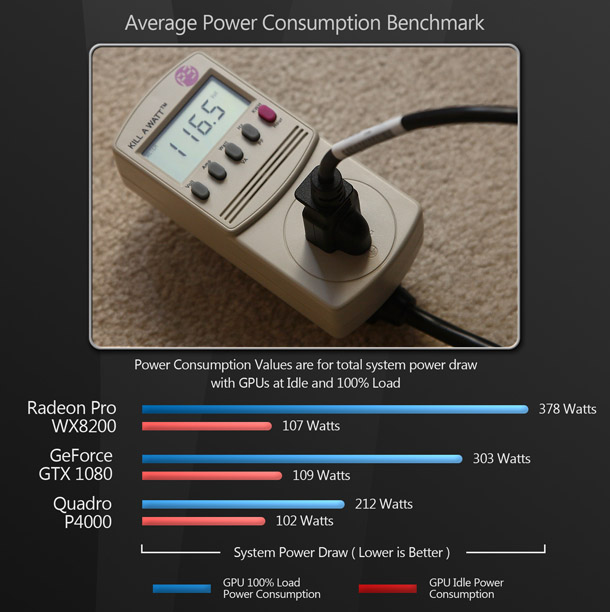 Power consumption
With the ever-increasing cost of electricity, power consumption has become an important metric for some users. If you run your system 24/7, do a lot of GPU computing, or have multiple GPUs in your machine, it can have a significant impact on your bottom line. The Vega GPUs are known for being power-hungry and the WX 8200 bears that out: when idle, its power draw is slightly lower than the GTX 1080, but at full load, it averages 75W higher. The Quadro P4000 beats both the other cards by a significant margin.
Price
All three of the cards have broadly similar prices: on Newegg, a PNY Quadro P4000 currently costs $750, a GeForce GTX 1080 costs $750-900, and the Radeon Pro WX 8200 costs $999. Being a gaming card, the GTX 1080 is available from a range of manufacturers, so you can find some models cheaper elsewhere.
Conclusion
If you are a budget-conscious user in the market for a professional GPU, AMD's Radeon Pro WX 8200 offers significant value, particularly if you use the applications it performs well with. It offers good 3D performance, and very good GPU compute performance in applications that support OpenCL, although it is worth noting that several key GPU renderers are currently CUDA-only. And while my Premiere Pro benchmark only scratches the surface, the WX 8200 also seems to perform well for video editing and encoding.
In my tests, the WX 8200 consistently outperformed Nvidia's Quadro P4000, the only exceptions being 3ds Max and Modo. Against the GeForce GTX 1080, honours were split evenly, with each card taking the lead in around half the benchmarks, although bear in mind that the GTX 1080 is a gaming card, so the issues of consumer versus professional GPUs discussed earlier in the review apply here.
My only real disappointment with the WX 8200 is that, at nearly $1,000, I feel that it should have more memory than it does. Its 8GB of graphics memory is identical to its consumer counterpart, the Radeon RX Vega 56. While the WX 8200 offers higher memory bandwidth and ECC capabilities, it would have been nice to see it come in at perhaps 12GB to further differentiate it from the consumer card.
Read more about the Radeon Pro WX 8200 on AMD's website

Jason Lewis is Senior Environment Artist at Obsidian Entertainment and CG Channel's regular reviewer. In his spare time, he produces amazing Star Wars fan projects. Contact him at jason [at] cgchannel [dot] com
Acknowledgements
I would like to give special thanks to all the individuals who contributed to this article:
Cole Hagedorn of Edelman
Bruno Oliveira on Blend Swap
Reynante Martinez
Stephen G Wells
Adam Hernandez