Wednesday, June 18th, 2014

Posted by Jim Thacker
Clean up point cloud data from 3D scans with Sparta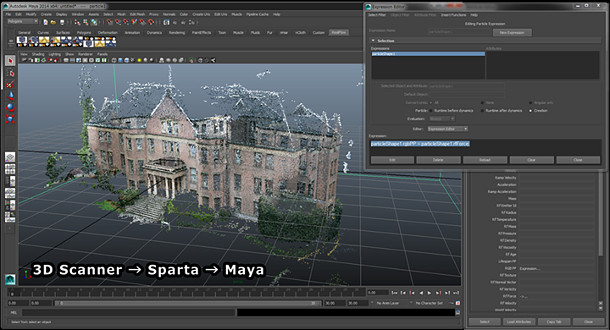 Originally posted on 6 January. Scroll down for updates.
Lyouta Koduka has updated Sparta, his particle-sculpting tool, to support point cloud data in PLY format. The functionality, added as part of the software's 0.36 update, should help users to manipulate 3D scan data.
Sparta, which Koduka pitches as the 'ZBrush of particle animation', is also intended for sculpting particle data manually, using a pen-based interface, to fix errors or art direct simulations.
The software supports RealFlow's .bin format, which acts as a bridge to 3ds Max, Maya, Softimage et al; and works all the standard commercial 3D packages, plus Blender, Nuke, Krakatoa and thinkingParticles.
Pricing and availability
Sparta 0.36 can be downloaded for free for 64-bit Windows XP, Vista or 7. You can also buy a one-year Sparta Basic licence for $500, which lets you import geometry and camera data in FBX format; or a one-year Pro licence for $2,000, which also gives you priority technical support. Obviously, both help fund future development too.
Updated 18 June: Lyouta Koduka has launched an Indiegogo campaign to fund development of Sparta.
If you're interested in the commercial editions of Sparta, choosing the appropriate backer level would get you them at a discount: the Basic edition can be had for $400 or the Pro edition for $1,700.
It's an all-or-nothing fixed funding campaign – and, at $100,000, the target is pretty ambitious – so factor that in when making your decision. But if you just want to support an interesting app, check it out here.
Read the FAQ document on the Sparta website
Download Sparta (Registration required)