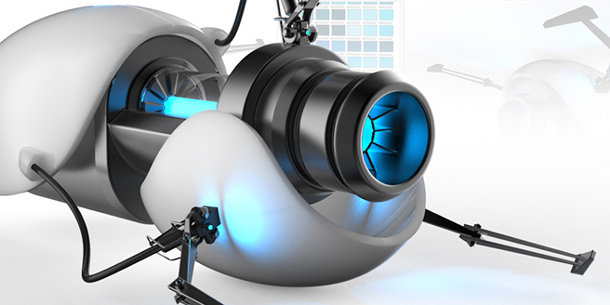 Originally posted on 28 January 2013. Scroll down for updates.
Luxion has announced KeyShot 4, the next update to its intuitive high-speed rendering package.
Some of the additions reflect KeyShot's core user base of design and visualisation professionals, including live linking with SolidWorks, Creo and PRO/E, and the option to use Pantone and RAL colour libraries for materials.
However, some are also applicable to users in the entertainment industry, including the option to turn any geometry into a light source.
Workflow and performance enhancements
In addition, the UI has been overhauled, and rendering performance has been improved – although Luxion hasn't released any benchmark figures for this.
Workflows for file import, animation and KeyShotVR – Luxion's system for creating 3D content that can be viewed interactively in an HTML5 browser – have also been improved, although there are no details yet.
Updated 15 February: KeyShot 4 is now shipping. In addition to the features mentioned above, there are quite a few things of interest to non-industrial-designers, including a semi-automated system for creating rounded edges and improved subsurface scattering.
Users of the Pro edition also get the option to export depth, normal and 'clown' (material ID) passes; create model and view sets; and create or modify HDRIs in real time via a system that looks rather like a cut-down version of HDR Light Studio. You can read a full list of new features on the KeyShot site.
KeyShot 4 is available for Windows 7 and above and Mac OS X 10.6 and above. The standard edition costs $995 and the Pro edition costs $1,995. The Animation and KeyShotVR modules come as extras.
Read more about KeyShot 4 on the KeyShot website
Download the trial edition of KeyShot 4 (Renders are watermarked)
Tags: Creo, HDRI, HyperShot, interactive, lighting, Luxion, Pantone, PRO/E, product design, RAL, real time, rendering, Solidworks, SSS, subsurface scattering, visualisation