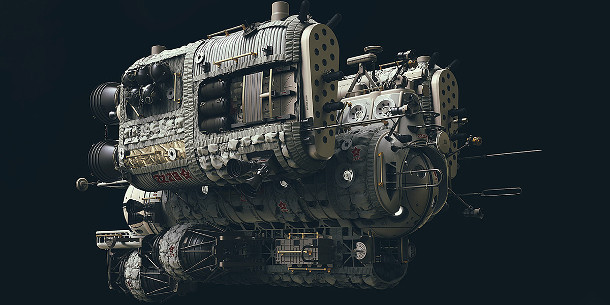 Image: a render created in ZBrush 4R8 and KeyShot by Joseph Drust

Luxion has released KeyShot 7 for ZBrush, the latest update to the version of its intuitive renderer designed specifically for users of Pixologic's digital sculpting software.
The update makes the UI more customisable, adds new materials and environment features; and for users of the Pro edition, an integrated HDRI editor and support for real-time VR rendering.
A lower-price edition of KeyShot designed specifically for ZBrush
First released in 2015, KeyShot for ZBrush is a cheaper version of the render engine designed to work only with ZBrush via the ZBrush to Keyshot Bridge plugin: it doesn't import models directly.
It comes in two editions: KeyShot HD for ZBrush and KeyShot Pro for ZBrush, each of which includes all of the other features from the corresponding standalone edition of the renderer.
New in KeyShot 7 for ZBrush: more flexible UI, new materials and texturing options
In the case of KeyShot 7 HD for ZBrush, that means new options to set up custom hotkeys; and to customise the UI, including the tabs and ribbon, and to save the results as a preset workspace.
There are also new texturing and materials options, including support for the AxF format for measured materials; plus the option to set up multiple variant environments for a scene and switch between them.
KeyShot 7 Pro for ZBrush users also get an updated HDRI editor – now fully integrated into the core software – plus a new panoramic camera, and support for real-time 360-degree VR rendering.
The release also adds support for multi-materials and video textures.
There are also a number of features geared more towards industrial designers, including re-tessellation of NURBS models, and new Studios and Configurator systems for presenting design variants to clients.
You can read about the new features in more detail in our original story on the standalone editions.
Pricing and availability
KeyShot 7 for ZBrush is available now for ZBrush 4R8 on Windows and macOS.
KeyShot 7 HD for ZBrush costs $349 together with the ZBrush to KeyShot Bridge; KeyShot 7 Pro for ZBrush costs $549 together with the Bridge. The Bridge alone costs $149.
Users of previous versions get upgrade discounts – if you bought after 25 November 2016, you get the upgrade free – and the Bridge itself doesn't need updating.
Read more about KeyShot 7 HD for ZBrush and KeyShot 7 Pro for ZBrush on the product website
Tags: 360-degree, AxF, customize interface, customize UI, HDRI, KeyShot, KeyShot 7 for ZBrush, KeyShot 7 HD for ZBrush, KeyShot 7 Pro for ZBrush, KeyShot for ZBrush, Luxion, materials, multi-materials, new features, panoramic camera, Pixologic, price, rendering, sculpting, texturing, upgrade, video textures, VR, ZBrush