Thursday, November 6th, 2014

Posted by Jim Thacker
Luxion ships KeyShot 5.1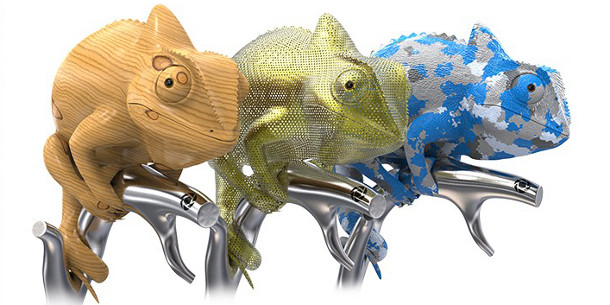 Three of the six new procedural materials introduced in KeyShot 5.1. The update also improves the rendering system's instancing tools, and extends its support for the C4D format, adding the option to import animation data.
Luxion has released KeyShot 5.1, the latest version of its intuitive rendering system, adding more instancing tools, new procedural textures, and the option to import animation data in C4D format.
Although primarily used in industrial design, KeyShot is increasingly being used by modellers and concept artists as a means to generate fast, high-quality renders of sculpts.
New functionality, plus support for Retina displayst
The update builds on the instancing tools introduced in KeyShot 5.0, enabling users to directly edit the scattering patterns created.
There are also six new procedural textures, including new brushed metal and wood materials; plus presets mimicking real-world materials from manufacturer Sørensen Leather.
Support for the C4D file format has been extended, enabling users to import animation data from Cinema 4D; and KeyShot now supports Apple's Retina displays, including MacBook Pro laptops and iMac 5K displays.
Pricing and availability
KeyShot 5.1 is available for Windows and Mac OS X. The HD version costs $995, and the Pro version, which has unlimited render resolution, costs $1,995. The update is free to registered users.