Friday, September 1st, 2023

Posted by Jim Thacker
Radical launches Radical Live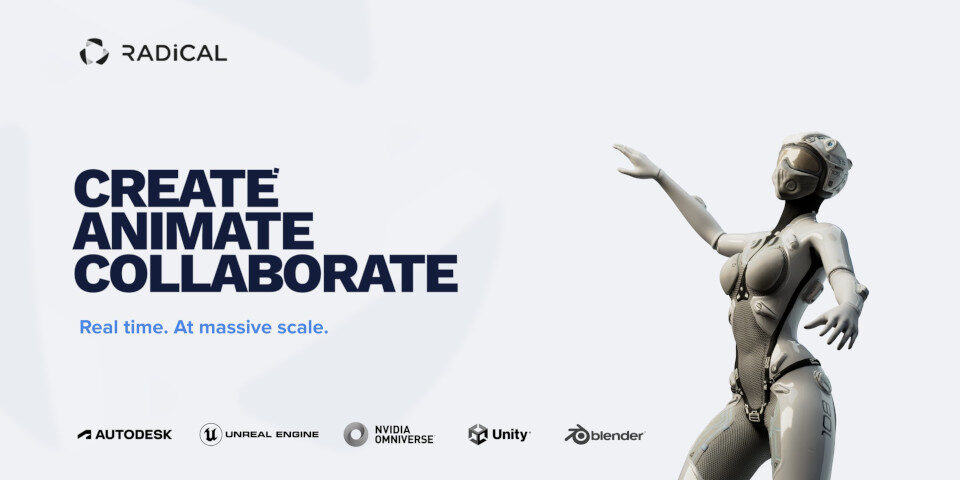 AI motion-capture firm Radical has launched Radical Live, a new cloud-based service that enables users to extract full-body motion from video footage and stream it to Blender, Maya, Unity or Unreal Engine.
It works with a consumer-grade camera, and supports multi-player capture sessions.
Radical has also simplified its pricing, with both Radical Live and offline mocap service Radical Core now available through a single $96/year subscription.
AI tech extracts animation from video for use in DCC apps and game engines
Founded in 2017, Radical (strictly speaking, it's styled 'RADiCAL') was the first of a new wave of AI-trained motion-capture platforms.
Its Radical Core platform extracts the motion of an actor from single-camera video footage and exports the animation in FBX format for use in DCC apps or game engines.

Extract and stream multi-actor motion data from video in real time
The first major change to Radical's services since Autodesk invested in the firm last year, Radical Live makes it possible to extract motion from video in real time as well as offline.
Users can shoot video footage of an actor – the service works with a "consumer-grade camera", and supports simultaneous capture of multiple actors – and stream it to the cloud, where it is processed on Radical's servers.
The resulting motion data can be previewed on standard desktop or mobile systems, or streamed into Blender, Maya, Unity or Unreal Engine in JSON format.
Users can record live data to the software's timeline, with the option to retarget the motion to a custom 3D character in Maya or Unreal Engine. Retargeting is "coming soon" to the Blender and Unity plugins.
New Professional subscriptions include access to Radical Core and Radical Live
Radical has also simplified its pricing, with both Live and the original Core service available through a single $96/year Professional subscription, which provides 36 hours of play time per year, usable across either service.
Free subscriptions provide 24 hours of play time per year, but you can only preview the motion: you don't get FBX downloads or the DCC integration plugins for Radical Live.
Price and system requirements
Radical Live can be used on any device that "can stream video and run a web browser" – Radical specifies the Chrome browser – including Windows, Linux and macOS systems, and iOS and Android mobiles.
Integration plugins are available for Blender 2.83+, Maya 2022, Unity 20219-2022 and Unreal Engine 5.1+, with a plugin for Omniverse "coming soon".
You can find details of pricing in the story above.
Read more about Radical Live on Radical's website
See videos on using Radical Live on Radical's YouTube channel

Have your say on this story by following CG Channel on Facebook, Instagram and X (formerly Twitter). As well as being able to comment on stories, followers of our social media accounts can see videos we don't post on the site itself, including making-ofs for the latest VFX movies, animations, games cinematics and motion graphics projects.