[Sponsored] From servers with the latest GeForce RTX 4090 GPUs to complete control over your pipeline, iRender is an amazing online render farm for OctaneRender users. Discover the benefits it can provide.

OctaneRender is one of the world's first and fastest GPU renderers, generating unbiased, physically correct output. It benefits from a powerful GPU, and performance scales almost linearly with multiple GPUs.
Online render farm iRender makes it easy to get access to those GPUs. You can also modify your work freely as you render, making iRender the best choice for complex pipelines.

iRender – a different way to render your project
iRender is a professional GPU-accelerated cloud rendering service provider optimised for visual effects and general computer graphics work.
While other render farms are loyal to their SaaS (Software as a Service) models, where users can only submit their files and receive the results, having no way to modify their work during the rendering process, iRender is famous for its IaaS (Infrastructure as a Service) model.
Users connect remotely to one or more servers, install any software, plugins and add-ons they choose (it is only necessary to do this once), and fully control the entire render process, just like on a local machine.
Being able to fully control iRender's servers has many advantages:
Support for other software or multiple versions of OctaneRender: users can install any application they choose.
A custom production pipeline: you are free to set up your whole pipeline on an iRender server.
The newest hardware, including GeForce RTX 4090 GPUs, and GeForce RTX 3090 GPUs with NVLink.
An easy, cost-effective workflow.
These benefits have made iRender a well-received, competitive render farm that features in many global ranking lists, including CGDirector, InspirationTuts, All3DP, Radarrender and Vfxrendering.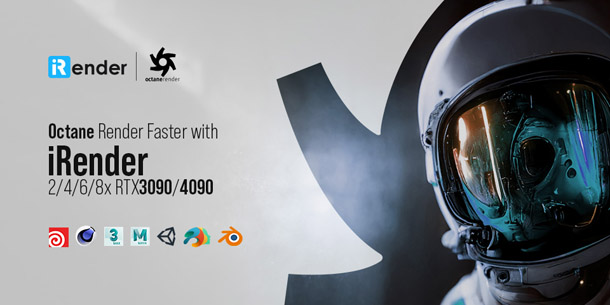 iRender – an amazing Octane render farm
Let's see why iRender is one of the best cloud rendering services for OctaneRemder users.
Use any version of Octane, and any host application
iRender supports any version of OctaneRender. The most popular host applications are Cinema 4D, Houdini, Maya, 3ds Max, Blender, Unity and Daz Studio, but iRender supports all of the applications below:
Click the thumbnail to view the image at full size. Source: Otoy.
If you have a custom pipeline with many plugins, add-ons and proprietary tools, iRender is the right place for you. You can consider its remote server your second workstation.

Two beasts for rendering: 8x GeForce RTX 3090 GPUs and 2x GeForce RTX 4090 GPUs
iRender provides powerful render nodes for multi-GPU rendering. The most powerful rig features eight NVIDIA GeForce RTX 3090 GPUs, but you can select other packages with two, four or six GeForce RTX 3090 GPUs, and switch between them without having to reinstall your software and data.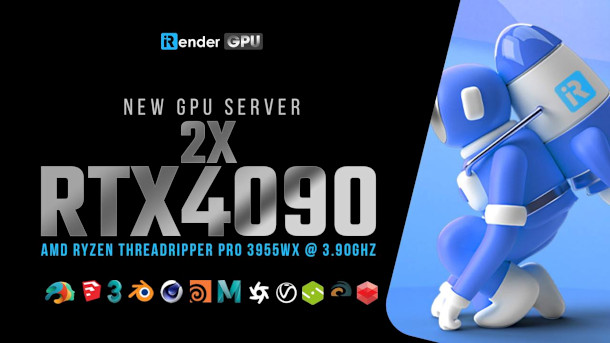 Always keeping you updated with the latest technology, iRender is also proud to introduce a new server with two GeForce RTX 4090 GPUs.
NVIDIA's newest graphics card promises an enormous leap in performance and efficiency. With 16,384 CUDA cores, 128 third-gen RT cores, 512 fourth-gen Tensor cores and a boost clock speed of 2.52GHz, it delivers faster ray tracing and better DLSS.
Take a look at the OctaneBench benchmark scores for iRender's dual GeForce RTX 4090 servers:
iRender will also soon introduce packages with four, six or eight GeForce RTX 4090 GPUs, giving artists and studios more chances to cut render times, and to save money on set-up, electricity and maintenance.
With iRender, you can work with OctaneRender Standalone and the other tools available in OctaneRender Studio and OctaneRender Enterprise subscriptions without worrying about the number of GPUs.
Servers with two GeForce RTX 3090 or GeForce RTX 4090 GPUs will be the best choice for OctaneRender Studio, while servers with four, six or eight GeForce RTX 3090 GPUs can serve OctaneRender Enterprise and OctaneRender Standalone smoothly.
According to OctaneRender developer OTOY, the CPU plays a critical role in loading scenes quickly for rendering. iRender provides a powerful processor in its servers: AMD's Ryzen Threadripper PRO 3955WX.
Built using AMD's 7nm Zen 2 core architecture with a sWRX8 socket, the 3955WX is designed to deliver exceptional performance for professionals such as artists, architects, engineers and data scientists.
Featuring 16 cores and 32 threads with a 3.9GHz base clock frequency, 4.3GHz boost frequency and 64MB of L3 cache, it reduces loading times for 8K videos, high-resolution photos and 3D models. A faster CPU will allow you to extract mesh data, load textures, and prepare scene data more quickly.

But wait, there's more…
As well as support for any version of OctaneRender and its host software, and top-notch hardware, iRender has many other benefits.
NVLink for large and complex scenes
If 24GB of VRAM is not enough for your scene, you can use NVLink to access more memory. You can always request a NVLink Bridge on iRender's dual GeForce RTX 3090 servers.
Extra services available on request
iRender provides extra services like changing packages without having to reinstall your data, expanding your image thresholds or storage capacity, and cloning to duplicate your working images. You can chat with iRender's support staff via the chat box on its website for instructions on how to do this.
Multiple ways to transfer your data:
iRender offers various ways to transfer data to its remote servers. Its powerful file transfer tools, iRender Drive and GPUHub Sync, offer high transfer speeds, large data capacities, and are completely free to use.
You can transfer data to iRender Drive or GPUHub Sync at any time without connecting to the server – saving your credits – and the data will be automatically synchronized to the Z: drive inside the server. Now you only need to connect to the remote server and the data is ready for you to use.
Or you can use your own third-party transfer tools like Dropbox, Google Drive, OneDrive or WeTransfer. iRender's remote servers have internet access, so you can access other websites to transfer your files.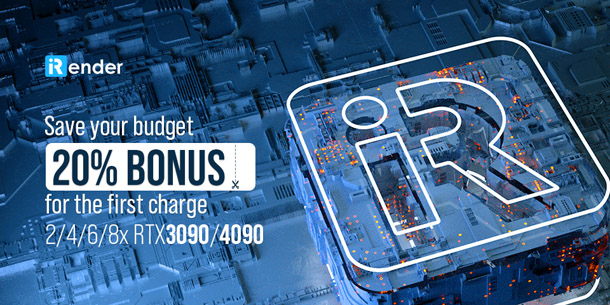 Discounts for long-term rentals
As well as hourly rental rates, you can save from 8% to 20% with iRender's fixed rental feature. There is a six-hour rental package for anyone who wants to rent a machine during their working day, while for extremely large projects, iRender advises choosing a daily, weekly or monthly rental package.
The discount is attractive (up to 10% for daily packages, 20% on weekly and monthly packages), and you don't have to worry about overcharging if you forget to shut down the server.
Real human 24/7 support service
iRender's support staff are all real humans who can help you to handle problems quickly and effectively, saving you time and money.

Register for an iRender account and test iRender's servers for yourself
Tags: 3ds max, Advertorial, animation, Blender, Cinema 4D, cloud rendering, DAZ Studio, GeForce RTX 3090, GeForce RTX 4090, GPU rendering, Houdini, iRender, Maya, motion graphics, OctaneRender, Otoy, render farm, rendering, sponsored, Unity, vfx, visual effects