Thursday, April 20th, 2023

Article by iRender
What's hot in iRender for Redshift and OctaneRender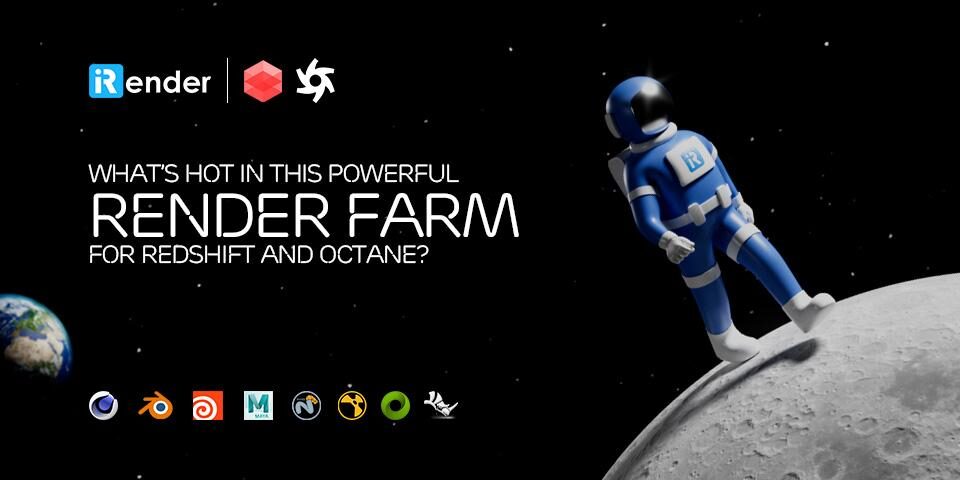 [Sponsored] From servers with the latest GeForce RTX 4090 GPUs to complete control over your pipeline, iRender is a powerful render farm for Redshift and OctaneRender. Discover the new benefits it provides.

Last year, the announcement of the GeForce RTX 4090 created huge anticipation. NVIDIA's new flagship graphics card, part of its Ada Lovelace generation of GPUs, promised to deliver up to four times the performance of its predecessor, the GeForce RTX 3090 Ti.
After the RTX 4090 was released in October 2022, it was tested with popular render engines – and the hype became reality. With major enhancements to all of the core hardware, significantly higher clock speeds, and support for DLSS 3, the RTX 4090 brought huge performance gains over previous-generation NVIDIA GPUs.

The fastest current NVIDIA GPU for rendering
The RTX 4090 offers double (or nearly double) the performance of the RTX 3090 in OctaneRender, Redshift, Blender, V-Ray and Arnold. That's impressive. The RTX 4090 now tops GPU benchmark charts.
So if you're looking for the fastest possible NVIDIA GPU, the RTX 4090 is the best card for you.
However, we have to look at its downsides, too. Given the RTX 4090's size, the amount of power it draws, and its price, the chances are that you will be limited to just one or two GPUs in your system.
So how can you take advantage of the huge performance gains the RTX 4090 offers and still have a multi-GPU rig? Simple. Just leave it to iRender.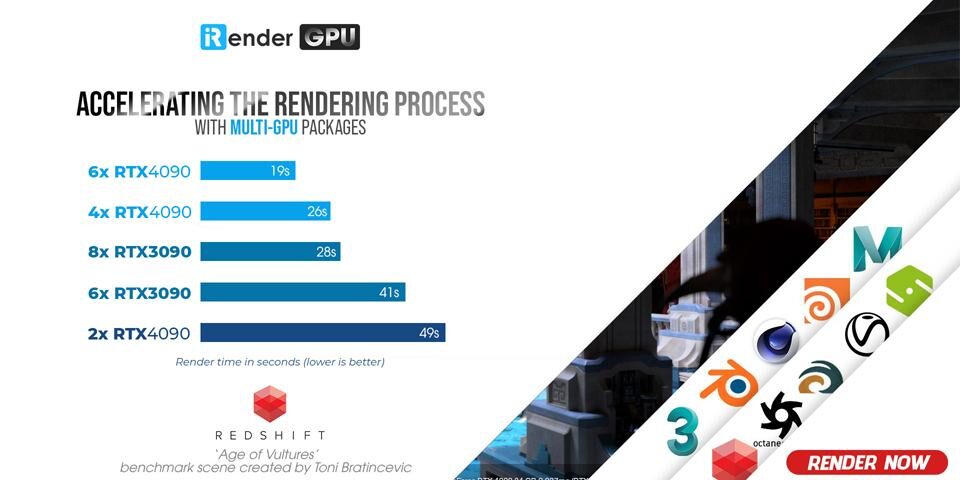 iRender: providing RTX 4090 rendering since 2022
iRender is an online render farm providing high-performance machines for GPU and CPU rendering on the cloud. It cares about both technology and hardware. So to give its users the best online rendering experience, iRender constantly upgrades its GPU servers to the newest hardware.
Since mid-October 2022, iRender has offered dual GeForce RTX 4090 servers, and soon after, began providing single and quad RTX 4090 servers. In March 2023, iRender was excited to announce superb new 6 x RTX 4090 servers and will soon launch its 8 x RTX 4090 servers.

What will you get by using iRender's 6 x RTX 4090 servers?
• Lightning-fast rendering
Even a single RTX 4090 provides very fast rendering. The more GPUs you add to the workstation, the faster rendering will be.
• High quality
iRender considers its 6 x RTX 4090 servers to be a big leap forward. They are ready to tackle the heaviest rendering challenges in VFX and general CGI work.
• Cost savings
Building and maintaining your own RTX 4090 render farm is not easy. It requires a significant investment of money, effort and time. With iRender, you can just pay for the rendering power that your projects need.

Worried about potential CPU bottlenecks? Don't be. The server is built using the powerful AMD Ryzen Threadripper PRO 5975WX CPU (32 cores, clock speeds of 3.6-4.5GHz) to take full advantage of the GPU.
That's why the 6 x RTX 4090 server is currently iRender's fastest platform for most GPU-based applications, including Redshift, OctaneRender, Blender, V-Ray and Arnold.
What makes iRender different? While other render farms provide services based on a SaaS (Software as a Service) model, where users submit their files and receive the results, having no way to modify their work during the rendering process, iRender chooses a different path – IaaS.
iRender's IaaS (Infrastructure as a Service) model allows users to connect to iRender's servers and work directly on them like their personal computers. That means the users have complete control over their projects and workflow: a workflow ideal for large projects or projects with a unique pipeline.
Here are the advantages of using iRender servers:
• Compatible with all 3D software, renderers, plugins and scripts
Thanks to iRender's IaaS model, you can install any application you need, just like on your own computers. There is no need to worry about version compatibility, or applications or plugins not being supported.
• Best of the best hardware
All of iRender's servers are built with high-end NVIDIA GeForce RTX 4090 and RTX 3090 GPUs.
• GPU set-ups for different uses
iRender offers both single-GPU and multi-GPU servers, making it possible to use one, two, four, six or eight RTX 4090 or RTX 3090 GPUs for rendering. You can easily choose the server that best meets your needs.
• Full control of the rendering process
You can make changes to a scene at any time, and view the rendered frames in real time.

In addition, iRender offers a lot of useful features to make your workflow more seamless and convenient, including free storage, fast file transfer tools, and the option to change packages or clone servers.
And there is good news for Redshift users: iRender will soon offer Redshift licenses as well as fully configured Cinema 4D/Redshift instances. All you need to do is connect to the server and start rendering.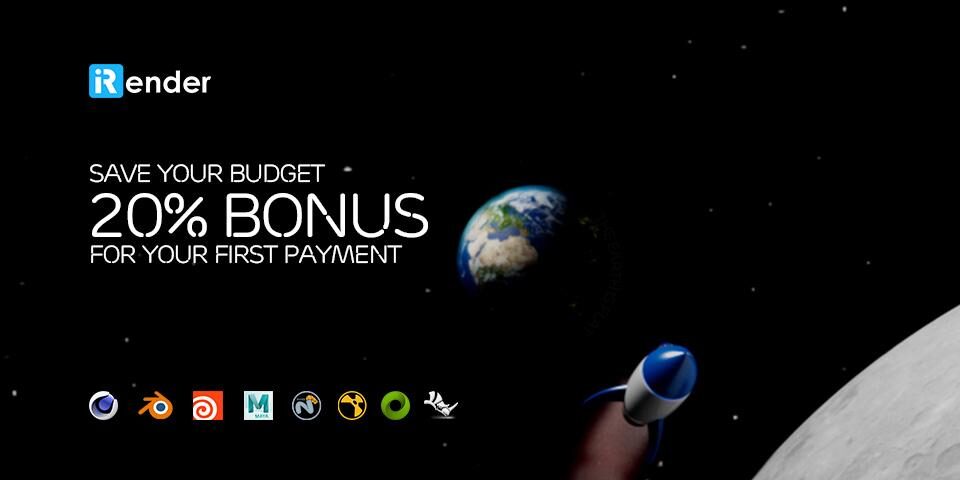 Last but not least, a range of promotions and discounts are waiting for you when you register with iRender, including volume discounts, fixed rental pricing, and more.
iRender offers 20% extra render points with your first payment, so you can render more for your money.

Register for an iRender account to explore iRender's multiple promotions