Sunday, October 30th, 2022

Posted by Jim Thacker
Download Lightmap's free set of 25 studio HDRI maps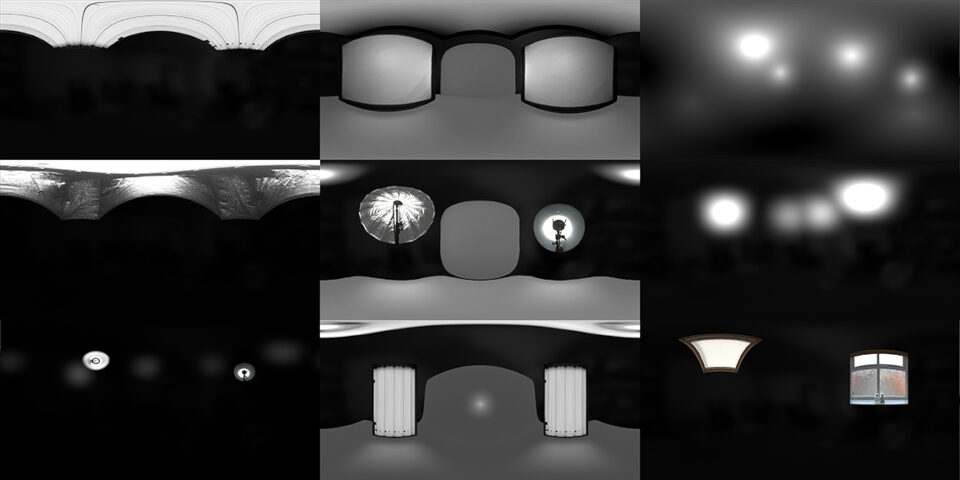 Lightmap has released a pack of 25 free HDRI maps mimicking real-world studio lighting set-ups.
The HDRIs were created with HDR Light Studio, Lightmap's lighting design software, and are available alongside six of the area light maps available inside the application.
Mimic the look of real-world studio lighting set-ups in your 3D renders
Lightmap's free HDRIs are intended for portfolio renders and product visualisation, and mimic real studio lighting set-ups, including both the illumination created and the reflections of light sources and reflectors.
The files are provided as 3,000 x 1,500px EXRs, and can be used as environment lights in DCC applications, including 3ds Max, Blender, Cinema 4D and Maya, and game engines like Unity and Unreal Engine.
The maps were created in HDR Light Studio, which enables users to design their own synthetic HDRIs or edit existing HDRIs: the download also includes the HDR Light Studio project file.
Lightmap has also made six of the area light maps provided inside HDR Light Studio available to download.
The maps, provided as 1,200 x 1,200px EXR files, mimic real light sources, from studio lights to windows, and can be applied to area lights inside DCC software to create realistic light reflections on rendered objects.
System requirements and licensing
Lightmap's studio HDRI maps and area light maps are provided in EXR format. The files are free, licensed for commercial use, and can be downloaded without registering on Lightmap's website.
HDR Light Studio is available for Windows 7+, macOS 10.13+ and various Linux distros. Connection plugins are available for a range of DCC and CAD tools. The sofware is rental-only, starting at $220/year.

Download Lightmap's 25 free studio HDRI maps