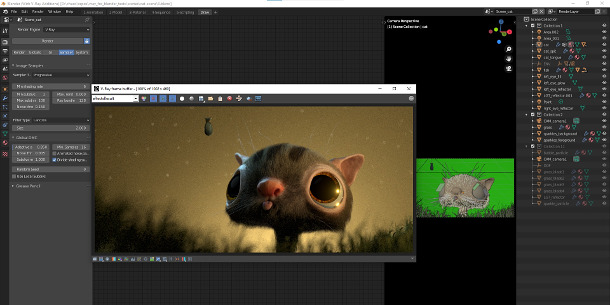 Chaos Group has hinted at an update to V-Ray for Blender that would finally make the renderer compatible with versions 2.8 and above of the open-source 3D software.
In a post on Facebook, Chaos Group CTO Vlado Koylozov shared a screenshot of Blender's 'fishy cat' benchmark scene rendering to the V-Ray frame buffer from what looks to be a recent build of the software.
V-Ray support for Blender 2.80 and above
Although V-Ray has had an official Blender integration plugin since 2014, it never achieved feature parity with those for commercial 3D applications like 3ds Max.
Recently, development seemed to have stalled entirely: over a year since Blender's milestone 2.80 update, it still only supports Blender 2.79, while the last new nightly build of the plugin came out last October.
Since then, the Blender Foundation has put out four further sizeable updates, the latest being Blender 2.90.
Koylazov's Facebook post, which simply reads "We are getting there…", doesn't give a lot of information on what has been happening recently within Chaos Group's Blender team.
However, it suggests that an updated version of V-Ray for Blender is at least still in active development.
Support for interactive rendering coming in future?
In the comments thread on the post, Koylazov notes that the new version "still [uses] our old approach where we just export a .vrscene file and render it with V-Ray Standalone".
However, he hints that long-standing feature requests from Blender users, like support for interactive rendering, will be addressed in future builds.
"There is a newer system where we use ZeroMQ to get the two programs to talk to each other so that we can support IPR, but it will probably come a bit later, once we get the original integration working."
So far, there's no information on whether V-Ray for Blender will include features from V-Ray 5, the newest version of the renderer, but keep an eye on the forum thread linked below for updates.
Pricing and system requirements
V-Ray for Blender is currently available for Blender 2.79, on Windows 7+, Mac OS X 10.12-13 and Linux. Chaos Group hasn't announced a timescale for updates.
The integration plugin itself is free and is available under a GPL licence; a V-Ray Standalone render node costs $420, while rental costs $70/month or $167/year.

Visit the V-Ray for Blender website
Read the V-Ray for Blender online documentation
(Currently fairly minimal, but there is a quickstart guide)
Follow the thread on V-Ray for Blender 2.8+ on Chaos Group's forum
Tags: Blender, Blender 2.8, Blender 2.80, Blender 2.90, Chaos Group, free, GPL, interactive rendering, IPR, new features, new version, open source, plugin, price, release date, system requirements, update, V-Ray, V-Ray 5 for Blender, V-Ray for Blender, V-Ray Frame Buffer, VFB, Vlado Koylazov