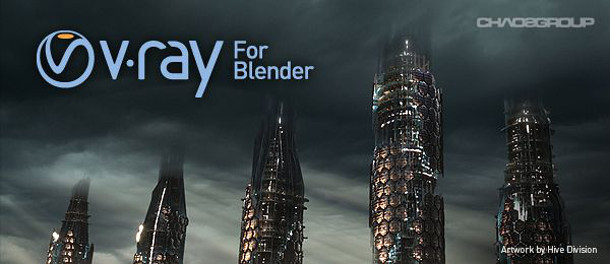 V-Ray for Blender, Andrey Izrantsev's free exporter enabling artists to render Blender scenes within V-Ray, has become an 'official' Chaos Group product.
The company has now created its own dedicated V-Ray for Blender product page, and moved the support forum over to its own website. Izrantsev himself joined Chaos Group last August.
In an announcement posted yesterday, Chaos Group commented: "We believe that the open source community plays a strategic role in the development of the computer graphics industry.
"We are devoting resources toward the development of V-Ray for Blender. Andrey Izrantsev … is working actively on the better integration of V-Ray and Blender."
From hobby project to professional product
V-Ray for Blender began as a 'just for fun' project, as Izrantsev explains in this 2011 BlenderNation interview, but quickly gained community support.
The exporter outputs Blender scenes, models and animations in the .vrscene file format, which can be rendered in V-Ray 2.x Standalone. It supports the key features of the V-Ray 2.x releases.
V-Ray for Blender is available for Windows, Linux and Mac OS X, under the open-source GPL licence.
Read more about V-Ray for Blender on Chaos Group's new product page
Visit the V-Ray for Blender support forum (Registration required)
Tags: Andrey Izrantsev, Blender, Chaos Group, exporter, Featured Articles, forum, free, official, open source, plugin, renderer, support, V-Ray, V-Ray for Blender