Sunday, December 15th, 2019

Posted by Jim Thacker
Get 50+ free hybrid scans of leaves, twigs and stones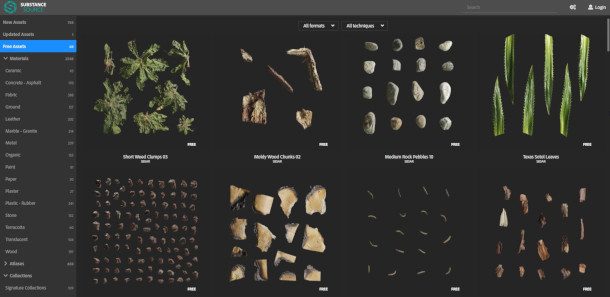 Orginally posted on 15 December. Scroll down for news of three free 'Biomes'.
Adobe has introduced Atlases, a new category of "hybrid scanned materials" to Substance Source, its online library of procedural materials in Substance format.
The assets – there are 658 initially – can be used to scatter small debris objects like leaves, twigs and stones across ground surfaces in 3D scenes.
At the time of posting, 53 are available to download free in Substance .sbsar format.
Scan-based textures of real-world debris that can be scattered procedurally inside 3D software
The new Substance Source Atlases are similar to the texture atlases available on Megascans: for many artists, the main source of real-world scan data.
As with Megascans, they consist of scan-based textures of real-world objects, arranged evenly on a transparent background, and provided at a maximum resolution of 4K.
However, unlike Megascans' static texture atlases, they are provided as procedural materials in Substance .sbsar format, which should streamline the set-up process when using them to a 3D scene.
Each comes with an "automatic crop and scale parameter", making it possible to view individual objects in isolation, plus splattering presets to control their distribution across a ground surface.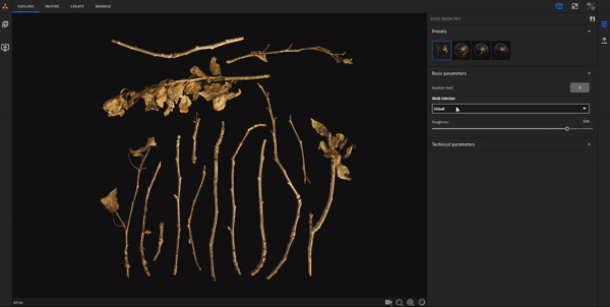 Adobe describes the assets as optimised for Substance Alchemist, its material-authoring software, which came out of beta last month, but we assume they can be used in any application that imports .sbsar files.
You can see the workflow for using an Atlas to scatter ground objects inside Substance Alchemist in the video above, including some of the parameters that Adobe has exposed to adjust the results.
According to Adobe, it plans to release 'Biomes' – readymade procedural materials containing atlas elements – on Substance Source in future.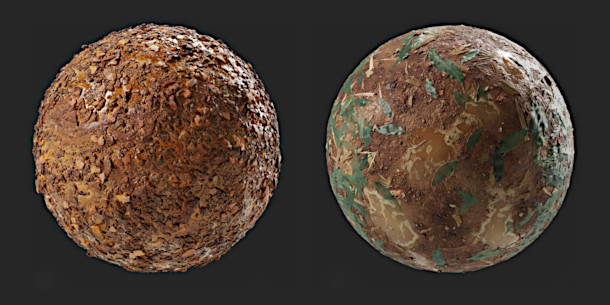 Updated 23 December 2019: The first 50 Biomes are now live on Substance Source. You can read more about them on Adobe's blog.
Download free Atlases and Biomes from Substance Source
At the time of posting, 53 Atlases are available to download free from Substance Source. Substance Source assets can be used in commercial projects.
They're mainly natural objects like leaves, flowers, twigs, pebbles and gravel, but there are also scans of chipboard and cinder block fragments and rusty metal.
Three Biomes are also now available free: a desert soil material, a jungle floor material with mud and fallen leaves, and an overgrown brick wall with moss and vegetation.
Adobe rotates the set of free resources available regularly, so keep checking the site for new downloads.
Commercial Substance subscriptions, which include access to Substance Source and Substance Alchemist, cost $19.90/month for users with revenues under $100,000/year; $99.90/month otherwise.

Read more about the new scan-based materials on the Substance blog
Download free materials and texture atlases from Substance Source