Sunday, March 19th, 2017

Posted by Jim Thacker
Download free 3D scans of a female figure and a xenomorph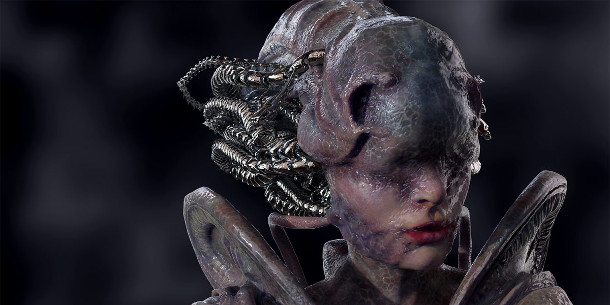 Online scan data marketplace SnapTank has made two high-resolution 3D scans, one of a nude female figure and one of a Giger-style xenomorph scanned from a figurine, available to download for free.
Both are commercial products, and normally sell for £32 (around $40), but are free until the end of March.
Available ready-cleaned in OBJ format with textures
The xenomorph figure comes as both raw scan data and a decimated version, with 6 million and 1.5 million polys respectively. Both are UV-ed and textured, and include 16K texture maps.
The female figure comes as a cleaned scan with 3 million polys and an 8K texture map. Both models are provided in OBJ format, and are licenced for "editorial use" only – that is, non-commercial projects.
The downloads accompany an article by 3D generalist Miriam Sarbu explaining how she used the assets to create the character shown at the top of the story using ZBrush, Photoshop and KeyShot.
Availability
The female figure and the xenomorph scan can be downloaded for free from SnapTank until the end of March 2017. You'll need to be registered on the site to download the files.
SnapTank also has a range of other free 3D scans available to download. They're mainly of household objects, and are available indefinitely. You can find more details here.

Download the free human female 3D scan from SnapTank