Autodesk has released 3ds Max 2020, the next update to its 3D modelling and animation software.
The update extends 3ds Max's support for OSL shading, adding new non-phorealistic shaders and greenscreen keying tools; updates the Chamfer modifier; and improves Alembic and point cloud export.
Under the hood, viewport animation playback performance has been improved by up to 2x, and rendering preview animations is now up to 3x faster.
The firm has also posted a public roadmap for 3ds Max, showing features proposed for future updates.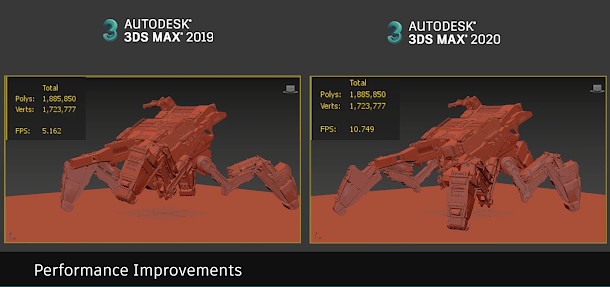 Faster viewport animation playback and preview animation rendering
According to Autodesk, 3ds Max 2020 balances new features with under-the-hood changes.
Speaking to CG Channel ahead of the release, 3ds Max senior product line manager Nicolas Fonta described the update as introducing "significant improvements in terms of quality and stability".
One focus has been animation playback: 3ds Max no longer evaluates curves and geometry that have not changed between frames, improving viewport playback speeds.
Autodesk's demo shows a 2x increase in frame rate when evaluating a fairly complex mechanical rig – something Fonta described as a "good scenario", but not necessarily a best case.
Viewport frame rate is also now displayed more accurately: as well as updating less frequently, Fonta admitted that the figure displayed on screen could actually be wrong in previous versions of 3ds Max.
Preview animations have also been improved, now rendering "1.5-3 times faster" on local drives.
Users can also select a range of standard codecs when rendering AVI files, including MJPEG and Microsoft, Intel and TechSmith codecs; and can capture animation at greater sizes than the viewport itself.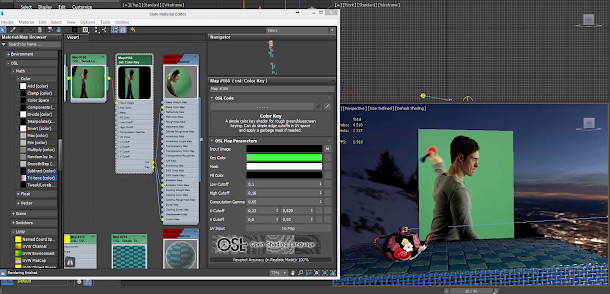 New OSL maps, including a basic greenscreen keyer and colour corrector
OSL shading, first introduced in 3ds Max 2019, has been further extended to support 3ds Max's Quicksilver hardware renderer.
The update also adds 14 new OSL maps, introducing quite an interesting range of new capabilities.
VFX artists get a new Color Key map for "rough" greenscreen keying, described as capable of "simple edge cutoffs in UV space and apply[ing] a garbage mask if needed".
There is also a new Tri-tone colour correction map, capable of correcting an input color using highlights, midtones or shadows.
A separate Color Space map converts footage between different colour spaces, including RGB, HSL and YIQ.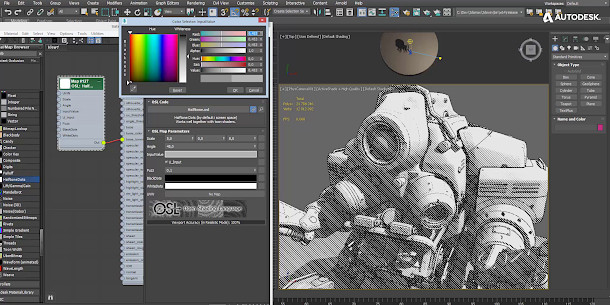 New halftone and toon shading effects
Illustrators get new non-photorealistic shading options, including Toon Width and Halftone.
The latter generates some nice-looking dot patterns and hatched effects, although the hatching pattern does flicker quite noticeably when used in animations.
Updated: Autodesk has been in touch to say that the flickering in the demo video is a deliberate effect. More details in the comments below.
General-purpose maps include Simple Tiles and Weave, which generate procedural materials.
When creating new maps from scratch, the OSL source editor now includes "improved bracket highlighting, syntax highlighting, and better docking".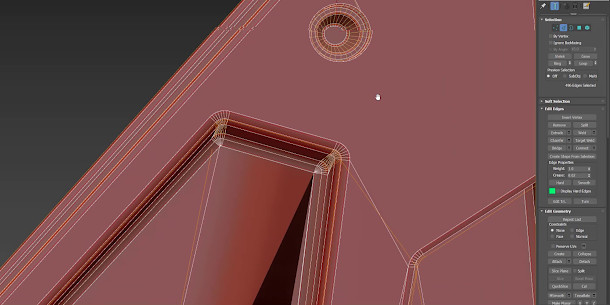 Updates to the modelling and UV editing toolsets
In the modelling toolset, the Chamfer modifier has been updated, with users getting the option to fix the chamfer width, or weight it on a per-edge basis with crease weights.
Chamfering can also now generate straight bevels or inverted curves; and an End Bias setting controls the flow of geometry between chamfered and unchamfered edges.
In the UV editing toolset, Flatten Mapping is now "an order of magnitude faster when working with many UV islands" and pixel snap settings can now be saved and reloaded.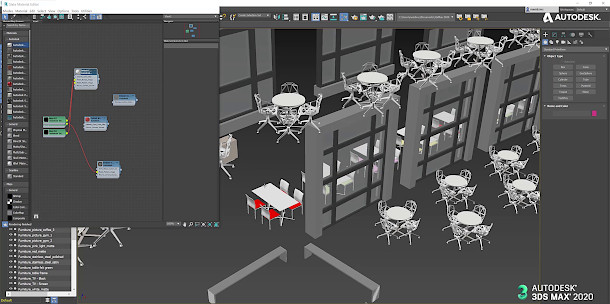 Improved import of Revit files, and export of Alembic and point cloud data
Pipeline improvements include support for the Revit Camera, Sun and Sky when importing Revit files; and new Combine By options to import Revit materials more selectively.
It is also now possible to import files from Revit 2017, 2018 and 2019 without upgrading when using the additional Revit Interoperability components.
Alembic export has also been updated, with support for custom attributes on non-geometry like locators and dummy objects; and improved triangulation of meshes with concave n-gons.
In addition, it is now possible to export point cloud data in the .ply and .e57 file formats.
Updates to MAXtoA, but not shipping with Arnold 5.3 out of the box
MAXtoA, the 3ds Max integration plugin for Autodesk's Arnold renderer, has also been updated: you can find more details in our original story from earlier this month.
Autodesk told us that the recent Arnold 5.3 update – which includes the long-awaited Arnold GPU render engine – came too late to ship with 3ds Max 2020 out of the box, but that the two releases are compatible.
Updated 28 March 2019: Initial user reactions broadly negative
3ds Max users have now begun to post their comments on 3ds Max 2020 on community forums.
Early feedback has been largely negative: Autodesk's decision to post a public roadmap has been welcomed, but the overall pace of development relative to the cost of subscription has not.
As one comment on Autodesk's AREA forum put it: "I don't think Autodesk are ever going to keep their 3ds Max customers happy, no matter what they do, until they realise their mistake in hiking the prices too high."
Pricing and availability
3ds Max 2020 is available for Windows 7+. The software is available on a rental-only basis. Subscription prices rise slightly with this release, to $195/month or $1,545/year.
As it did with 3ds Max 2019, Autodesk has worked with third-party developers to ensure that key plugins support 3ds Max 2020 within the first week of launch.
This year, over 270 plugins will do so – up 120 on last year – including the major 3ds Max render engines and integrations with other DCC applications.

Read a list of new features in 3ds Max 2020 in Autodesk's online documentation
See more videos of the new features in 3ds Max 2020 on YouTube
Tags: 3ds max, 3ds Max 2020, 3ds Max roadmap, Alembic, animation playback, Arnold, Arnold 5.3, Arnold GPU, autodesk, AVI, Chamfer modifier, codec, color correction, color key, color space, E57, Flatten Mapping, garbage mask, greenscreen, halftone shader, keying, MAXtoA, modeling, new features, non-photorealistic rendering, Open Shading Language, OSL, performance, PLY, point cloud, preview rendering, price, Quicksilver, rendering, Revit, roadmap, Simple Tiles, system requirements, toon shading, Tri-tone, UV editing, viewport playback, viewport preview, Weave