Tuesday, November 26th, 2019

Posted by Jim Thacker
Autodesk releases 3ds Max 2020.3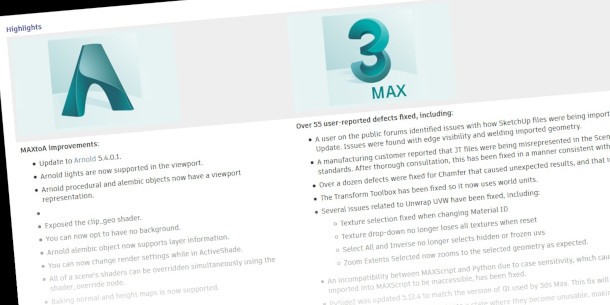 Autodesk has posted the online documentation for 3ds Max 2020.3, the latest update to the 3D modelling and animation software, fixing "over 55 user-reported defects".
The release also updates the bundled MAXtoA rendering plugin to support Arnold 5.4, making it possible to display Arnold lights and procedurals in the 3ds Max viewport.
Updated: 3ds Max 2020.3 is now shipping. Autodesk has a blog post on the release and its updated public roadmap for 3ds Max.
Mainly bugfixes, plus support for Arnold 5.4
The online documentation for 3ds Max 2020.3 doesn't list any new features in the software itself, so unless this list is still a work in progress, this seems to be a bugfix update, as with Maya 2018.5 last year.
The release fixes "over 55 user-reported defects", including bugs in the Physical camera, and the Unwrap UVW and Chamfer modifiers, and incompatibilities between MAXScript and Python.
It should also be possible to edit bitmaps used in an OSL map outside 3ds Max without the file locking up.
There are a couple of small updates to existing features, including support within Editable Poly objects for the new mitering types added to the Chamfer modifier in 3ds Max 2020.2.
Other than that, the release updates MAXtoA, the integration plugin for Autodesk's Arnold renderer, to 5.4.0.1, exposing features added in Arnold 5.4 this summer.
Key changes in the 3ds Max implementation include support for Arnold lights and procedural objects in the 3ds Max viewport, and the option to change render settings while in ActiveShade.
It is also now posible to bake normal and height maps.
Pricing and availability
3ds Max 2020.3 is available for Windows 7+ on a rental-only basis. Subscriptions cost $195/month or $1,545/year.

Read a list of changes in 3ds Max 2020.3 in the online documentation