Friday, November 30th, 2018

Posted by Jim Thacker
Autodesk ships Maya 2018.5 and Maya LT 2018.5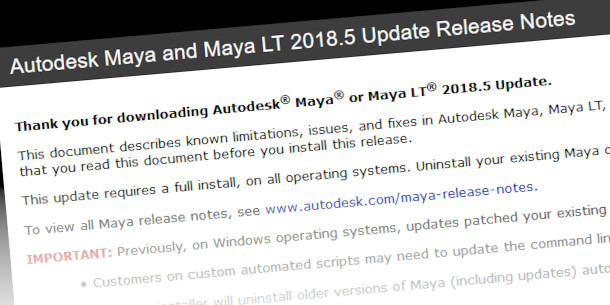 Autodesk has released Maya 2018.5 and Maya LT 2018.5, the latest versions of the 3D animation software.
Both seem to be purely bugfix updates: the online release notes contain a short list of fixes, but at the time of posting, the online documentation hasn't been updated with any actual new features.
An unexpected extra update before Maya 2019?
What this means for the timing of a more substantial update is open to debate.
Under Autodesk's usual release schedule, Maya 2019 would have shipped this summer, but the last official word from the company's forum, in a post from mid-October, was just that "the devs are working hard on it".
Pricing and availability
Maya 2018.5 is available for Windows 7 and 10, Red Hat Enterprise Linux 6.5 and 7.2 WS and CentOS 6.5 and 7.2, and Mac OS X 10.11 and above. It's rental-only, with prices starting at $190/month or $1,505/year.
Maya LT 2018.5 is available for Windows 7 and 10 and OS X 10.10.5+. Rental starts at $30/month or $245/year.
Read a full list of bugfixes in Maya 2018.5 and Maya LT 2018.5 in the online release notes