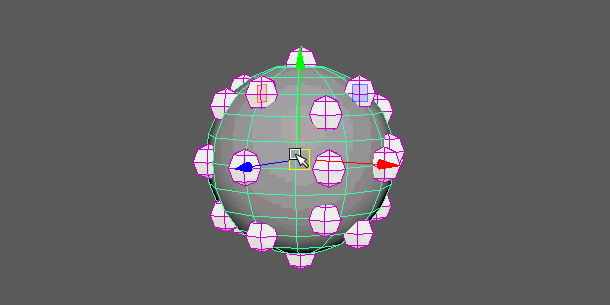 Maya 2018.3 adds new options to the Offset node in the MASH motion graphics toolset. Other changes in the update include GPU support for the Wire deformer, and workflow changes to Render Setup and Proiler.

Autodesk has released Maya 2018.3, the latest update to the 3D modelling and animation software, extending the MASH motion graphics toolset and GPU-accelerating the Wire deformer.
Maya LT, the cut-down edition of Maya for indie game artists, gets a smaller update, with new auto frame options in the Graph Editor and minor changes to UV workflow: both also present in Maya 2018.3 itself.
Maya 2018.3: new options and Smart Presets in the MASH toolset
As with the two previous releases in the 2018.x series, Maya 2018.3 is a smallish update, extending existing tools rather than adding new ones.
Most of the changes this time round affect the MASH motion graphics toolset, with new options for the Instancer, Offset and Placer nodes, and performance improvements to the Repro node.
In addition, Smart Presets – readymade Python scripts for creating MASH set-ups or automating common motion graphics tasks – are now accessible via the Content Browser.
The release notes list 13 presets, some of which date back to Maya 2018 itself, but the ones for manipulating type and the self-descriptive 'Instant Forest' seem to be new.
Maya 2018.3: updates to the Wire deformer, Render Setup and Profiler
Outside the MASH toolset, the Wire deformer becomes the latest deformer to become GPU-accelerated, and gets a new Bind to Original Geometry option when working with meshes affected by another deformer.
The Render Setup system gets a new option to colour code layers, collections and overrides, and several new preferences, including one to display Render Setup nodes in the Outliner and Node Editor.
There are also new options in the Profiler marking menu to make it easier to organise the troubleshooting information it generates for complex scenes, including the option to collapse or expand child events.
Maya 2018.3 and Maya LT 2018.3: small changes to the Graph Editor and UV Editor
Both Maya 2018.3 and Maya LT 2018.3 get new options to auto-frame the Graph Editor in both axes – that is, by time range as well as parameter value.
There are also "a few small changes" to the UV Editor, with Shell Pre-Scaling now defaulting to Preserve 3D Ratios to generate UV shells that better preserve the relative sizes of their corresponding geometry.
And as usual, there is a longish list of bugfixes in both editions, which you can find via the link below.
Pricing and availability
Maya 2018.3 is available for Windows 7 and 10, Red Hat Enterprise Linux 6.5 and 7.2 WS and CentOS 6.5 and 7.2, and Mac OS X 10.11 and above. It is available on a rental-only basis, starting at $190/month or $1,505/year.
Maya LT 2018.3 is available for Windows 7 and 10 and OS X 10.10.5+. Rental starts at $30/month or $245/year.

Read a full list of new features in Maya 2018.3 in Autodesk's online documentation
(The subset of features available in Maya LT 2018.3 can be found here)
Read a list of bugfixes in Maya 2018.3 and Maya LT 2018.3
Tags: Auto Frame, GPU-accelerated, graph editor, Mash, Maya, Maya 2018, Maya 2018.3, Maya LT, Maya LT 2018.3, motion graphics, new features, price, Profiler, Render Setup, smart presets, Update 3, UV Editor, Wire deformer