Friday, September 1st, 2017

Posted by Jim Thacker
Autodesk ships Maya LT 2018

Autodesk has released Maya LT 2018, the latest version of its cut-down edition of Maya for games artists.
The update adds new sculpting features including support for topological symmetry and vector displacement map stamping, and iterates on recent updates to the UV Editor, Graph Editor and Time Editor.
Sculpting: support for symmetrical sculpting and vector displacement maps
The main new features in Maya LT 2018 itself are those in the sculpting toolset.
Character artists get support for symmetrical sculpting, so changes made to one side of a mesh are automatically mirrored to the other, even if a character is posed asymmetrically.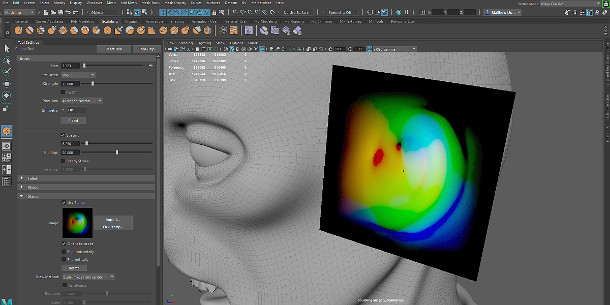 Autodesk's blog post also mentions support for vector displacement map-based stamping, although at the time of posting, there's no information about it on the page in the online documentation it links to.
However, it's potentially a very neat feature: also recently introduced in ZBrush 4R8, vector displacement maps let artists create much more complex surface geometry than conventional 2D alphas.
In particular, they can create undercuts in the geometry they generate, enabling artists to create complex 3D forms like ears from the surface of a model with a single stamp.
Updated: It looks like it's an implementation of a Mudbox feature within Maya LT. See the comments below. Autodesk also tells us that it now "supports a broader range of file types, such as TIFF".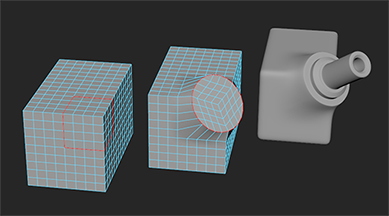 Modelling: new Circularize command and workflow improvements
The update also introduces a number of new hard-surface modelling features rolled out in Maya 2018 itself.
These include a new Circularize command (above), which converts selected geometry into a perfect circle, making it easier to create circular extrusions that blend with a base mesh.
There are also new options to convert the edges on a Smooth Mesh Preview to curves based on the smooth mesh shape; and new hotkeys for common tasks like duplicating or extruding model components.
UV editing: further iterations to the redesigned UV Editor
The update also includes the improvements to UV workflow rolled out in Maya LT Update 3, including the option to cut and sew UV edges in the viewport, and a redesigned UV Editor.
On top of that, Autodesk's blog mentions a "new intelligent stacking feature that lets you stack similar UV shells, automatically redistribute UVs for even spacing, and constrain the movement of UVs along edges".
Maya LT 2018 also introduces a new UV Shell marking menu accessible by right-clicking in the viewport, making it possible to edit UV shells quickly without having to go to the UV Editor.
Graph Editor: workflow improvements and new options to set custom colours
Maya LT 2018 also makes a number of usability improvements to the new Modern Graph Editor.
Several make its workflow more similar to that of the Classic Graph Editor it superseded: for example, curve selection is now a two-click process, making it harder to move curves accidentally.
Curves are now set to use non-weighted tangents by default; and auto frame is on by default, meaning that the graph view is automatically adjusted to fit the curve selected.
The colour palette has also been updated to make it easier to pick out locked curves, keys and tangents; and it is now possible to customise common curve and key types – a much-requested feature.
Other animation features: further updates to the Time Editor
The clip-based Time Editor introduced in Maya LT 2017 also gets an update, adding a new Loop Progressive option to extend animation continuously when played back.
The option makes it possible to convert short movement clips into complete walk cycles.
The Time Editor also now supports animation layers: a feature originally rolled out in Maya LT 2017 Update 3.
Maya LT 2018 also incorporates a number of more general animation features from Update 3, including improved support for timecode, and support for a greater number of framerates.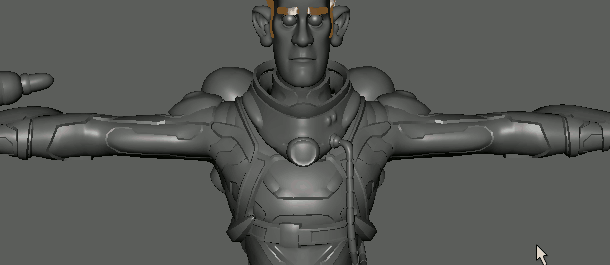 Rigging: new Visibility mode for rig controls, faster rig evaluation
Character riggers get a neat new Visibility mode (above) designed to reduce visual clutter on rigs by only showing controls when the mouse cursor passes near them.
The Lattice deformer is also now GPU-accelerated to improve performance; and there is a new HIK evaluator designed to improve the speed of HumanIK characters by "up to six times".
Again, the update also includes features added in Maya LT 2017 Update 3, including the Bake Deformer Tool – now renamed Bake Deformation to Skin Weights.
The tool converts the output of deformer-based rigs to weight maps, speeding up rig evaluation and making it possible to export complex rigs to applications that have limited deformer support.
Lighting and shading: improved spot lights, transparency-mapped shadows in the viewport
New lighting and shading features in Maya LT 2018 include the option to display multiple penumbra decay regions for spot lights, plus usability improvements to their viewport manipulators.
The viewport gets support for transparency-mapped shadows, meaning that objects with transparent areas in their texture maps now generate accurate shadows and ambient occlusion.
The update builds on the changes to the viewport from Maya LT 2017 Update 3, including improved workflow for previewing displacement, and improved support for subdivision surface geometry.
If you haven't already updated, you also get the Shaderfx game hair shader from Maya LT 2017 Update 2, designed for use with characters where the hair is modelled as polygon strips.
Other changes: more UI customisation, workflow tweaks to the Node Editor and Script Editor
Maya LT 2018 also increases UI customisability, making it possible to dock shelves vertically or horizontally.
The Node Editor gets usability improvements including new connection line styles. Connections can now also be created by clicking on the source and destination ports, removing the need to drag with the mouse.
The Script Editor also gets tweaks designed to simplify workflow when loading MEL scripts directly from external files, including the option to save any changes you make directly from the editor.
Pricing and availability
Maya LT 2018 is available for Windows 7 and above and Mac OS X 10.10.5 and above.
As with all of Autodesk's software, licences of Maya LT are available on a subscription-only basis, starting at $30/month or $240/year, and including access to Autodesk's Stingray game engine.

Read an overview of the new features in Maya LT 2018 on Autodesk's blog
Read a full list of new features in Maya LT 2018 in the online documentation
(Also includes features originally rolled out in Maya LT 2017 Updates 2 and 3)