Monday, October 29th, 2018

Posted by Jim Thacker
PSOFT releases Pencil+ 4 for Maya

Japanese developer P Softhouse – more commonly known as PSOFT – has released a new Maya edition of Pencil+ 4, its formerly 3ds Max-only nonphotorealistic rendering plugin.
The Japanese-language version was released last month, along with the demo video above, but the English edition has only just shipped.
A cel-shading tool used in production on major Japanese animations
Used in Japanese animated features like the Rebuild of Evangelion series and Makoto Shinkai's Your Name, the 3ds Max edition of Pencil+ was also adopted by Western studios, notably by Rooster Teeth on RWBY.
Early versions of the Maya edition have already been used in production by Toei Animation on the animated features Mazinger Z: Infinity and the upcoming Dragon Ball Super: Broly.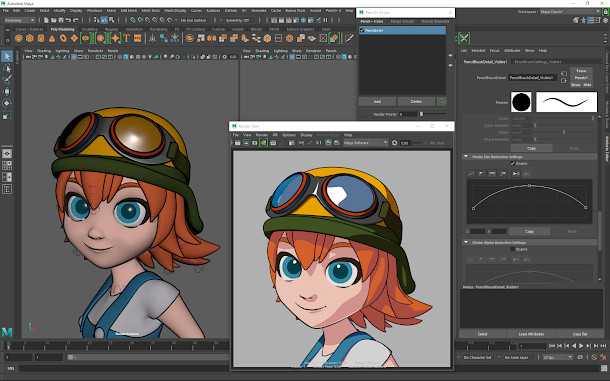 Mimic the look of cel animation and pencil drawings, with a range of line and toon shading controls
Intended to reproduce the look of Japanese 2D animation and manga, Pencil+ for Maya generates 3D renders that mimic the look of animation cels and pen-and-ink or coloured pencil drawings.
It provides a range of toon shading controls, including the option to paint masks onto the 3D model to control the positioning of shadows, and global settings to control the shape of highlights.
As well as standard options to control stroke width and variation, outlining features include the option to generate instanced variations of an edge to mimic the look of rough sketches.
It is also possible to vary line width and transparency with distance from the camera, for perspective effects.
There are a range of settings to control which edges get outlined, with options for hidden lines, intersections, grouped geometry, open edges and even arbitrary sets of edges on the surface of a mesh.
Lines can be exported in EPS format for use in other software, or a proprietary format that makes them editable in After Effects via PSOFT's – currently Japanese-only – companion tool Pencil+ 4 Line.
Output can also be divided into render elements, making it possible to split an image into layers.
PSOFT also plans to release a bridge tool so that settings can be shared between the 3ds Max and Maya editions of the plugin.
Pricing and availability
Pencil+ 4 for Maya is available for Maya 2015 and above. It works with the native Maya Software renderer. It costs 60,480 Yen (around $535).
Read more about Pencil+ 4 for Maya on PSOFT's product website