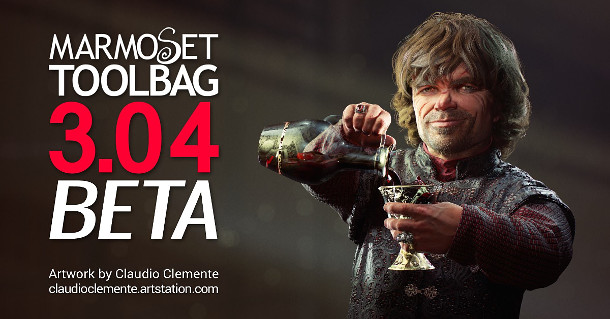 Originally posted on 6 March 2018. Scroll down for news of the official release.
Marmoset has released Toolbag 3.04, the latest version of its real-time rendering toolkit, in public beta.
The update, described as a "huge release", adds support for cascading shadow maps, volumetric fog, the option to bake over 10 new map types, and to render 16-bit PNG and 32-bit EXR images.
Viewer, Toolbag's WebGL exporter, gets support for animation and multiple cameras, and there is also a new free desktop app for viewing the .mview project files it generates.
Support for cascading shadow maps and volumetric fog in the viewport
Despite the small change in version number, Toolbag 3.04 looks to be a pretty significant update.
So far, the only information about the new features comes from Marmoset's Facebook group, so it's pretty bare-bones, but it's still a long list.
The main application gets a number of updates to the way it displays shadows for the asset being viewed, including support for cascading shadow maps, plus a new "ludicrous" shadow resolution setting.
It can also display volumetric fog – itself complete with shadows – while discrepancies in depth of field effects between the viewport and rendered output have been "significantly improved".
There are also a new camera near plane setting and an option to temporarily turn off computationally expensive viewport effects, both of which should improve interactivity when working with large scenes.
New map baking options and workflow
The baking toolset now supports over 10 new map types, including cavity/convexity, bent normals, thickness, alpha, wireframe, and a range of standard PBR map types, like albedo, roughness and metalness.
Other changes include a new UI with the option to create and load presets, and support for texture sets.
Support for STL import, glTF export and high-bit-depth rendering
When it comes to interoperability with other tools, Toolbag now features a model loader for assets in STL format, "updated" Substance support, and the option to export in the increasingly popular glTF format.
New rendering options include support for 16-bit PNG files and 32-bit EXR files.
Updates to the Viewer, plus new free desktop app for viewing .mview files
Viewer, Toolbag's built-in WebGL exporter, also gets a significant update, including support for animation – added to Toolbag itself in version 3.0 – and multiple cameras.
Other changes include support for HiDPI displays, a new shadow catcher object, and a new refraction shader. Like the main Marmoset viewport, Viewer also now supports volumetric fog.
As well as embedding the .mview files that Viewer generates into web pages or social media posts, it is also now possible to view them via a new desktop app released alongside Toolbag 3.04.
Marmoset has confirmed that the desktop app will be free to the public once version 3.04 ships officially.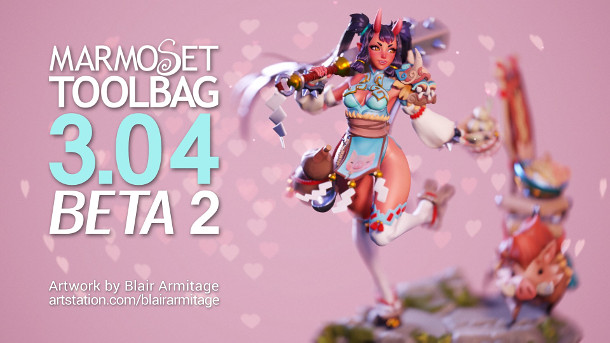 Updated 12 April 2018: Marmoset has released Beta 2 of Toolbag 3.04.
It's largely a bugfix update, but new features include support for skew/offset painting across multiple texture sets; and detail from high-poly normal maps now bakes to tangent and object space normals.
Pricing and availability
Updated 26 April: Toolbag 3.04 is now shipping for Windows 7+ and macOS 10.12+. New licences cost $189 for individual artists and $379 for studios.

Read a full list of new features in Toolbag 3.04 in Marmoset's Facebook group
Visit the Toolbag product website
Tags: 16-bit, 32-bit, albedo, alpha map, animation, baking, bent normals, beta, cascading shadow maps, cavity map, convexity map, depth of field, desktop viewer, download, emissivity, EXR, free, glTF, HiDPI, look dev, look development, Marmoset, metalness, new features, PBR, price, real time, release date, rendering, roughness, shadow catcher, STL, system requirements, thickness map, Toolbag, Toolbag 3.04, viewer, volumetric fog, WebGL, wireframe render