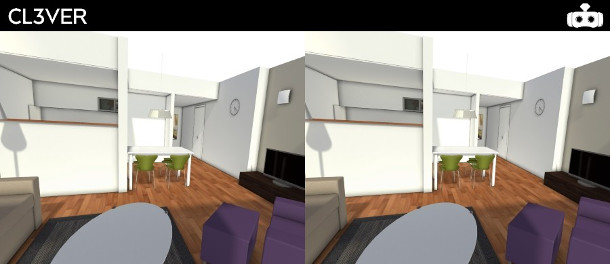 Originally posted on 27 November 2015. Scroll down for details of the commercial launch.
CL3VER, the cloud-based platform for converting 3D models into interactive presentations, has announced version 3.3 of its service, adding support for authoring VR content and a new desktop app.
The new features will be displayed at Autodesk University 2015 next week.
Author VR content natively, or display presentations offline via the new desktop app
According to the company's blog, CL3VER 3.3 "introduces a VR solution that streamlines VR content creation from Autodesk 3ds Max, Autodesk Revit, SketchUp and Rhino".
CL3VER tells us that the functionality, which is still in beta, will also work with any file format supported by the platform, although the process is less automated when working outside of the applications listed above.
The system has been tested on Oculus's VR hardware. You can find more details here.
In addition, there is a new CL3VER desktop app, which enables users to save and open presentations on Windows and OS X devices, replacing the previous functionality for publishing presentations offline.
Updated 21 December: CL3VER 3.3 is now publicly available.
As well as the features listed above, the update optimises the CL3VER viewer for iOS devices with Retina displays; and enables users to download interactive projects as .zip archives to host privately.
CL3VER 3.3 also introduces support for Spot and Area lights, as well as point and directional lights, and improves speed and final map quality when baking lightmaps.
You can read a full list of new features via the link to the changelog below.
Pricing and availability
A single user licence for CL3VER costs $600/year.
Read a full list of new features in CL3VER 3.3
Full disclosure: in my other life as a technical writer, I produced some of the online tutorials for CL3VER 3.0.
Tags: 3ds max, area light, authoring, baking, Cl3ver, cloud-based, desktop app, interactive, iOS, Lightmap, Mac OS X, new features, online, presentation, price, Revit, Rhino, SketchUp, spot light, virtual reality, VR, Windows