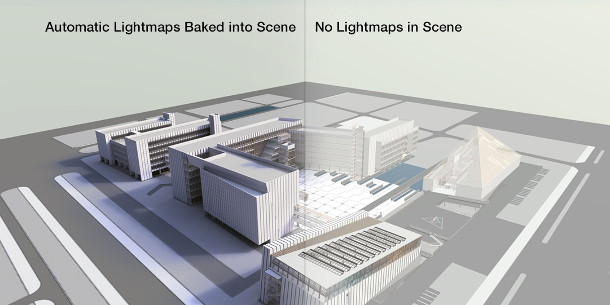 Originally posted on 18 February. Scroll down for updates.
CL3VER, the cloud-based platform for converting 3D models into interactive presentations, has announced version 3.0 of its service, including a new GPU-based real-time system for rendering lightmaps.
Aimed primarily at architects, CL3VER enables users to upload assets in standard formats, including 3DS, OBJ, Collada and FBX, and create interactive presentations using a workflow similar to a PowerPoint presentation.
Import plugins are provided for 3ds Max, Maya, SketchUp and a range of common industrial design tools.
Generate lightmaps in real time using any GPU
CL3VER 3.0 introduces a new GPU-accelerated system for generating lightmaps, dramatically reducing the time required to generated realistic-looking presentations.
The process is automatic, meaning that the user can continue to work on the presentation while the lightmaps are calculated. The system is WebGL-based, so it should work with any GPU, including laptop cards.
Updated 11 March: CL3VER has launched CL3VER 3.0. As well as the new real-time lightmap system, there is quite a long list of new features, which you can find in the official release announcement.
Raw performance has been improved, with file import now "3 to 20 times faster" and the size cap on imported scenes raised to 2GB, or 30 million polygons. CL3VER also now supports instancing on imported scenes.
For 3ds Max users, the CL3VER plugin now exports V-Ray materials; and there are new collaboration options, enabling users to invite clients and team members to view and edit projects.
The user interface has also been overhauled for a more streamlined workflow, adding a new option to automatically generate control menus for a presentation.
Updated 8 May: CL3VER just introduced new pricing, starting at $50/user/month – or really, $600/user/year, since that's billed annually. The company previously offered a range of subscription plans, all priced on enquiry.
Users can also create an unlimited number of private presentations for free.
Read more about the new features in CL3VER 3.0
Full disclosure: in my other life as a technical writer, I produced some of the online tutorials for CL3VER 3.0.
Tags: 3D model, Architecture, authoring, Cl3ver, CL3VER 3.0, cloud-based, GPU-accelerated, GPU-based, interactive, Lightmap, new features, online, photorealistic, presentation, price, real time