Wednesday, February 25th, 2015

Posted by Jim Thacker
Unreal Engine 4.7 ships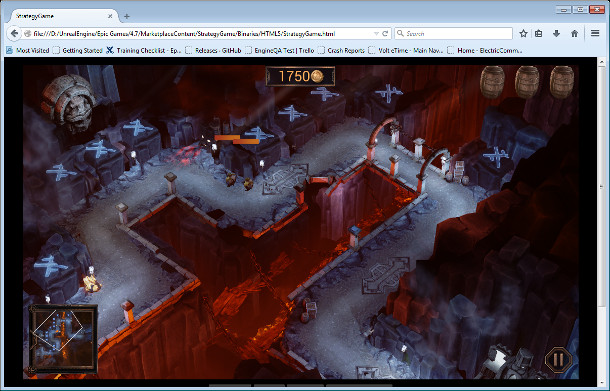 Unreal Engine 4.7 can package games in HTML5 format, enabling gamers to play them inside a WebGL-compatible browser. Other new features include improved foliage rendering and support for OpenEXR files.
Epic Games has released Unreal Engine 4.7, its latest update to the game engine and development toolset, adding the option to compile games in HTML5 format, better foliage rendering and OpenEXR support.
Export games directly to HTML5 from the editor
The headline news this time round is definitely the fact that UE4 can now package and deploy a project to HTML5 with a single click, enabling users to make use of WebGL directly through the binary tools.
The functionality, developed in conjunction with Mozilla, is currently Windows-only; and you'll need to be running Firefox, Safari or 64-bit Chrome to use it in development.
Improved foliage rendering, file import and animation editing
Other new art features include transmissive lighting for foliage, improving the realism of in-game vegetation; and support for importing HDR files in OpenEXR format.
File import in general has been streamlined, with any source art files saved in a project's Content folder being automatically imported (or updated) in the editor.
Animation improvements include the option to edit animation directly within the Persona animation tool, and to record the result of physics simulations and use them as in-game animations.
There are also the usual range of updates to the scripting, programming and 2D game development tools; and support for compiling projects to Android in the Mac version of the editor.
There is also a new plugin for the Leap Motion controller, shown in use in the demo video above for Cherry Pie Games' Hollow. The tool is still in beta: for the minute, the source code can be found in the GitHub repo.
Pricing and availability
Unreal Engine 4.7 is available now for Windows 7 64-bit or Mac OS X 10.9.2 or later. A developer subscription costs $19/month plus 5% of gross revenue when releasing a commercial product that uses the engine.