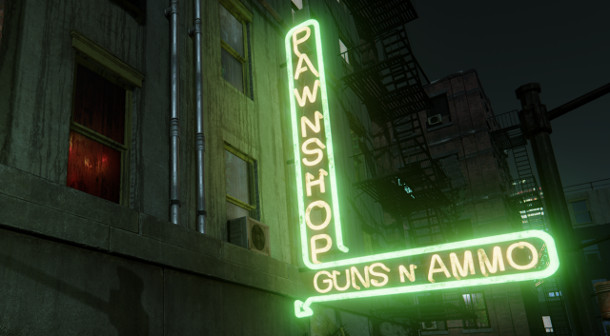 Emissive materials can now directly illuminate surrounding objects in Unreal Engine 4.6. Other new features introduced in the update include an 'experimental' new 3D UI system and support for more textures per material.
Epic Games has released Unreal Engine 4.6, the latest update to the game engine, adding a new 3D interface system, improved emissive materials and support for more textures per material.
'Experimental' new 3D UI system, better materials and animation
The biggest single addition is the new 3D motion graphics UI, which is officially still described as 'experimental'. It enables UI elements to be attached to a 3D quad within the scene.
Lighting and materials have been updated: emissive materials can directly illuminate surrounding objects, and precomputed lighting and shadows can now be applied to foliage and instanced meshes.
Materials can also now have up to 128 unique textures.
Changes to character animation include support for blending multiple animations together to generate root motion; and the option to play multiple animation montages simultaneously on a skeletal mesh.
There are also a number of non-art-related changes, including the option to save instant replays of gameplay, complete with time-warping during playback; and a coding-free implementation for multiplayer sessions.
Pricing and availability
Unreal Engine 4.6 is available now for Windows 7 64-bit or Mac OS X 10.9.2 or later. A developer subscription costs $19/month plus 5% of gross revenue when releasing a commercial product that uses the engine.
The engine is now available free to students.
Read a full list of new features in Unreal Engine 4.6
Tags: 3D UI, animation, blending, emissive material, Epic, Epic Games, free, material, motion graphics, new features, precomputed lighting, price, textures, UI, Unreal Engine, Unreal Engine 4.6, user interface