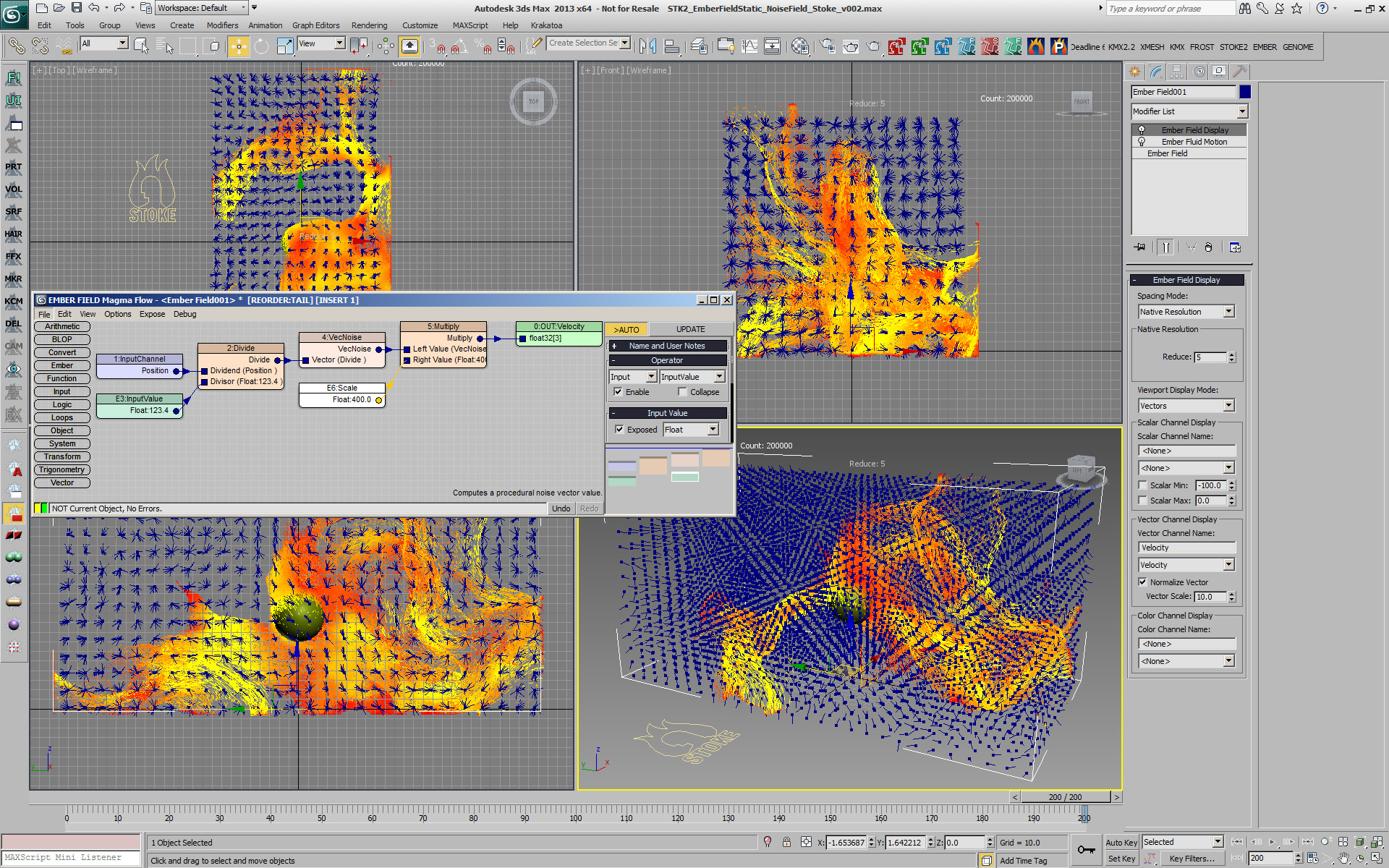 Stoke MX 2.0. The new version of Thinkbox Software's 3ds Max toolset for creating dense particle simulations incorporates the field editing and manipulation capabilities of Ember, orginally pitched as a separate product.
Originally posted on 22 July 2013. Scroll down for updates.
Thinkbox Software has announced Stoke MX 2.0, the next version of 3ds Max "particle reflow" toolkit.
Designed to handle dense particle simulations driven by velocity fields, the software lets a low-density simulation drive a high-density one, enabling artists to reach ultra-detailed results more quickly.
Now with Ember's toolset built in
Version 2.0 of the software will include the "complete field editing and manipulation capabilities" of Ember, the "volumetric field manipulation tool" Thinkbox announced last year.
At the time, Ember was described as analogous to a compositor, but for simulations, enabling users to 'sample' elements from existing particle systems, fluid sims and volumetrics and combine them in new ways.
Stoke MX is based on the same core tech, and was originally pitched as a simpler version of the toolset.
According to Thinkbox's news release, other new features in Stoke MX 2.0 include:
Procedural Field Generation –
Mathematical functions, 3ds Max texture maps, geometry, particle and volumetric data from various sources, including Sitni Sati's FumeFX simulations, are used to generate fields.
Field I/O –
Users can load and save volumetric data files like OpenVDB and FumeFX, with support for arbitrary channels.
Modifier Stack Support –
Supplying familiar workflows with volumetric data, additional dedicated EMBER field modifiers can be used to convert meshes to fields, convert fields to particles, convert fields to divergent-free simple fluids and control the field display in the viewports.
Asynchronous Processing –
Background threads perform file loading, data conversion and processing allowing users to work interactively with complex data. This function can be cancelled at any time and progress is displayed in the viewports.
Time-Dependent Field Simulations
Advect vector and scalar fields using velocity fields or develop custom setups.
Also announced: Krakatoa MX 2.2
In separate news, Thinkbox has announced Krakatoa MX 2.2, a free point update to its 3ds Max particle renderer. According to the news release, new features include:
Particle Repopulation Support –
Create dense, low-resolution particle clouds, transfer particle data channels to new particles and preview work in the viewports. This feature also prohibits the clumping of artifacts from overlapping influence regions and is implemented as an option in the existing PRT Cloner modifier.
PRT 1.1 File Format I/O –
Backwards compatible with PRT 1.0, the updated file format enables arbitrary global and per-channel metadata storage, transforms and scales particle data automatically and allows for simpler data transfer between software packages.
PRT Surfacing–
Create millions of particles on one or more geometry surfaces, control the absolute count or specify a distance threshold and acquire relevant surface information with no measurable overhead.
Magma ActiveType –
The latest version of the channel data and editing system lets users search for nodes within names categories and descriptions; create nodes from search results; create specific vector, color and scalar value inputs; use aliases to create operators, colors and vectors; and features optional voice control.
Updated 12 March 2014: Stoke MX 2.0 is now in open beta. You can request access by contacting Thinkbox Software directly. Read more about the beta program on Thinkbox Software's website.
Tags: 3ds max, advection, beta, cancelled, Ember, field editing, field manipulation, Krakatoa, Krakatoa MX 2.2, new features, particles, reflow, renderer, scrapped, Siggraph 2013, simulation, Stoke MX 2.0, Thinkbox, Thinkbox Software, velocity field