Friday, November 11th, 2011

Posted by Jim Thacker
NewTek announces new features of LightWave 11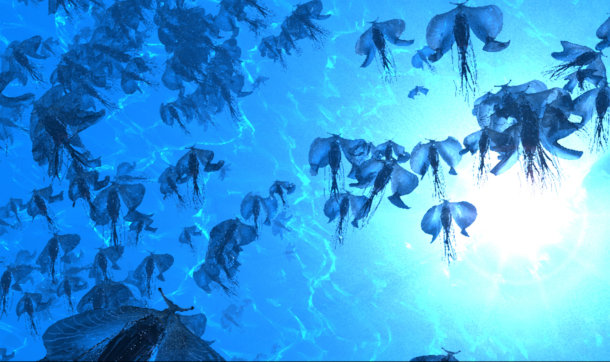 LightWave 11, due for release later this year, features a broad range of new features, ranging from instancing and flocking (above), to dynamics tools, Python scripting and better interoperability with ZBrush and Unity.
NewTek has revealed the feature list for LightWave 11, the next full release of its all-round 3D modelling and animation software.
The announcement was made at last night's 'VFX minds' event at Hollywood's Academy of Television Arts and Sciences, and was preceded by a panel discussion featuring Emmy Award-winning VFX supervisors Ron Thornton, Gary Hutzel and Eric Hutzel, and Avatar's stereoscopic VFX supervisor Chuck Comisky.
You can watch a recording of the live stream here. (Note: video and audio do not sync.)
A broad range of new features
The list covers a lot of ground: new content-creation features include instancing, flocking, a new fracturing tool, and support for Bullet physics; while the Virtual Studio Tools virtual-camera system gains support for the PlayStation Move controller.
There are also a number of features facilitating pipeline integration, including support for Python scripting, Pixologic's GoZ technology for exchanging data with ZBrush, and tighter integration with the Unity game engine.
LightWave after CORE
LightWave 11 is the first major update to the software since NewTek announced it was discontinuing CORE, its next-generation 3D technology, as a separate application.
At the time, VP of 3D development Rob Powers announced that the company had a three-year roadmap for LightWave, including the integration of CORE technology into the software.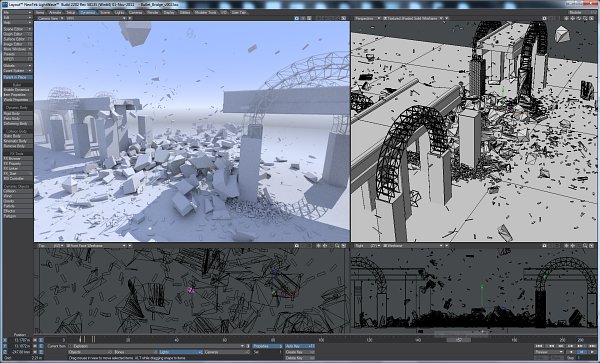 Some of NewTek's old CORE techologies have been integrated into LightWave 11, including Bullet physics.
Today's announcement suggests that the company is broadly on course: if LightWave 11 ships in the fourth quarter of the year as promised, it will be the quickest full-point release in the software's recent history; while CORE tools such as Bullet dynamics do indeed make an appearance.
Early user reaction and opinion
Early user responses to the new features (and, at time of posting, we're talking no more than a couple of hours) have been positive.
However, the decision to make them part of a paid release rather than a free 10.5 update has been more controversial, as seen in this thread on the NewTek forum and, more colourfully, in this one on CGSociety.
For better or for worse, NewTek seems to be doing what it hinted at earlier this year: moving from its old pattern of sporadic, but often free, releases to a more predictable schedule – arguably, a less generous way of doing business, but a more reliable one.
You can check out the official release below.
PRESS RELEASE (Excerpts)
NewTek, a worldwide leader of 3D animation and video products, today announced NewTek LightWave™ 11, a powerful new version of its Emmy® Award-winning, professional 3D modeling, animation, and rendering software. LightWave 11 fits into any studio pipeline seamlessly, offering support for Autodesk Geometry Cache and FBX, including pixel-perfect camera matching with Autodesk Maya cameras. It also supports the Unity game engine and Pixologic GoZ ZBrush workflow, making it ideal for all production environments, including smaller specialized studios and individual artists.
About LightWave 11
LightWave offers groundbreaking technology, such as the Virtual Preview Renderer (VPR) for onscreen real-time rendering, Anaglyph Stereoscopic Preview for real-time interocular, 'red-blue' anaglyphic separations, and more. Some of the many new feature enhancements in LightWave 11 include:
Instancing
Duplicate a vast number of objects in a scene with very little memory overhead
Create huge polygon groups with great detail while retaining reasonable rendering times
Scale, position, rotate, and surface randomly cloned objects for realistic detail
Flocking
Animate realistic motion of grouped objects such as such as birds, fish, insects, animals, aircraft, spaceships, and more, using a new motion modifier
Calculate crowd avoidance of neighboring objects, target alignment, and cohesive attractions with the motion modifier
Fracture
Pre-fracture objects that are ready for destruction with a new Modeler tool that is designed to complement Bullet Dynamics in Layout
Animate explosions with or without using dynamics
Control the density of fractures by applying weight maps to objects
Bullet Dynamics
Deliver physics-based animation with the Bullet Dynamics engine in Layout and the new Fracture tool in Modeler
Collapse buildings, create explosions, or quickly place objects in a natural-looking random pattern
Virtual Studio and Interchange Tools
Support for new controller types, including the Sony PlayStation® Move, allow users to easily control and record the item results with a LightWave channel
Import and export model and texture data to Pixologic ZBrush software with GoZ™ technology
Additional LightWave 11 features include powerful new render buffer capabilities, robust Python® scripting functionality, FiberFX enhancements, user interface improvements, and more.
LightWave 11 Pricing and Availability
LightWave 11 is expected to ship Q4 2011 for a suggested retail price of US$1,495. Upgrade pricing from earlier versions of LightWave will be US$695. Educational pricing is also available.
Read a full feature list for LightWave 11 on the NewTek website