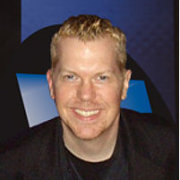 NewTek has a "strong three-year roadmap" for LightWave, including the phased integration of its next-generation CORE technologies, company VP of 3D development Rob Powers has asserted.
Speaking a briefing to announce the company's decision to discontinue CORE as a standalone product, Powers said that NewTek had unveiled new features "prematurely" in the past, but hinted at some of the directions LightWave development may take in future.
These probable directions include new dynamics features and the integration of Modeler and Layout.
Speaking about the decision to integrate functionality developed for CORE into future releases of LightWave, Powers presented the change of strategy as a more efficient way to deliver next-gen technologies to users.
"I think the most impressive way you can release those technologies is to [do so] a way that people can actually use them," he said. "The vehicle is different but the destination is the same. We want an integrated application that is going to be effective for the users."
Asked how subscribers to the company's HardCORE programme – each of whom paid $395 or more to receive free updates to the software, with the expectation that these would lead to CORE itself – would react, Powers again pointed to the company's recent releases.
"With their initial purchase they have received LightWave 10 with VPR and the CORE technologies in it and they are now testing 10.1 as a perk of their membership," he said. It's true we have changed the direction of the delivery of the technology, but I think most users want the functionality."
NewTek's three-year roadmap
One of the original selling points for CORE was that its C++-based architecture would accommodate new functionality in ways that LightWave's legacy architecture could not.
Addressing this point, Powers commented: "The current product release has a full feature set and it's patently capable of having its architecture changed to accommodate [new functionality].
As evidence, he pointed to the CORE technologies integrated into LightWave 10.0. "When I came on board, it was believed that integrating the VPR in LightWave would be extremely difficult or impossible," he said.

The new Viewport Preview Renderer was one of the first CORE technologies to be integrated into LightWave. The developer says that more will follow in future updates.
Asked what direction development would now take, Powers said that NewTek had a "strong three-year roadmap", but declined to give specifics.
"I'm very clear about where I want the product to go. Beyond that, I don't feel comfortable doing the thing where we come out and talk about features months or years ahead," he said. "One of the [ways] we have gone wrong in the past is [to] talk about stuff prematurely."
However, Powers did hint that Bullet physics was due for integration into LightWave ("I will say that dynamics are very important to us") and that one of the package's thorniest legacy issues -­ the separation of Modeler and Layout into separate applications -­ was finally due for resolution.
"Ultimately, I can't see a future trajectory of our product not including a unified interface for modelling and animation," he said.
Version 10.1 and beyond
While many saw CORE as a chance for the company for NewTek to regain momentum it had lost to developers like Luxology, not all LightWave users were keen to adapt to an entirely new application.
For the latter camp, the announcement – and particularly Powers' comments that any new unified architecture could feel "familiar" to Modeler users – will come as a relief.
For those who favoured a more radical redesign, the key factor will be the speed at which NewTek can roll out the former CORE technologies in updates of LightWave itself.
Version 10.1, due for release at the end of the month, builds on 10.0's VPR and file interchange system, but adds no complete new toolsets. It remains to be seen what the rest of NewTek's three-year roadmap will hold.
Visit NewTek's LightWave 10 product page
Tags: CORE, development, future, LightWave, Rob Powers, three-year roadmap, uipgrades