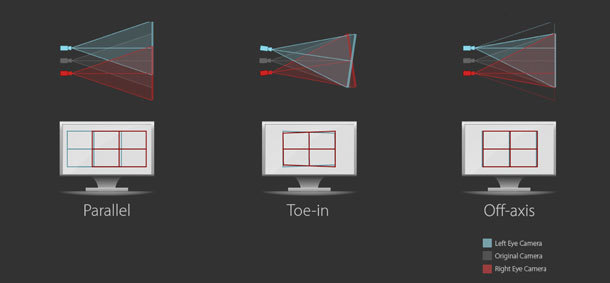 LightWave's stereoscopic camera rig types. Version 10.1 adds the off-axis rig.
NewTek has released details of LightWave 10.1. The update is being showcased at NAB this week and is due to roll out to registered users later this quarter.
As far as we're aware, some of the functionality listed under 'Additional LightWave 10.1 features' in the official announcment below was actually introduced in 10.0, so the main features of the new release are the new off-axis stereo camera rig, and the support for additional display features in the Viewport Preview Renderer.
PRESS RELEASE (Excerpts)
NewTek, a worldwide leader of 3D animation and video products, will showcase NewTek LightWave™ 10.1, the latest version of its Emmy® Award-winning 3D software, at NAB 2011 in Las Vegas. With advanced modeling and animation tools built to integrate into any production pipeline, LightWave 10.1 delivers new capabilities for 3D artists, such as a new off-axis stereoscopic camera rig option, an improved Viewport Preview Renderer (VPR), more powerful import and export capabilities with FBX, MDD, and integrated Autodesk Geometry Cache support, a new Skin material node, and more.
With the continued growth of the stereoscopic 3D film, television and gaming markets, artists need powerful tools to help streamline stereoscopic content creation. LightWave 10.1 delivers, with access to all major stereo camera rigs—parallel, toe-in, and off-axis, allowing artists to correct for toe-in distortion in the animation pipeline, dynamically. Other enhancements include interactive OpenGL off-axis adjustment of the right and left camera planes, user-friendly click-and-drag convergence point adjustment in the viewport, and the ability to disable the anaglyph representation of the stereo camera in OpenGL. Also in LightWave 10.1, interocular and convergence point can both be animated dynamically over time to track stereo changes within a shot.
Using the LightWave VPR, artists can directly interact and easily adjust lights, textures, volumetrics and more, within the viewport. Artists can also use the VPR to view updates to deliver realistic environmental walkthroughs quickly, and perform virtual location scouts. LightWave 10.1 extends the functionality of VPR with the support of clip maps in the VPR render, the addition of object and distance dissolve, and improved nodal shaders like the new Skin material node that works with the VPR. The Skin material node uses a proprietary subsurface shading model for a simple "connect-and-go" way to create realistic looking skin.
LightWave 10.1 with integrated Autodesk Geometry Cache Support gives artists the ability to include or exclude models, morphs, animations, cameras and lights upon export. Other workflow features in LightWave 10.1 offer the ability to import joints as LightWave bones for greater compatibility with other programs; multi-threaded mesh evaluation optimization and sub-d mesh freezing acceleration; linear color space workflow improvements, including new support for .ICC/.ICM monitor profiles, and more.
Additional LightWave 10.1 features include:
Virtual Studio Tools
Supports InterSense Virtual Camera Tracking System (VCAM) and 3Dconnexion SpaceNavigator 3D mouse, allowing interaction with models and scenes in real time
FiberFX
Hair and fur shader now supports VPR and includes improved speed, stability and displacement handling
Linear Color Space Workflow
Supports custom Look Up Tables (LUTs) for more realistic lighting and compositing flexibility, color space correction for HyperVoxels™,  XYZ, Lab, RGB and CMYK data, and more
Updated User Interface
Interactive channel sliders, added control for custom colors, and numerous workflow enhancements deliver a more dynamic user experience
PRICING AND AVAILABILITY
LightWave 10.1 is expected to be available to registered users of LightWave 10 in Q2 2011. For a limited time the upgrade price from LightWave v9 to LightWave 10.1 is US $495; a full license for LightWave 10.1 is US $895.
Download a 30-day trial of LightWave 10
Tags: LightWave 10.1, NewTek, off-axis camera rig, stereoscopic, VPR