Thursday, August 2nd, 2012

Posted by Jim Thacker
NewTek launches LightWave 3D Group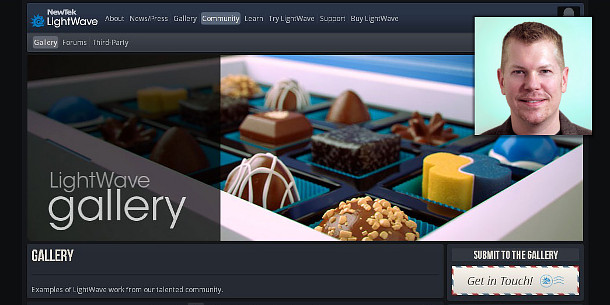 The new LightWave website. NewTek has just launched a division of the company dedicated to the product, headed up by former Head of 3D Development Rob Powers (inset, top right).
NewTek rather had its run-up to Siggraph 2012 spoiled when the LightWave 11.5 features list leaked prematurely via the Amazon EC2 cloud. (It's now official: you can find the full list here.)
However, the company has pulled a couple of smaller rabbits out of the hat: the first being the announcement that the software is to get its own dedicated division within NewTek.
According to the news release, the LightWave 3D Group will "focus on delivering visualization and 3D products for a range of industries — from architecture, computer-aided design and product development to advertising, game development and feature films".
So pretty much what the LightWave team was always doing, but with greater corporate clout behind it. The move also separates LightWave from the company's hardware-based solutions, TriCaster and 3Play.
Rob Powers to run the new group
NewTek VP and Head of 3D Development Rob Powers has been promoted to President of the new division.
The former supervisor of James Cameron's virtual art department on Avatar, Powers has been credited by many LightWave users with getting the product's development program back onto track following the CORE debacle.
"Rob's passion for LightWave coupled with his unrivaled film production experience makes him the ideal person to lead the 3D team in new directions," said NewTek CEO Jim Plant.
According to the official announcement, Powers' brief is to "accelerate growth worldwide for the LightWave 3D Group with new product offerings, strategic partnerships, and targeted sales and marketing initiatives".
Updated: NewTek has announced that Nvidia senior product manager Dominick Spina will join the new LightWave 3D Group as VP of Worldwide Sales and Marketing. Spina previously established Digital Domain's D2 Software arm to market Nuke to the VFX industry, before the software was sold to The Foundry.
New website and download options
In related news, NewTek has also launched a new dedicated website for LightWave. www.lightwave3d.com features a gallery of users' personal and commercial work, training videos, and an online store.
The latter includes the option to buy LightWave via direct download without the need for a hardware dongle.
Existing users can continue to use their dongles without disrupting workflow. And dongles will still be available to purchase separately for anyone needing to run legacy plugins.