Friday, July 27th, 2012

Posted by Jim Thacker
LightWave 11.5 feature list 'announced'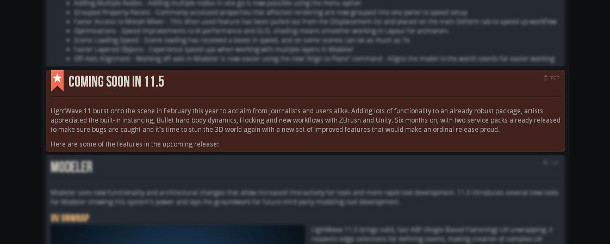 What appears to be the feature list for LightWave 11.5 has surfaced online.
The information appears on a page on the Amazon EC2 cloud, and seems to be a genuine work-in-progress NewTek document, although some of the images are missing.
The link surfaced this morning on the Kray and Luxology forums, and has since been reposted several times.
Given the timing, we'd imagine that the material is intended for Siggraph, so there's every chance you could be reading the same thing in a few days anyway – possibly in more complete and accurate form.
For that reason, we've inserted the LightWave 11 trailer above any of the actual feature information. If you don't want to spoil the surprise, turn back now…
Updated: We've just spoken to NewTek's PR people, who confirm that the information on the page is genuine, and was intended as a Siggraph announcement. You'll still spoil your dinner, though.
The headline feature in 11.5 looks to be Genoma, a new "modular instant rigging system". The accompanying image is missing, but from the description, it sounds as if users can drag and drop body parts to create a rig.
According to the text, "modifying [the rig] is simple, using any of Modeler's tools rather than specialized rigging tools". If implemented well, it sounds an intuitive system, and one that would appeal to non-specialists.
Hair, After Effects, instancing and flocking
Hair gets a fairly major overhaul, with new styling and dynamic options for FiberFX, plus the option to use ZBrush's hair tools to create guide curves and port them into LightWave via the GoZ exporter.
There is also a new After Effects pipeline, which enables users to interchange animation, lights and camera settings between the two applications "in much the same manner as LightWave's GoZ implementation".
Most of the new toolsets introduced in LightWave 10 and 11 have also been updated, with instancing, flocking, and the VPR and stereo rendering tools all gaining new features.
In addition, cloth and soft body dynamics have been implemented within Bullet physics.
Modeler also gets its most significant update for a few years, including support for the ABF algorithm for UV unwrapping organic meshes previously adopted in Blender and Cinema 4D.
Obviously, there are no pricing or shipping details yet.