Solid Angle founder Marcos Fajardo's talk from Siggraph 2016 on the new features coming up in Arnold 5. The company has just tweeted to announce that the next version of the renderer is "coming soon".

Solid Angle has just tweeted to announce that Arnold 5, the next major update to its industry-standard production renderer, is "coming soon".
Although there is no further supporting information, the company has previously posted a number of sneak peeks at the new features in Arnold 5, so this seems like a good time to round them up.
Features announced so far include a new physically based hair shader, improved volumetric rendering, support for Open Shading Language, and – possibly – GPU rendering.


Improved volume rendering, new physically based hair shader
The most recent sneak peek came in the form of a tweet from Solid Angle earlier this month announcing a new "analytical, area-preserving mapping for spherical disks".
The image above shows the existing and new methods, rendered with volume fog and one sample per pixel.
Solid Angle has also talked more generally about improving volumetric rendering in Arnold 5, with founder Marcos Fajardo noting that the company has done "a lot of work" on multiple scattering.
"It's difficult to do really high-quality clouds and fog when you want to do a GI solution inside the volume," he told delegates at Siggraph 2016. "[But] it's getting to the point where you can use it in production."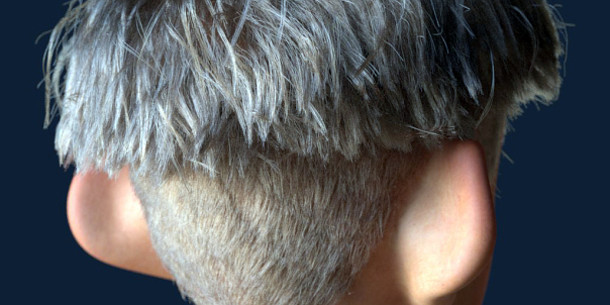 Other features confirmed for version 5 include a new physically based hair shader, showcased on Solid Angle technical author Lee Griggs' blog with a render created by Ilion Animation Studios' Zeno Pelgrims.
Blue noise dithering and other sampling improvements
Going further back, Fajardo also discussed a number of other new features due in Arnold 5 in his Siggraph talk. In the video at the top of the story, you can see them between 15:25 and 28:00.
The most striking of these are the new sampling methods Fajardo discusses, promising an increase in render quality without a corresponding increase in render time.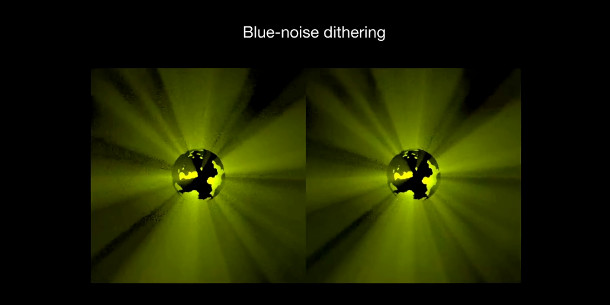 The first of these is blue noise dithering, which produces the same mathematical error in renders as existing methods, but distributes it in a way that looks more visually pleasing.
In the image above, the render on the left is from Arnold 4, the one on the right with blue noise dithering.
At 29:30 in the video, Fajardo also discusses an (unnamed) new sampling technique for area lights that produces less noise than Arnold's existing BRDF sampling.
Support for Open Shading Language and changes to the API
Fajardo also outlined a number of more general under-the-hood changes coming up in Arnold 5.
As well as ongoing improvements, such as improved memory usage and better scalability to machines with large numbers of CPU cores, these include several specific changes, including support for OSL.
According to Fajardo, Arnold 5 will support Open Shading Language for shader authoring as well as its existing C++-based system, with the option to mix and match the two languages.
The public API for the renderer – which is based in C++ and Python – is also being rewritten, to make it easier for studios to create tools based around Arnold, or to integrate the renderer into custom pipelines.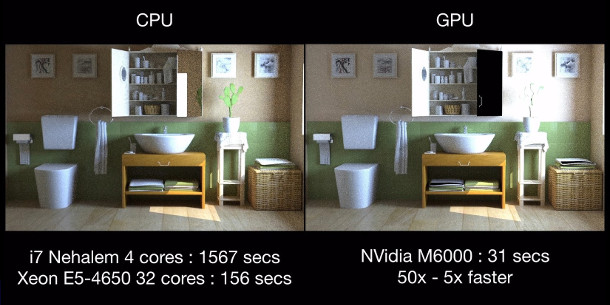 But will it support GPU rendering?
But perhaps the feature that artists would most like to see implemented in Arnold 5 is the one that we're least certain will make it into the final release: GPU rendering.
In his Siggraph talk, Fajardo showed the results of Solid Angle's work on implementing GPU support, noting that "both CPU and GPU rendering will take the same input, so it should be very transparent to the user".
According to Fajardo, the company saw a 5-50x increase in render speed on test scenes with only polygonal geometry, like the one shown above; and a 1.1-8x increase in scenes with only curves or fur.
However, Fajardo acknowledged that the work was taking time, and in the presentation, GPU rendering isn't included on the slide listing new features in Arnold 5: it's just mentioned as ongoing R&D.
Pricing and availability
Solid Angle hasn't announced a release date or pricing for Arnold 5 yet.
The current release, Arnold 4.2.16, runs on Windows 7+, Linux and Mac OS X 10.8+, and comes with integration plugins for 3ds Max, Cinema 4D, Houdini, Katana, Maya and Softimage.

Visit the Arnold product website
Watch for future sneak peeks of new features in Arnold 5 on Lee Griggs' blog
Tags: API, Arnold, Arnold 5, blue noise dithering, C#, fur, GPU rendering, GPU-accelerated, GPU-based, hair, hair shader, Marcos Fajardo, multi-threading, new features, Open Shading Language, OpenVDB, OSL, physically based, price, Python, release date, sampling, SIggraph 2016, sneak peek, Solid Angle, volume rendering