Saturday, August 5th, 2023

Posted by Jim Thacker
AWS releases Deadline 10.3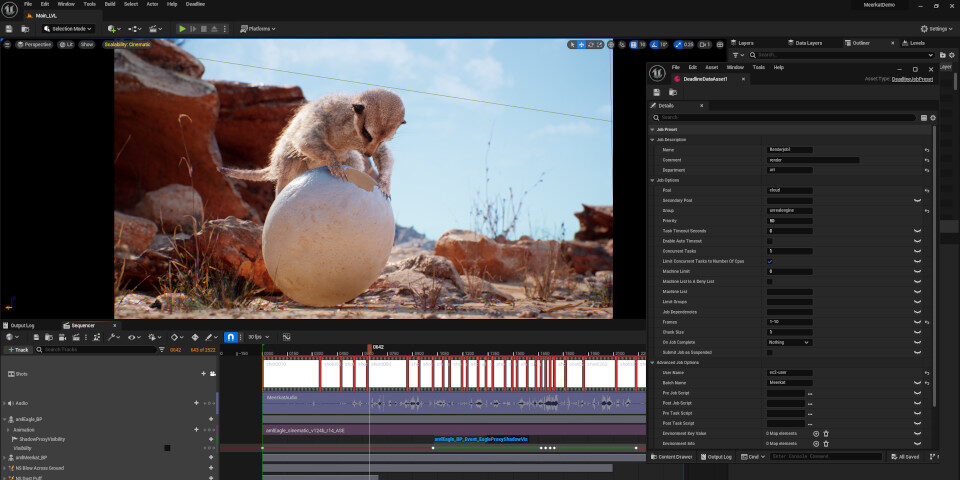 AWS has released Deadline 10.3, the latest version of its free renderfarm management system.
The release introduces support for Unreal Engine 5, including the Movie Render Queue, and current versions of other key DCC applications, including 3ds Max, After Effects, Cinema 4D and Maya.
In addition, Deadline has been moved to Python 3.10. Support for Python 2 and 3.7 has been removed.
Now supports Unreal Engine 5, including the Movie Render Queue for VFX and animation work
The release is one of the largest to Deadline since AWS made the software available free last year, along with the rest of its AWS Thinkbox product line.
Key changes include support for Unreal Engine 5, the current version of the game engine and real-time renderer, which was released last April.
Unlike the previous Unreal Engine 4 integration, the new plugin supports Unreal's Movie Render Queue, used for rendering image sequences and videos for offline work, including VFX, animation and visualisation.
The update also adds support for the current versions of other major DCC apps, including 3ds Max 2024, After Effects 2023 (After Effects 23), Cinema 4D 2023 and Maya 2024.
Support for Python 3.10: older versions of Python deprecated
Under the hood, Deadline has been moved to Python 3.10, the version of the programming language set out in the current CY2023 VFX Reference Platform specification.
Support for Python 2 and 3.7 has been removed. Python 2 hasn't been part of reference platform specs since 2019, but removal of Python 3.7 may be an issue for studios still running the CY2021 spec.
In addition, a new Deadline Command plugin makes it possible to execute Python scripts with no prior configuration of Deadline or installation of Python. Use cases including validating new Deadline installations.
Support for ASWF-supported package manager Rez added in Deadline 10.2
Since we last wrote about the software, Deadline 10.2 introduced support for Rez, the open-source package manager that the Academy Software Foundation adopted as a hosted project last year.
Pricing and availability
Deadline 10.3 is available for Windows 8.1+ and Windows Server 2012+' CentOS/RHEL 7.0, Debian 9.0 and Ubuntu 18.04/20.04 Linux; and macOS 11.0+. You can find detailied system requirements here.
Over 80 DCC applications are supported out of the box: you can find a full list here.
The software is available free to anyone with an AWS account. To register for one, you will need to enter credit card details, but you won't actually be billed unless you use other AWS services.

Read a full list of new features in Deadline 10.3 in the online release notes