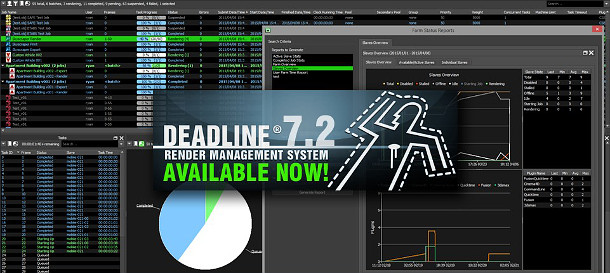 Thinkbox Software has released Deadline 7.2, the latest version of its renderfarm-management software, adding automated movie-creation and file conversion options, plus integration with production-tracking tool NIM.
New Quick Draft options, compatibility with NIM
Deadline 7.2 adds new Quick Draft options to most of the job submitters, enabling users to generate movies from rendered images or perform file conversions, without having to create Draft template scripts.
Instead, Deadline now comes with a readymade Draft template, including settings for Output Type, Codec, Resolution, and Frame Rate.
The update also adds support for NIM, NIM Labs' browser-based production-tracking tool, which can now be chosen as an integration option in Deadline's After Effects, Cinema 4D, Hiero, Maya, and Nuke submitters.
New GPU affinity settings, improved support for Houdini
Other changes include the option to specify which GPUs to use in jobs running on multi-GPU machines – although, at the minute, only if you're using the Maya or Softimage plugins, and rendering with Redshift.
There are also a number of smaller updates and bugfixes, including smarter task error handling, and support for Jigsaw region rendering, HServer interactive rendering and HQueue simulation node slicing in Houdini.
Pricing and availability
Deadline 7 is available now for Windows, Linux and Mac OS X. It costs $185 per render node.
Read a full list of new features in Deadline 7.2
Tags: Deadline, Deadline 7.2, Draft, file conversion, GPU affinity, Houdini support, HQueue, HServer, Jigsaw rendering, movie creation, new features, NIM, price, production tracking, Quick Draft, renderfarm management, Thinkbox Software, transcoding