Wednesday, July 15th, 2015

Posted by Jim Thacker
Thinkbox Software releases Deadline 7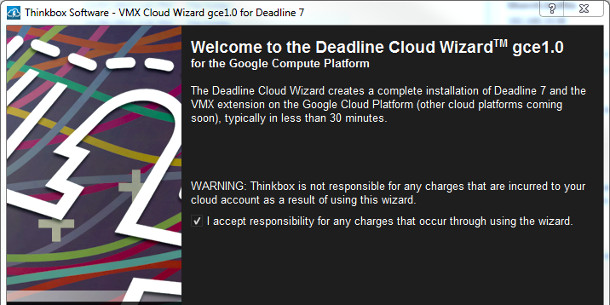 Originally posted on 23 December 2014. Scroll down for news of the new cloud wizard.
Thinkbox Software has released Deadline 7, the latest version of its renderfarm-management software, adding built-in Virtual Machine Extension support, enabling users to "set up a pop-up cloud and compute on-demand".
As well as its expanded cloud capabilities, Deadline 7 extends its 'Jigsaw' region rendering, which enables users to render arbitrarily sized regions and animate their positions to track key objects.
Previously just for 3ds Max when introduced in version 6.1, it has now been extended to Maya, Modo and Rhino.
There are also a number of UI, backend and workflow changes, listed in the news release below.
Pricing and availability
Deadline 7 is available now for Windows, Linux and Mac OS X. It costs $185 per render node.
Updated 13 February 2015: The Cloud Wizard namechecked in the release below is now live as a public beta.
Updated 15 July 2015: The Cloud Wizard is officially available for Google Cloud Platform and Amazon EC2.
Taking a user's cloud account information, the wizard creates a basic virtual private network connection between the user's workstation and the cloud, setting up demo slave virtual machines and jobs automatically.
According to Thinkbox, the upcoming Deadline 8 will further simplify workflow by removing the need for a VPN. A new Proxy Server app will let users connect to the Deadline cloud infrastructure over public internet using SSL.
PRESS RELEASE (Excerpts)
Thinkbox Software today announced that Deadline 7 is now available across platforms. The latest version of the scalable high-volume compute management solution boasts built-in VMX (Virtual Machine Extension) capabilities, which allow users to harness resources in both public and private clouds.
"Deadline 7 enables users to set up a pop-up cloud and compute on-demand, anytime, anywhere. We've created the building blocks for companies that are already rendering locally. Instead of purchasing more computers, Deadline users can spool up resources in the cloud as needed for any application, whether VFX or AEC," said Chris Bond, founder, Thinkbox Software. "With the VMX Cloud Wizard, users can create a compute farm in the cloud in about 30 minutes, then later expand on this installation or use it as a reference for creating more sophisticated cloud pipelines down the line."
In addition to enhanced cloud support, Deadline 7 expands support for the "Jigsaw" multi-region rendering feature, which can now be accessed in Autodesk® 3ds Max®, Autodesk Maya®, The Foundry's MODO and McNeel's Rhino. Deadline 7 also introduces Draft 1.2, an update to Thinkbox's lightweight compositing and video processing plug-in designed to automate typical post-render tasks such as image format conversion as well as the creation of QuickTimes, contact sheets, and watermark elements on exported images.
Key features of Deadline 7 include:
VMX Integration
With Virtual Machine Extension built in and pluggable cloud support, Deadline 7 can interact with private and public cloud solutions out-of-the-box, including Amazon EC2, Microsoft Azure, Google Cloud Platform, and OpenStack, among others. Multiple cloud solutions can be used simultaneously, along with classic non-cloud render node and workstation rendering.
Expanded "Jigsaw" Multi-Region Rendering
Support for "Jigsaw" feature has been added for Autodesk® Maya®, The Foundry's MODO and McNeel's Rhino. The advanced workflow in Deadline enables users to define any number of arbitrarily-sized regions to render or update an existing frame or sequence in a fraction of the time by splitting the work between multiple render nodes.
Upgraded Database
Using MongoDB version 2.6, Deadline 7 now supports Sharding out-of-the-box to allow even greater horizontal scaling, and the Replica Set name to be specified when configuring database settings, facilitating the setup of a redundant database system.
New Application Support and ftrack Integration
With Deadline 7, support has been added for Adobe® After Effects® CC 2014, Solid Angle's Arnold for Side Effects Software's Houdini, Maxon Cinema 4D 16, Corona SDK by Corona Labs, Blackmagic Design Fusion 7, The Foundry's NUKE 9, and Next Limit Technologies RealFlow 2014. Additionally, ftrack now integrates with Deadline to enable a seamless render and review data flow, eliminating the need for artists to monitor their renders.
Enhanced UI
To optimize user interaction, Thinkbox has updated Qt and PyQt libraries to version 5, and deployed a new Fusion base theme that scales better at larger resolutions, including 4K, while providing more color contrast. Deadline 7 reintroduces user-defined color palettes, and also includes customizable fonts for applications and default layouts for Monitor panels, as well as comprehensive job progress bars in the Monitor.
Slave Scheduling and Idle Detection
Deadline can schedule Slaves to start and stop based on the time of day, when the machine becomes idle, or both. It can also check the machine's current CPU and RAM usage, or if any specific processes are running, before launching the Slave. Finally, it can stop the Slave when the machine is back in use, which ensures that all available compute resources are more easily accessed and used.
Local Slave Controls
Artists can see the states of Slaves running on their machines, as well as control the Slaves. They can also configure which jobs their local Slaves will pick up: all jobs, just jobs submitting from their machines, or jobs submitted by specific users.
Shared Slave Licensing
All Slaves running on the same machine now share a license, allowing a single high performance machine to process multiple 3D, compositing and simulation jobs simultaneously, without using additional licenses.
Draft 1.2
The latest version of the Deadline plug-in adds support for OpenColorIO, ASC CDL LUT and Unicode as well as licensing improvements.
Job Dependencies Updates
Users can now test dependencies through the "Job Dependency View" in the Monitor and view the results shown in dependency nodes. Job, Asset and Script dependencies are now available on the same page in "Job Properties," and overrides and notes can be set for individual dependencies.
Streamlined Pool and Group Management
The Slave list in the pool and group management dialogs now supports filtering for all available columns. Right clicking on Slaves listed in the Monitor easily modifies the pools or groups for the selected Slaves.
Pulse Redundancy
Users running Deadline's Pulse application are able to run multiple Pulses and elect one to be the Primary. If the Primary is shutdown or crashes, it will be detected during Deadline's Housecleaning operation, and another Pulse will be elected as the primary, if running.