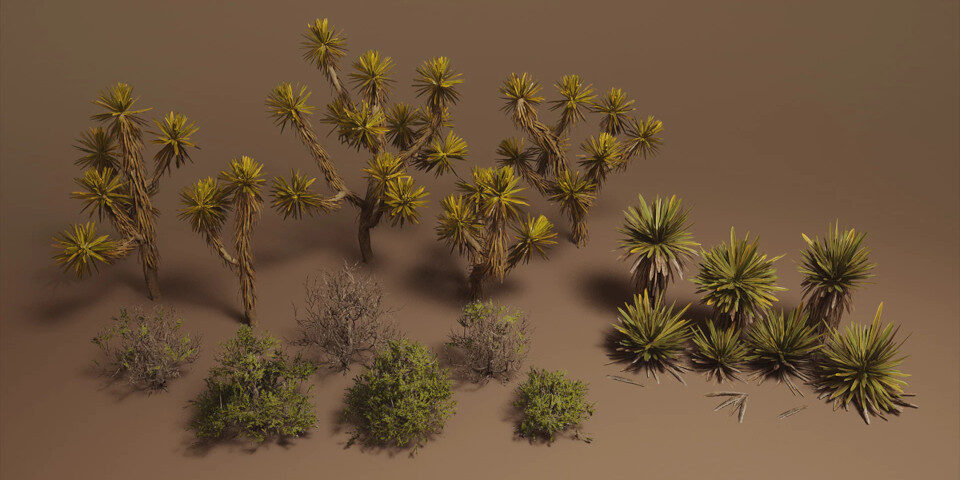 Epic Games has made seven packs of Wild West-themed 3D assets available to download for free as part of its Old West Learning Project.
The packs comprise over 350 game-ready props – models of furniture, furnishings, tools, farm machinery and groceries – plus 20 plant models, all created by games outsourcing firm Dekogon Studios.
Free 3D assets themed around 19th century America for dressing game environments
The assets were originally released by Dekogon in 2022 as commercial products, but have now been made available for free as part of the Old West Learning project, Epic Games' training scene for Unreal Engine 5.1.
The full scene shows an entire 19th-century frontier lumber town, including terrain, roads, a bridge and six building types – houses, the mill, a saloon and a church – and weighs in at 18GB.
However, if you only want the assets used to dress the sets – or just a smaller download – you can grab the props and plants separately, as seven individual themed asset packs.
The props include domestic furniture and furnishings; groceries in bottles, jars and sacks; plus farm machinery and tools. The plants are all bushes from hot, arid environments, like yuccas.
The models come with PBR textures at resolutions up to 4,096 x 4,096px.
System requirements and availability
Epic Games' Old West Learing Project and Old West Asset Packs are available free. The project is compatible with Unreal Engine 5.1; the assets packs with Unreal Engine 4.27+.
The files are only licensed for use with Unreal Engine, but can be used in commercial projects.

Download the seven free Old West asset packs from the Unreal Marketplace
Download the Old West Learning project from the Unreal Marketplace
Tags: 19th century, 3D model, 3D plant, 4K textures, American Frontier, bush, commercial use, Dekogon Studios, desert plant, download, Epic Games, farm machinery, free, furnishings, furniture, game art, game asset, game development, game model, game prop, groceries, Old West, Old West Asset Packs, Old West Learning Project, PBR, real time, tools, UE4, UE5, Unreal Engine, Unreal Engine 4, Unreal Engine 5, Unreal Engine 5.1, Wild West, yucca