Wednesday, December 14th, 2022

Posted by Jim Thacker
Nekki releases Cascadeur 2022.3

Nekki has officially released Cascadeur, its AI-assisted, physics-based character animation software after three years in early access.
The first full release, Cascadeur 2022.3, reworks the software's interface, and updates its AutoPosing, AutoPhysics and Constraints systems.
Create animations based on real-world physics, aided by machine-learning-based tools
Launched in 2019, Cascadeur is intended as an artist-friendly alternative to conventional animation software for game development, motion graphics or visual effects work.
Although it has standard tools for rigging, posing and animating characters, its unique selling point is a set of AI-assisted, semi-automated toolsets.
Key poses can be quickly established for a character via the AutoPosing system, which enables users to reposition a small number of joints, and have the software take care of the rest of the body.
For a jumping character, Cascadeur can then calculate a physically correct trajectory between the key poses.
For other types of motion, a separate AI-trained system, AutoPhysics, converts an existing keyframe animation into a physically accurate version of itself.
You can see the software's key features – which include some novel systems for visualising character physics – in the five-minute introductory video embedded at the top of the story.
Once generated, animations may be exported the FBX or Collada format – the online documentation has information on how to import the data into Unreal Engine and Unity – or directly to Daz Studio.
Now officially released after three years in early access
Arguably the most significant thing about Cascadeur 2022.3 is simply that it's the first official version of the software, after three years of beta and commercial early access releases.
Nekki says that "over 100,000 … animators from more than 50 different countries" downloaded early builds.
The official release means an end to the 25% early access discount – although not quite yet: anyone signing up for a Pro subscription before 31 December 2022 gets a 25% lifetime discount.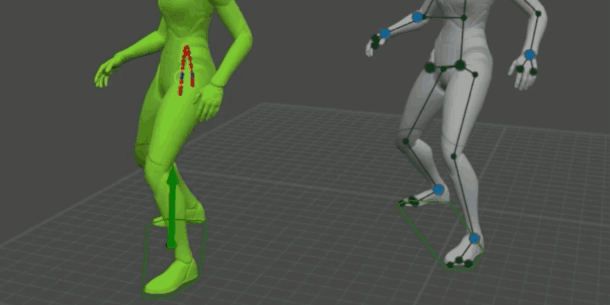 Updates to AutoPosing, AutoPhysics and other key toolsets
The actual changes in the update are refinements of existing features, rather than entire new ones.
AutoPhysics gets workflow improvements and "better results for animations without jumps": you can judge the qualiy of the output from the video above.
AutoPosing gets better spine controls and "improved overall behaviour".
Constraints are now controlled via an animatable property editor parameter.
Other changes include a new sensitivity setting for the Translate manipulator, and ease-in and ease-out options when retiming animations in Track Stretching mode.
In addition, the UI has been reworked to streamline workflow, and the dark UI theme is now the default.
Pricing and system requirements
Cascadeur 2022.3 is available for Windows 7+ and Ubuntu 20.04+ Linux.
The software is free to individuals or teams with revenue under $100,000/year, although animation export is capped at 300 frames per scene and 120 joints per scene.
Pro subscriptions have a standard price of $300/year, and remove export restrictions. Business subscriptions, which also ensure priority support, cost $1,000/year.
In both cases, after having subscribed for a year, users can continue using the software as a perpetual licence, even if they later cancel their subscription.

Read an overview of the new features in Cascadeur 2022.3 on Nekki's blog
Read a full list of new features in Cascadeur 2022.3 in the online changelog

Editor's note: in the light of Russia's invasion of the Ukraine, readers may wish to know that Nekki's development teams are located in Russia, although the company is headquartered in Cyprus.